My name is Marion, I'm a slutwife with a never ending hunger for cocks. Welcome to my life! I'm no girl of the industry, I'm a real woman, a real wife that loves to have fun with guys. Lots of guys. The more the merrier. Call me a true gangbang cum slut... I'm happy about that.

I started swinging 20 years ago and quickly my husband started to take pics and videos from all my kinky escapades. I had my first gangbang in 1997, my first gangbang with 20+ guys in 2000, my biggest gangbang was a party with over 100 guys. By the time I'm writing these words over 5000 guys have fucked and creamed me... and I'm still counting since I'm still doing dogging and gangbang escapades frequently.

On my website you always get TRUE REALITY PORN. Nothing is staged here. There are no scripts, no actors. My escapades take place at real public locations, such as Adult Theaters, rest areas, public beaches, clubs and pubs and so on. Most of the guys using/fucking/creaming me are real strangers... guys I've never seen before. Now lean back and enjoy my naughty swinging life. [read more]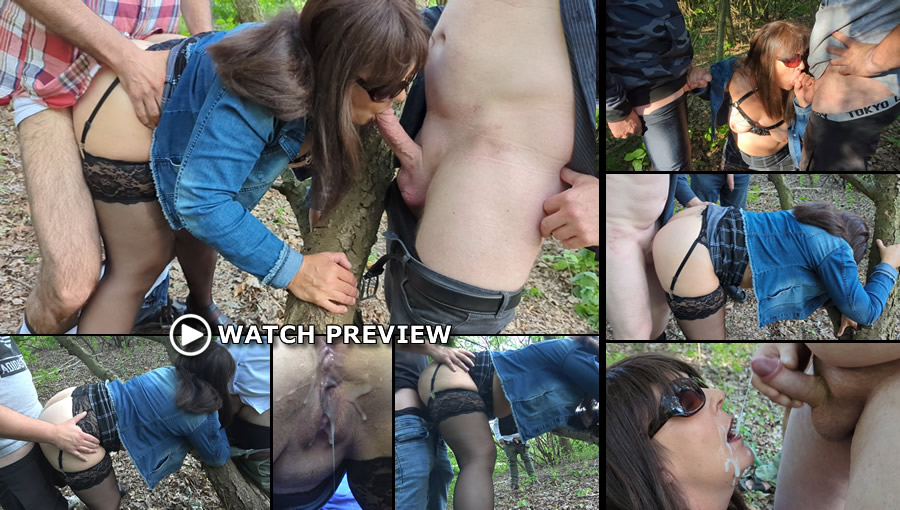 This is the second movie filmed by my husband in the bushes of the rest area at the interstate, where I enjoyed a surprisingly huge gangbang, with over 10 guys taking turn on me in the bushes of the rest area. This rest area is a well known dogging spot and it's not the first time I offer myself there, and being the center of attraction for all guys who don't mind being on cam. In fact it's one of my favourite cruising areas, there are plenty of movies in the member area, where you can see me getting fucked, gangbanged, cum drenched at the same place. But what makes this escapade a bit special was the sheer amount of greedy guys who were taking turn on me... over 10 cocks fucked me that afternoon, plus a few more getting sucked off. Not bad.
Once arrived in the bushes I was holding a sign with the date on it and attract some attention. I could see some guys standing a few steps away, some with their cocks in their hands. A few minutes and some words later I had the first dick in my mouth. This guy also wanted to fuck me and he nailed me in standing position while I was bent over a tree trunk. I realised that this is a perfect and comfortable position to get fucked, for him and for me, and so I let all other guys fuck me the same way that day. The first guy shot his load deep in my puss and that was the starting signal for a huge gangbang with over 10 guys mounting me.
In this second episode you can see me getting fucked six more times, by five guys (one fucked me twice). All of them are banging me in that standing position, bent over the tree trunk. In most cases I have a second cock in my mouth while another one fucks me and that's what made this escapade so hot. One guy fucks my puss, while another one enjoys my wet mouth until it's time for him to replace his fuck mate. Then this guy fucks me, while the next one fills my mouth. And so on. What could be better for a gangbang wife like me?

Details: Duration 22 min. Format MP4. Quality Full HD (1300 MB). Download and stream.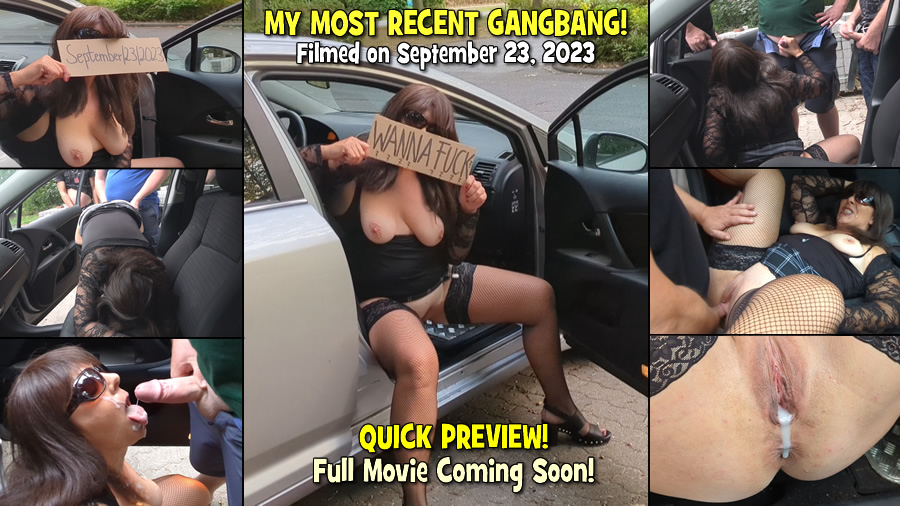 Three days ago, on September 23, I had a lot of fun at one of my favourite dogging spots, the huge parking area where I always find some cocks to give me what I need.
Over 10 guys took turn me that evening. I got plenty of loads... once again. 😃
Here is a quick preview with some of the many hot scenes hubby (and the static cam inside the car) has filmed that day. We will upload the full movie once we have finished cutting and editing it.

But before we are uploading this brand new one, there are movies from some other escapades which are waiting to get released later this week, so prepare for plenty of new stuff coming very soon... 😉

In the member area you will get this quick preview video in lossless quality (600 MB instead of 85 MB of the free video).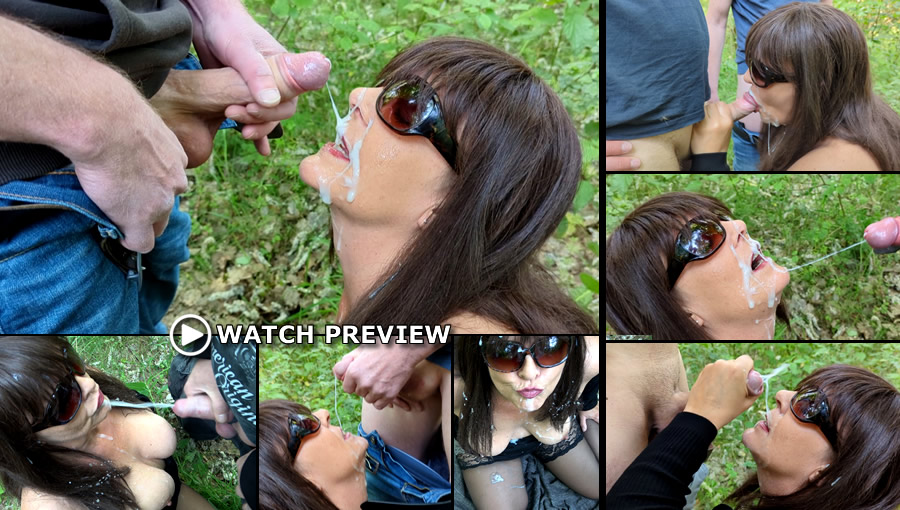 Second and final episode filmed by my husband in May 2023, where you can watch me returning to the truck stop at the highway, serving plenty of cocks and being a true cum dump in the nearby bushes. This place is fantastic: A large truck stop at the highway with a huge wooded area surrounding it, with the whole area converted by doggers into a meeting place for horny people. It's the most busiest cruising area I know... and I know a lot! There are always lots of doggers cruising that place, people who are looking for quick casual sex before they are continuing their journey on the highway. The perfect place for a cum slut like me, since most of these doggers don't mind being on cam (especially because they quickly realise that hubby doesn't film their faces) but just want to jerk off quickly and leave the place quickly afterwards.

In this movie you can watch me going down on my knees, sucking off cock after cock, receiving load after load, with a (nearly) never ending line of cocks. As I said above, it's the perfect place for a bukkake. Lots of guys who can drop in and drop out. No words, no complaints, just cum on me and leave. I only had to walk from the truck stop into the bushes. Hubby followed me and started to film me (the movie starts with these scenes). Actually I intended to cruise for a while now and attract some attention, but I saw that there was no need to do so. Guys were walking up and down the path inside the bushes, so I just went down on my knees on the path with bare tits and a self-written sign 'Cum Dump - Please Use Me'. To cut a long story short: During the next hour I sucked and jerked off plenty of cocks to completion. One after another, with up to 3 cocks at once.
I got plenty of loads. I really lost count, but after looking through the movie footage I can say I got over 30 loads that day. At the end I was totally drenched in cum. Awesome! This is the second movie filmed that day, displaying the second half of the escapade, where I'm getting 16 more loads in my mouth and on my face.
Details: Duration 27 min. Format MP4. Quality Full HD (1500 MB). Download and stream.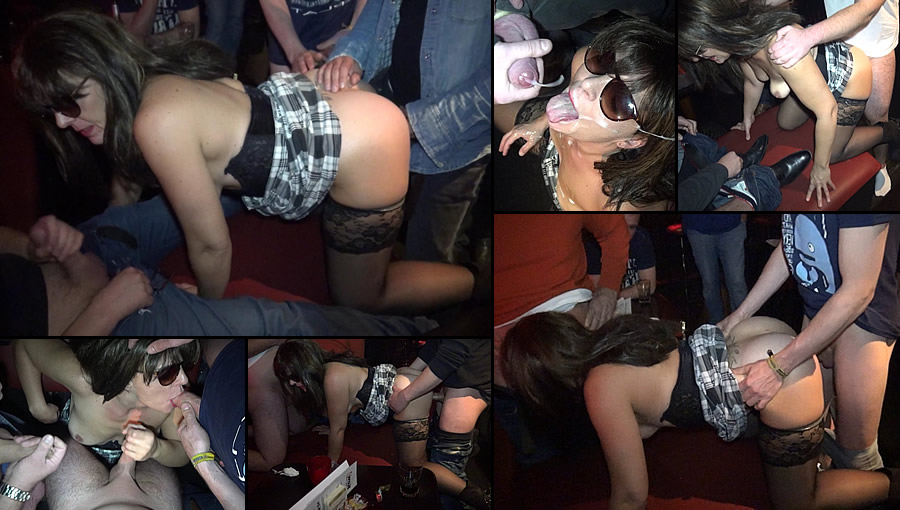 Once again I was the center of attraction for a room full of guys. It happened at the night club once again. The owner, who was a regular at my sex parties in the early years, offered me his club to turn it into a huge gangbang playground again, outside its business hours of course. This time I wanted to have a huge group of cocks to use me and so I posted ads on free sites and on my social media, where I offered myself to be a fuck and cum slut for EVERYBODY, with all party details: No charges, free for all, date, time, location. Guys who read these ads didn't even had to response, they only had to come to the party, get out their cocks, stand in line, waiting for their turn to use me. In other words, I wanted to get used by a room full of total strangers... once again.

This time the party started in the late afternoon and finally over 30 guys joined the party. No need to warm-up, no words necessary. The guys were just there to fuck me and I wanted them all. So, quickly I found myself serving the first guys orally, before I got fucked doggy by one guy after another. Maybe 10 guys ran train on me during this first round. Later I was crawling around on the ground, sucking cocks off and getting load after load on my face and in my mouth, before I set up in the back of the club, ready to let more guys gangbang me. This was simply a great sex party, with me as the one and only woman getting used by the entire audience. Awesome! My husband has filmed a lot of stuff that afternoon, so prepare for the corresponding movie, which is coming soon.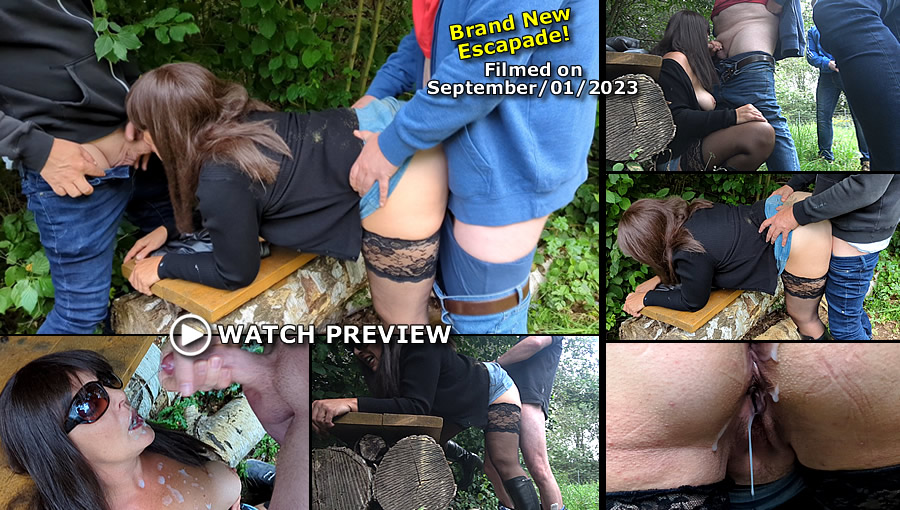 Exploring new cruising areas or adult theaters where I've never been before is one of the many thrills in my life. I just love to browse dogging sites or swinger portals to look for new places where I can live out my desires. On September 01, 2023 I drove to such a new cruising area (at least new to me). I first read about that place two or three years ago and now I managed it to give it a try. Like many others, this cruising area is located next to a highway rest area. You can park the car at the rest area and then you only have to walk a few steps until you are reaching a huge wooded area with several pathes leading from here to there. The movie starts with me walking from the car to the bushes.
As I arrived at the cruising area itself I saw some kind of a bench in front of the bushes and I spontaneously decided to stay there, though there were many more discreet places if you are only following the pathes. But the possibility of getting caught in the act is another thrill that really turns me on and so I chose that bench to attract some attention.
I didn't have to wait very long before I saw the first guys walking around, from the rest areas to the pathes and back. Most of them were staring at me but still hesitating. Business as usual. But then one of the doggers had the courage to come closer. He dropped his pants and jerked his cock, while I was sitting on the bench, standing only one step beside me. A few words later the things started happening. I served that first guy orally, followed by another one, then both fucked me doggy on the bench, with one of them dumping his load in my puss. Hubby stood aside, filming the escapade and noticing that three more guys replaced the first two cocks and ran a train on me. I got some more loads, in my mouth and in my puss. A quick but very satisfying dogging gangbang!

Details: Duration 30 min. Format MP4. Quality Full HD (1500 MB). Download and stream.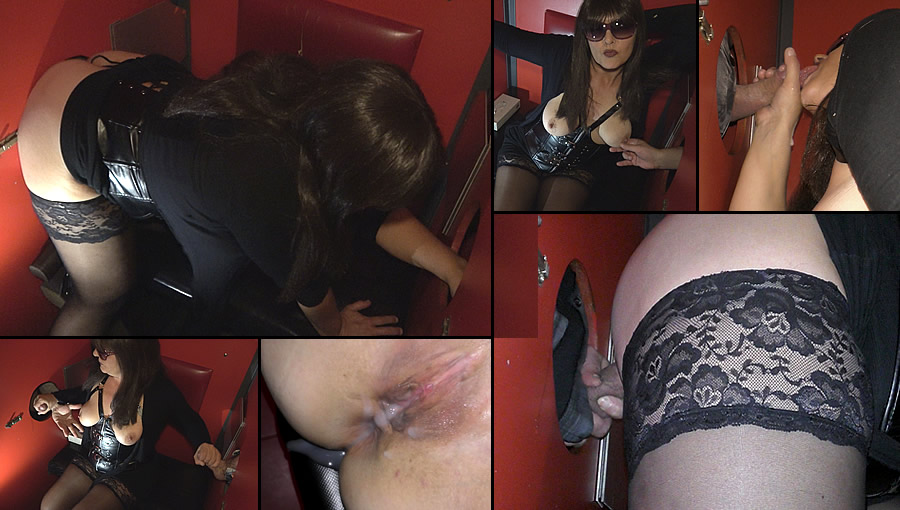 Set of photos of the infamous gloryhole escapade where I served PLENTY of cocks at a local Adult Theater while hubby stayed home, containing over 80 pics, shot a few months ago. Once again I'm visiting one of the local adult theaters all alone, without being escorted by my husband. This time I wanted to serve cocks at one of the gloryhole stalls, where I can lock myself to be a bit more safe. I enjoyed a similar escapade a couple of months before this, but at that time I was more or less forced to do so, since hubby had a bad cold, but I was so hot for cock and cum that I had decided to go through with the plan. At the end I had so much fun by serving all these random cocks at the hole while being on my own, that I now decided to do it again. Visiting a theater, paying the entrance fee, entering one the boothes as fast as possible, locking the door, turning on the cam(s) and there you go.

This time I chose to visit another theater, which benefits from more gloryhole boothes, with some of them even have two gloryholes, one at each wall. The rush hour at this theater starts at 4 o'clock in the afternoon, when many guys finish work and make a quick stop at the theater while being on their way home. For a slut like me, who wants to serve as many cocks as possible, it's the perfect time to start with the escapade. So I entered the theater at 4 pm and while cruising to the boothes I saw lots of guys crawling the dark floors and staring at me with greedy eyes. I ignored him and moved on to one of the gloryhole stalls. Once inside I locked the door and turned on the cams. Now I was ready to serve all cocks who wanted to be served. And what a great gloryhole session that was! I stayed at the hole for over 3 hours and sucked and fucked plenty of cocks. In this set you can see me getting barebacked by three guys, with two of them dumping their loads deep in my puss, and a few more who got sucked off to completion. All in all I served 18 guys that day. Not bad ;)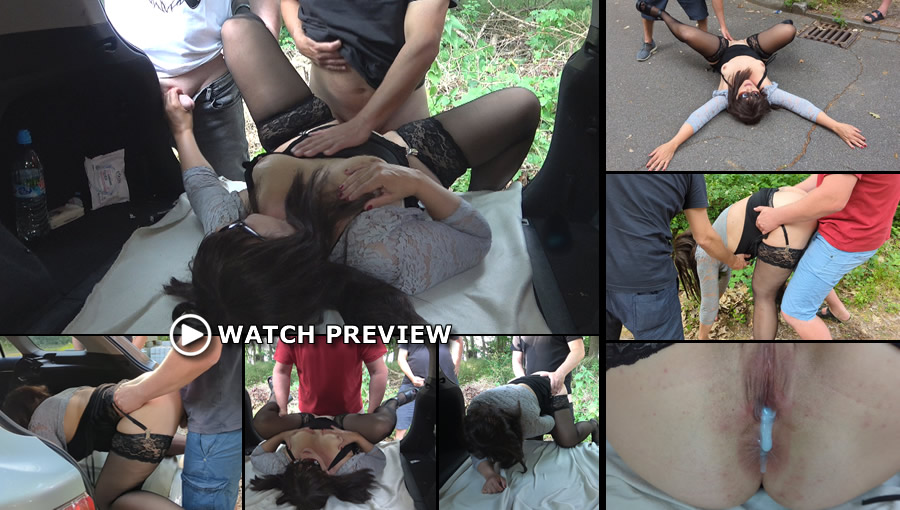 Second movie filmed at the parking during my vacation in June 2023, where I enjoyed several dogging and gangbang escapades. During this vacation I wanted to check out some dogging spots and cruising areas I had heard about and this parking area was one of those spots. It was the first escapade I enjoyed at my sex vacation... and what an unexpected massive breeding fuck fest that was!

As I arrived I saw that this parking area is a huge one. After business hours, in the early evening, it turns from a commuter car park to a playing field for adults looking for casual sex... that's what I had heard about this place. And I quickly learned that these reports were absolutely true. We parked the car at the end of the car park and opened the tailgate, where I intended to get laid down. Time for one of my famous signs: Please Fuck Me! But there was no need to attract attention for a longer time, I already saw some guys walking around and some other leaving their cars and coming nearer. Quickly our car was surrounded by a handful of guys. A few quick words, as usual: Yes, I like to get fucked, no words necessary, hubby is filming, no faces will be on cam.

This second episode begins where the first one ended. In the first scenes of the movie you can see me leaving the car and promenading and attracting attention, to get me more cock and cum, armed with my mobile and filming myself, while hubby stays at the car. One of the previous doggers follows me and tells me to lean forward. He immediately fucks me, right there at the open area, in full view of everybody. That encourages a new dogger to join the show. Back at the car I'm getting laid down by another group of 5 cocks and getting some more huge loads in my puss. A true breeding fuck fest.. awesome!

Details: Duration 22 min. Format MP4. Quality Full HD (1400 MB). Download and stream.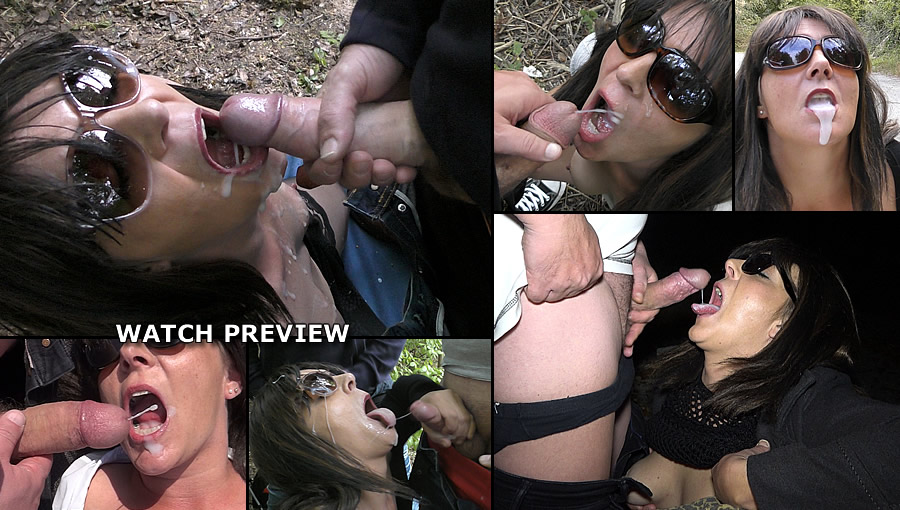 As a long-time follower of my kinky life you probably know that I like to give you cumshot compilations from time to time, collections with the hottest cumshots or creampies I got during the past six months or twelve months. This compilation focuses on me being a public cum dump for plenty of random strangers at my outdoor dogging escapades. So, in this movie you can see me getting load after load in my mouth or on/in my puss from random cocks at rest areas, parking areas and all similar dogging spots.
Once again I want to tell you, that this is 100% true reality porn. It's not staged, there's no director and no actors. All of the guys who are using me as their cum station here, are random encounters. This is by far the most thrilling aspect of my kinky life... to get in touch with guys I have never seen before.

There are 35 cumshots in this movie, all filmed during the past few years. 35 cumshots from 35 guys I met at the dogging spots. There's a reason why I once called my website 'cumdrinkingwife'. I'm just happy when a guy gives me my reward, a huge tasty load on my tongue or puss, and this movie will prove it once again. I honestly hope you will continue to follow me on my way of having fun with all these guys out there. I still have so much fun to do what I do, so maybe you are the next in line to dump your load on me. Or at least you will have fun by watching me doing all these kinky things. Summary: I love to a public cum dump for everybody... everywhere ;)

Details: Duration 20 min. Format MP4. Quality Full HD (1500 MB). Download and stream.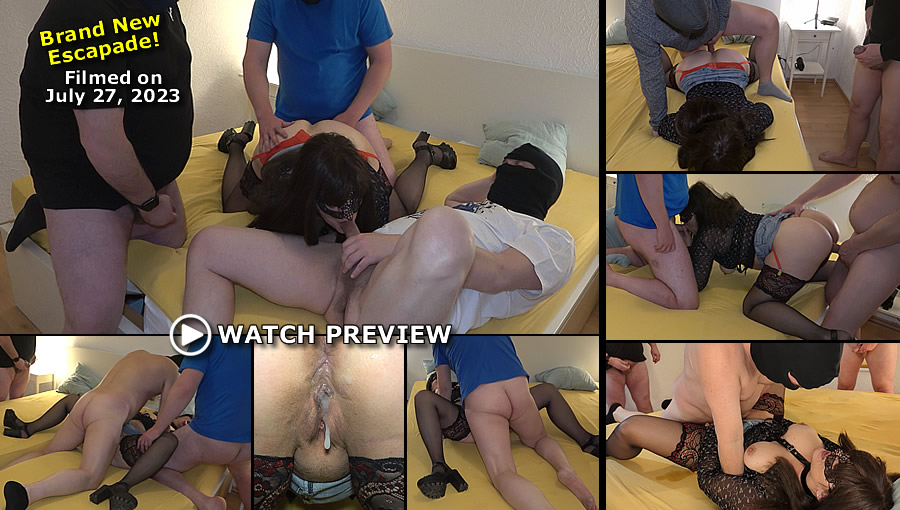 Brand new movie, filmed at my summer vacation, on July 27, 2023, with eight guys multiply fucking and breeding me in the bedroom while my husband has to wait outside. To be the center of attraction for a horde of guys while hubby's not by my side to enjoy the show and film the hottest scenes is not what I'm doing very often, but it is always a big turn-on for both of us to let me getting used by some guys without my husband being on my side. As the good cuckold he is, he loves to watch and edit the footage that was filmed at these gangbangs, usually with our cams standing on tripods beside and just doing their jobs by filming the entire party.

This time I just wanted to enjoy a hot party with a few well-hung studs. So I placed a note at my social media and on my Loyalfans site, where I was looking for a minimum of six guys, who want to bang me at the apartment. Over ten guys put their hands up in the air and finally eight guys arrived at the apartment and these bastards really were on target! I just placed two cams beside, recording the entire party and just let the good times roll. That's the reason why all scenes are filmed with static cams... with a few short exceptions, as some of my lovers took a cam to film a close-up from a cumshot or creampie.

You will see that the guys are taking turn on my fuck holes again and again. They really use me as their cum station, I'm getting over twenty loads, most of them in my puss. This movie displays the beginning of the party, with the first few guys fucking and creaming me. More episodes are coming soon, since this party turned out to be a true fuck marathon, with me getting laid down again and again for over four hours... while hubby had nothing more to do but to wait outside until the guys were finished with me ;)
Details: Duration 26 min. Format MP4. Quality Full HD (1500 MB). Download and stream.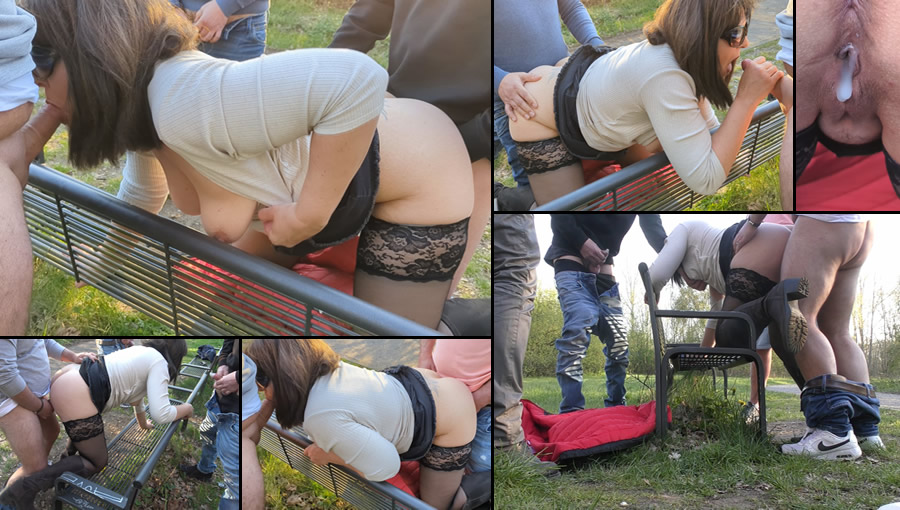 Photo set of the risky gangbang in a very public park, shot earlier this year. That was such an exciting and very exposed escapade! It's me attracting attention in a public park and then getting used by random doggers on the park benches. That day weather forecast told us that an outdoor escapade could be within the realms of possibility. Not perfect, not as warm as I like it, but good enough to try out one of the local cruising areas and see whether there are more people like me in need for some casual sex outdoors. So I put on my stockings, a skirt and some boots that day, grabbed a jacket and drove to a well known dogging spot with the clear intention of having as much fun as possible, with as many cocks as possible. Of course Hubby and his well prepared cams escorted me.

I chose one of my favourite dogging spots, the huge public park not far from the highway, where I always found some cocks to have fun with in the past. My intention was to attract attention on one of the park benches and to serve all guys who don't mind being on cam in the surrounding bushes... as usual. But things never turn out the way you expect and so I quickly found myself serving cocks and getting fucked NOT in the bushes, but on the benches itself, in full view of everyone! Very exposed, very risky, but extremely hot! As you can see on the photos, I was so busy on the benches, surrounded by cocks and getting mounted guy by guy. All in all I got fucked by 8 various guys that day and got lots of loads, mostly on my face and in my mouth, but some also in my puss. At some point all guys were gone. I just had cleaned myself, put on my jacket again and wanted to leave the place, as two more doggers arrived and the fuck fest continued. A quick and raw outdoor fuck fest... I loved it!

| | |
| --- | --- |
| | |
********************************************************************
Billing Support: CCBill
18 U.S.C. §2257 Records - Customer Support - Webmasters click here to make $$$ - Banners - Links
© Copyright 2001-2023 cumdrinkingwife.com. All Rights Reserved.