My name is Marion, I'm a slutwife with a never ending hunger for cocks. Welcome to my life! I'm no girl of the industry, I'm a real woman, a real wife that loves to have fun with guys. Lots of guys. The more the merrier. Call me a true gangbang cum slut... I'm happy about that.

I started swinging 20 years ago and quickly my husband started to take pics and videos from all my kinky escapades. I had my first gangbang in 1997, my first gangbang with 20+ guys in 2000, my biggest gangbang was a party with over 100 guys. By the time I'm writing these words over 5000 guys have fucked and creamed me... and I'm still counting since I'm still doing dogging and gangbang escapades frequently.

On my website you always get TRUE REALITY PORN. Nothing is staged here. There are no scripts, no actors. My escapades take place at real public locations, such as Adult Theaters, rest areas, public beaches, clubs and pubs and so on. Most of the guys using/fucking/creaming me are real strangers... guys I've never seen before. Now lean back and enjoy my naughty swinging life. [read more]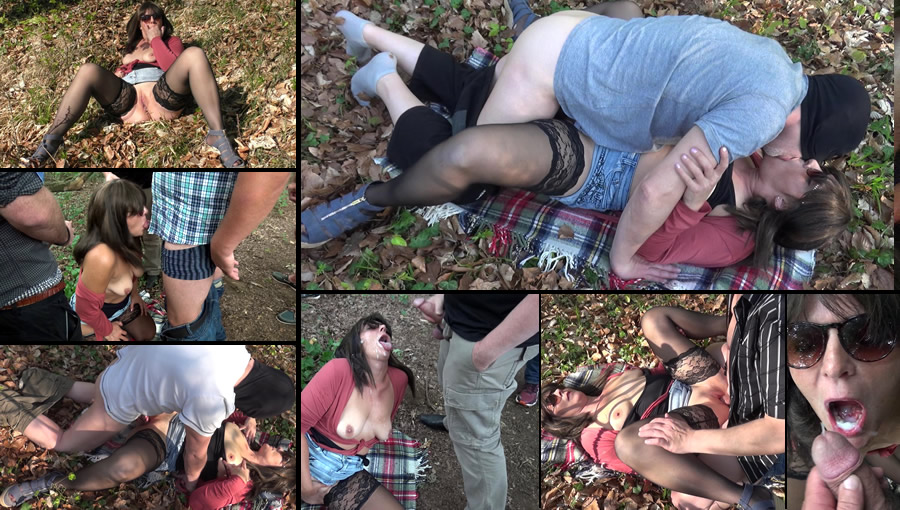 In this set of photos you can watch me getting used by a lot of random strangers in the bushes of a highway rest stop. I know this place for years now, it's a perfect dogging area where I always find cocks who want to use me. It's one of my favourite dogging spots. There are always many doggers cruising around and most of them are looking for quick and casual fun. And it's so easy to get me some cock and cum there... I only have to put on a slutty dress and attract some attention to show them that there is a naughty woman looking for some fun. Once arrived at the place I'm going down on my knees immediately and waiting for the first cocks that don't mind being recorded. A few minutes later I'm surrounded by the first three or four guys, all of them strangers, guys I have never seen before. I'm getting the first loads on my face and in my mouth, then a few guys start fucking me on the ground. One of these bastards even rams his tongue in my mouth, which I suck like a cock. Guys who are done with me leave the place and get replaced by new cocks who are standing in line, waiting for their turn. I really love to get mindlessly used as a cum dump at places like these.
This is the second episode of the breeding marathon with some random guys from twitter, filmed at my holiday apartment in July 2020. Usually it makes me hotter to get fucked spontaneously at unusual places such like rest areas or porn theaters, preferably by random strangers. But in this case I just wanted to get laid down at the apartment, because I had enjoyed a gangbang on the beach a few days before and now I wanted to get used at a more comfortable place. So I spontaneously decided to do another party at the lodge on July 22, but it was just two days left and I had no clue how to find enough guys to satisfy my needs in only two days. So I decided to place a tweet at my twitter account where I was looking for some of my followers who want to join the party and use me. It was the first time I tried to host a sex party via twitter. To my surprise nearly ten followers gave me a note within the next 24 hours.

At the end five guys arrived at the lodge and these guys were on fire! In the first movie you can see them all fucking and multiply breeding me in the bedroom. Now we all needed a break and wanted to have a drink on the terrace. A few minutes later some of them said he needs to pee and I answered that I would like to be his urinal. To be honest, it was just a joke, but this guy took me by the word and as my husband started to get out the cams and pushed the record button, I knew I had to follow up my words with action. The movie starts with this pee scene, but this is just the starting signal for the second gangbang of the day, where the guys are using me on and around the garden table. I'm getting two loads of cum in my mouth and three more in my puss, furthermore I'm getting pissed on a few times. Yummy!

Details: Duration 22 min. Format MP4. Quality Full HD and SD (1100 and 350 MB).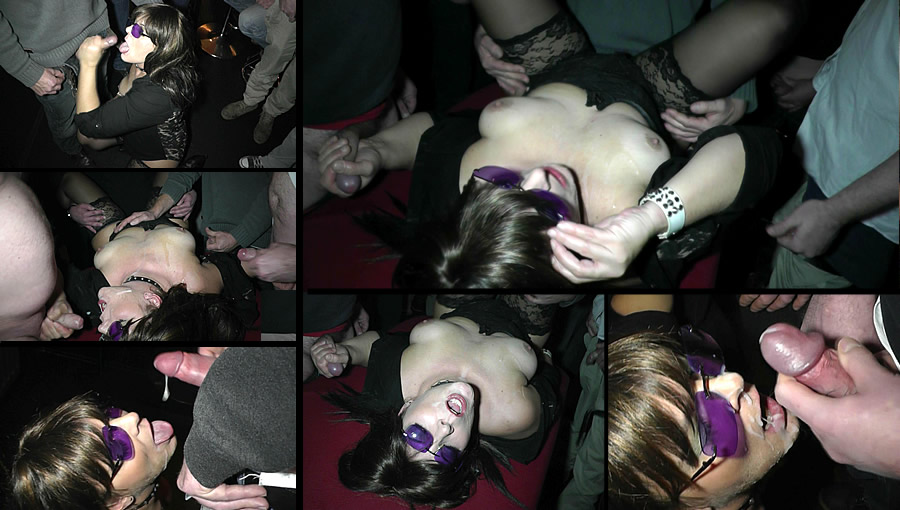 Once again I was the center of attraction for a room full of guys. It happened at the night club once again. The owner, who was a regular at my sex parties in the early years, offered me his club to turn it into a huge orgy playground again, outside its business hours of course. This time I wanted to have a huge group of cocks to use me and so I posted ads on free sites, where I offered myself to be a fuck and cum slut for EVERYBODY, with all party details: No charges, free for all, date, time, location. Guys who read these ads didn't even had to response, they only had to come to the party, get out their cocks, stand in line, waiting for their turn to use me. In other words, I wanted to get used by a room full of total strangers. This time the party started in the late afternoon and finally over 30 guys joined the party. Qucikly I found myself lying on a table and many guys surrounding me, with me getting fucked by one guy after another, while others jerked their loads on my face or body. Later I was crawling around on the ground, sucking cocks off and getting load after load on my face and in my mouth, before I set up in the back of the club, ready to let more guys use me. This was simply a great sex party, with me as the one and only woman getting used by the entire audience. Awesome! My husband has filmed a lot of stuff that afternoon, so prepare for the corresponding movie, which is coming soon.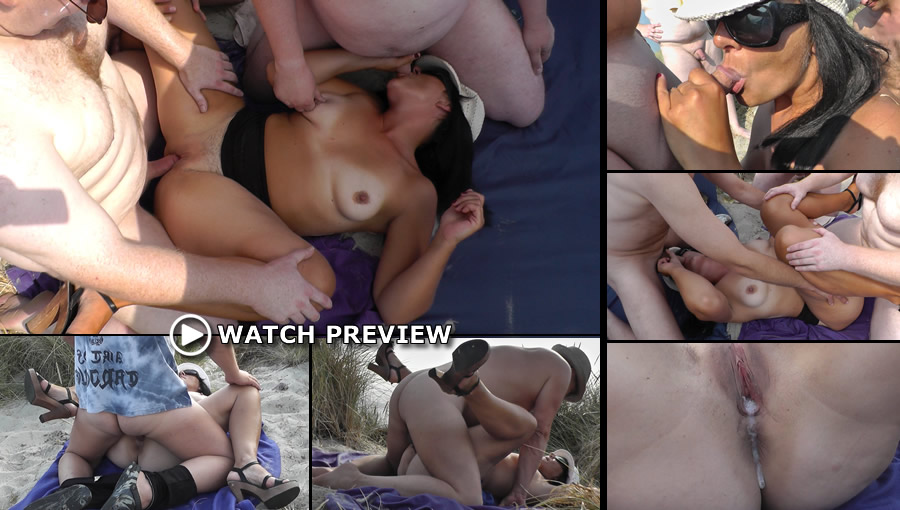 This true reality beach escapade was not less than a dream coming true. During a long hot afternoon on a nude beach I'm getting fucked and creampied by lots of strangers, again and again. This is the second and final movie my husband has filmed that day, displaying the second half of the escapade. This beach has some pretty dunes only a few steps away from the water, where I always can get laid down discreetly, without being in full view of everybody. This afternoon I started attracting attention at the water, as usual. It is known as a good place for doggers and there are always some handsome guys hanging around, who are looking for some quick and casual fun. While attracting attention at the water, some guys are staring at me, but no one comes closer and so I'm walking back to my place in the dunes. But I don't have to wait a long time. The second episode starts with me being on my knees, surrounded by some more guys and serving them orally. I'm getting fucked by the first one, a chobby older guy, who unloads in my puss quickly. He gets replaced by three more guys, all of them are barebacking and breeding me. My puss spills over and you can see some huge loads pouring out. A little later I'm getting fucked by two more strangers in close succession, a younger guy and a middle-aged man who wears a hat. Both shoot a fat load in my puss. So, all in all you can see me getting fucked and creampied by six various strangers in this movie. I was such a filthy cum dump that day... I loved it ;-)
Details: Duration 22 min. Format MP4. Quality Full HD and SD (1100 and 350 MB). Download and stream.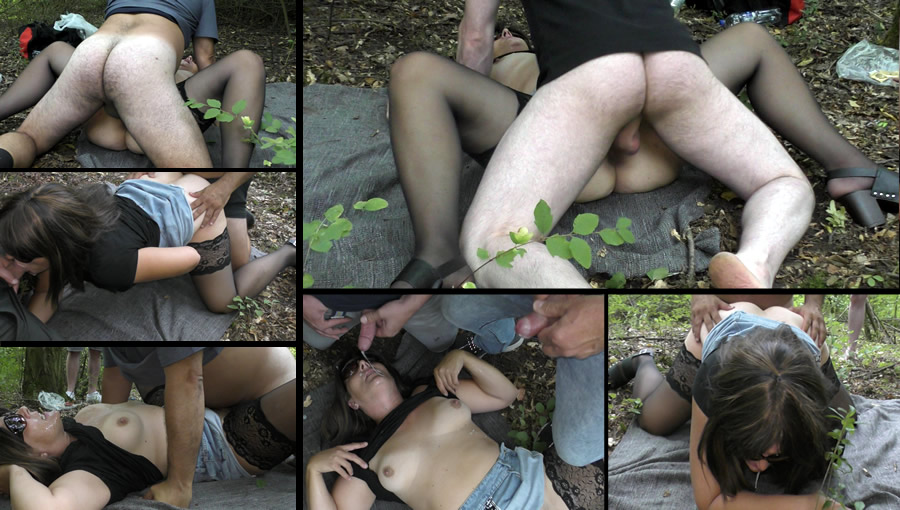 This happened a few months ago, at a huge wooded dogging area which is a good and well known place to meet random guys for random sex, especially in the early evening hours, when men quit work and are on their way home. The movie is already online, now here comes a photo set containing 100 pics. This was my fifth or sixth visit to this place in the last three years. I always had a lot of fun there with up to 10 guys using me, so I was in good heart to get another good bang that day. But of course the guys will not find me amidst the trees, I have to attract attention at first. There are always many cocks walking around at this place, at the nearby rest area and in the surrounding woods and many of them are looking for quick and casual fun.... but I have to show them that I am ready and willing to get used. So I started showing off and attraction attention at a bench. From there it's only a few steps to the bushes, where I am out of sight, where I can open my legs for everybody who don't mind being recorded. This time it only needed a few minutes until I found myself in the bushes, surrounded by a few strangers. I was on my knees with three cocks in front of me and one of them in my mouth as I saw some more guys coming along the small path and completing the gang. One of them starts fucking me doggy and then I got fucked again and again, on the ground, doggy and missionary, fast paced, no breaks. At the end of the day 15 strangers had fucked me... which is a new gangbang record at this particular dogging area ;-)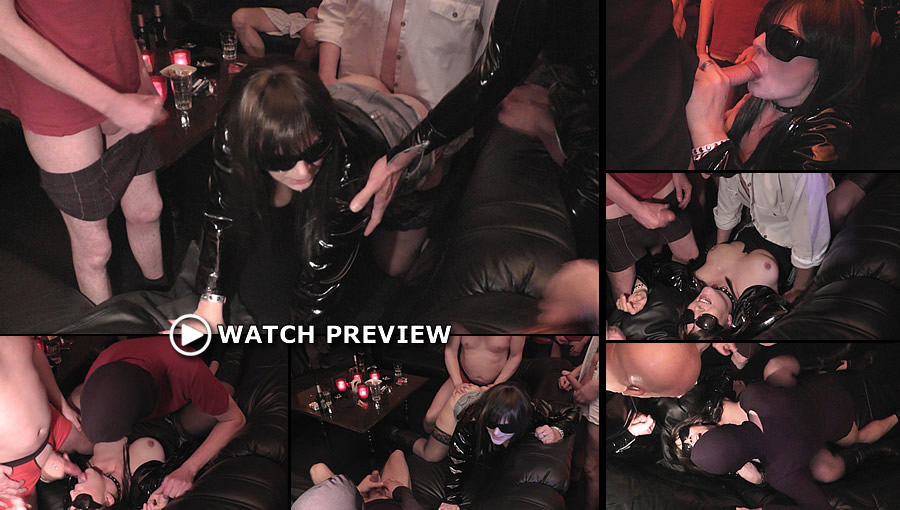 This movie was filmed at a night club, which is 100 miles away from our hometown. I know the owner of this club for many years now, who was a regular at my sex parties in the early years. Later this guy set up a night club, which is of course not intended to be a gangbang arena, but he offered me to host my sex parties at his club, outside it's usual opening hours. Since then I do gangbang parties at his club at least one time a year. It's a great place for me to get used by guys I have invited via the party scheduler, while it's a safe and cozy place at the same time. The opposite to the more risky dogging escapades outdoor areas or porn theaters, so to speak. I just love the parties at this club, they usually turn into wild and ecstatic gangbangs... parties without any limits. This time over ten guys were waiting for me and as you will see in the movie, these bastards really banged me into coma. Again and again they're nailing me on the couch and you will see me screaming and moaning and begging for more. I'm getting off many times, I'm totally losing all control. A great sex party with me as the prototype of a party slut. My husband had put one camera on a tripod which was filming the entire party, while he took some close-ups with a second cam in his hand. Now here comes the second and final movie of the night, displaying the second half of the party.
Details: Duration 20 min. Format MP4. Quality Full HD and SD (1000 and 300 MB). Download and stream.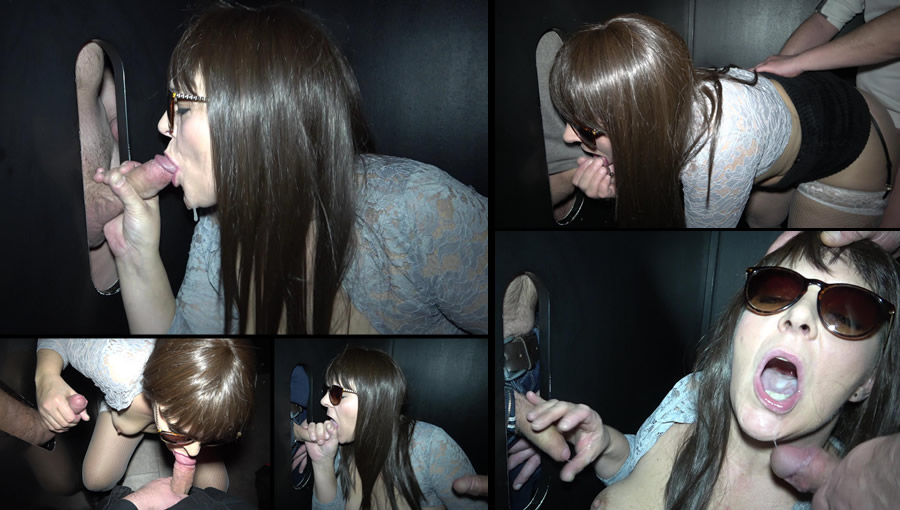 This is another set of photos from one of my most recent porn theater escapades, containing nearly 100 new photos and displaying the second half of this escapade. A few weeks before the local porn theaters closed their doors due to corona crisis I visited this smaller theater at the highway truck stop. I had never been there before, but I had read a lot about this theater, especially that this is a place where many truckers and business travellers who are on their way home or to work take a short break to get them a willing mouth, puss or ass. Well, a theater at the highway, full of needy cocks who just want to unload quickly? Sounds like a perfect place for me and so I decided to give it a chance. As I arrived I noticed a videobooth with a big hole to the neighbour booth in the wall and occupied this booth immediately. Then I waited for the things to cum. There are not many thrills in life like being behind a hole in the wall and waiting to see what kind of cock you will be getting next. A hot slut like me just has to take what ever cums her way! This afternoon I served over ten anonymous strangers. I didn't close the door of the booth, in case somebody wanted to use me inside. I sucked off nine various cocks at the hole, with one of them also fucking me. Two more guys fucked me in the booth, one of them shot his load in my puss and one in my mouth. There's also the corresponding movie of this escapade in the member area, so don't forget to watch it.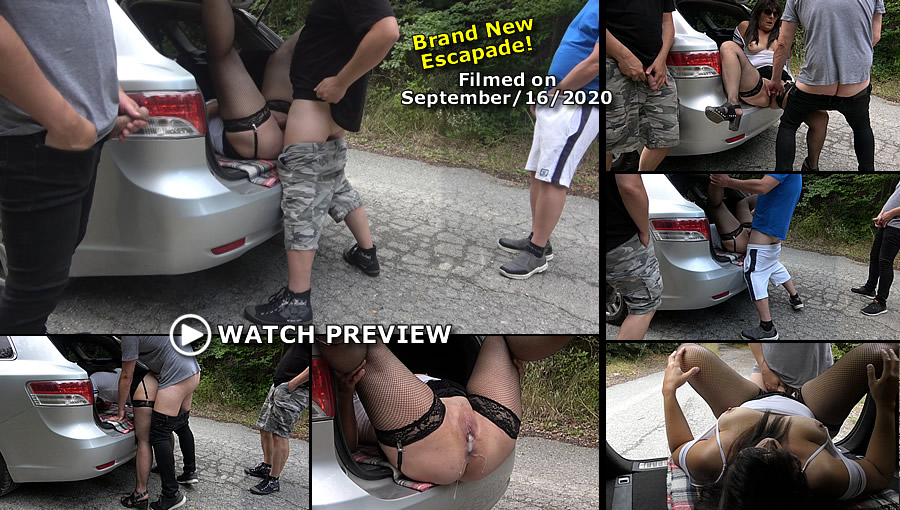 This is a brand new escapade, filmed on September 16, 2020. You know, from time to time I like to do escapades on my own, without getting escorted by my husband. It just makes me incredibly hot to get used without having him by my side and he likes to watch me having fun afterwards... by watching the video. Of course I can't do these solo escapades at the local dogging spots or porn theaters. Just would be potentially dangerous for a single woman to visit places full of horny men without having a watchdog behind her. So, whenever I want to do things on my own, I have to arrange that meeting and the best way to arrange it is to invite some members to bang me. And this is exactly what happened here: While my husband stayed at home, you can watch me having a lot of fun with some of my members at a forest road. Of course I had to place another ad at my party scheduler, where I was looking for some guys to breed me, which I did three weeks ago. And now here are the results.
This time I wanted my members to breed me... again and again. I just love to get multiple creampies in my puss. I limited the number of guys to a maximum of five, because I wanted them all to use me multiply and having a good and satisfying time with me. Finally there were four guys joining the party and once I had given them masks, they immediately started to use me. And these guys were on target! They took turn on me, again and again and all of them shot their loads in my puss. All in all I got 10 creampies that day. Awesome! Please note: Since there was no one escorting and filming me, all scenes were filmend with my cams on tripods, one inside and the other one outside the car.
Details: Duration 26 min. Format MP4. Quality HD (1000 MB). Download and stream.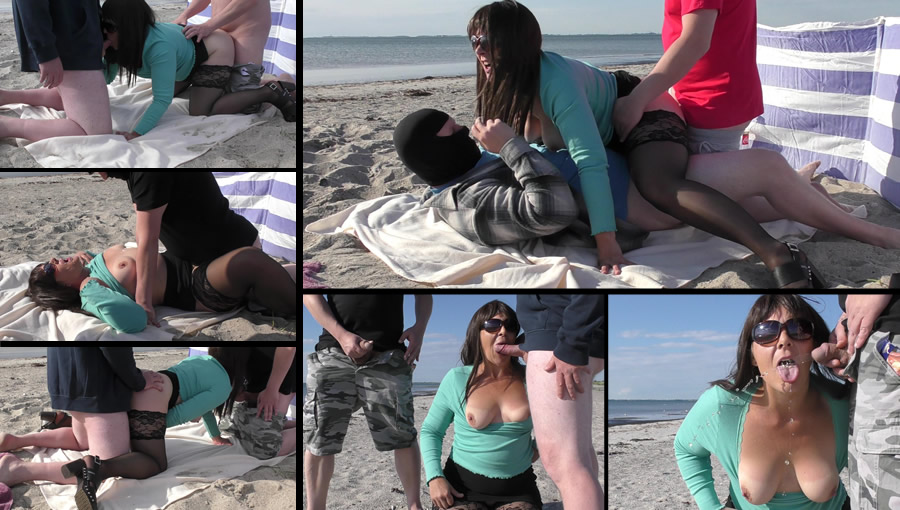 I enjoyed two beach holidays in 2020, the first one in June and the second one in late July. This set with nearly 100 photos displays a hot escapade shot in June. You can also view the movie of this day in the member area. There are two beaches that are well known as good dogging spots to have some fun with random strangers. These beaches are far away from the tourist areas and guys often cruise these beaches to look for couples who let them watch having sex... and sometimes a girl invites these guys to let them use her. Girls like me. Usually I prefer to let random strangers fuck me on those nude beaches, but due to the corona pandemy I was completely clueless whether there are guys running around and looking for fun or not. Better safe than sorry and so, two weeks before the vacation, I placed another ad at my party scheduler where I gave out the information to my members that I'm looking for a few cocks to bang me on the beach. Five guys put their hands up and we had a very good time on the beach. It's not just that they fucked me again and again, at one point these bastards even sandwiched me with one cock in my puss and one in my ass. Another highlight is a spontaneous pee scene, as one of them starts to pee and I am just opening my mouth for the load. I was a total slut for these guys and I loved it.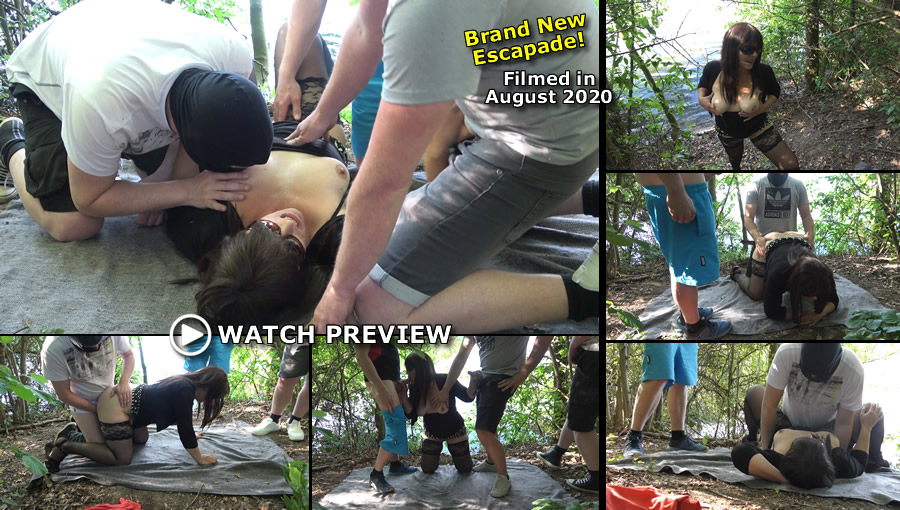 A brand new escapade once again, filmed in August 2020. And a few more cocks and loads for my 2020 sex challenge. You know I like to explore new places and dogging spots. It's boring to visit the same places again and again, so one of my favourite things of wasting time is to check out new outdoor places. My husband read about this lake in the internet, which is a smaller one, but which has a fine beach for peoplewho want to take a bath. But apart from that small beach the entire lake is surrounded by bushes and trees. More important we read that this lake is known as a meeting point for doggers, who are cruising the pathes around the lake and looking for someone to have casual sex with in the bushes. So, that lake seemed to be worth checking out and a few weeks ago I visited that place for the first time. I quickly found a good place at the lakeside, but I didn't saw any guys cruising around in the beginning. I startedposing for my husband's cam (the movie starts with these scenes) and then, maybe 10 min later, I felt observed and saw two guys staing amidst the bushes and watching me. Of course I invited them to have a good time with me and once hubby had gave out some masks to hide their faces they had no complaints to use me. All in all I got used by four guys, which makes this escapade surely not a record-breaking one, but nevertheless I had a lot of fun that afternoon ;-)
Details: Duration 21 min. Format MP4. Quality Full HD and SD (1200 and 330 MB). Download and stream.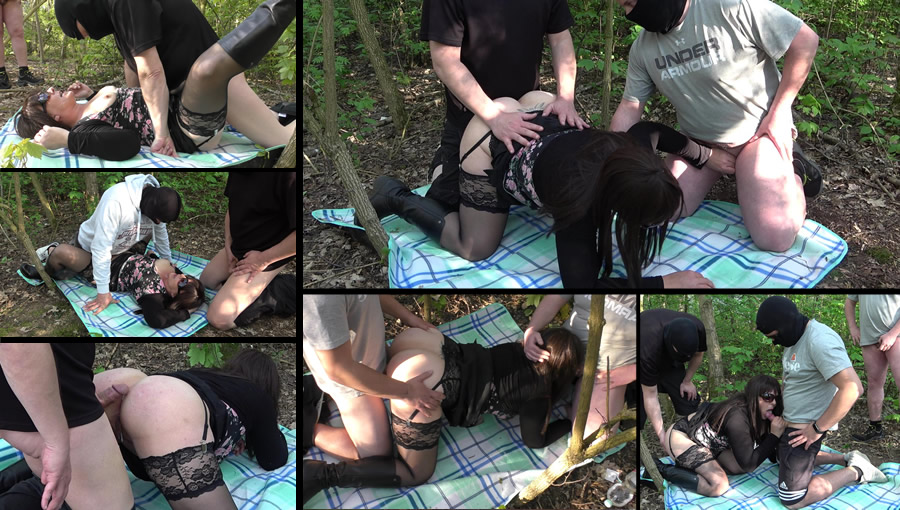 This escapade happened a few months ago, where you can see me getting fucked by some guys again and again in the bushes of a wooded dogging spot. This is a thrilling place. You can park your car at the nearby rest area and then you only have to walk a few metres into the bushes to find a lot of lonesome and hidden areas where you can do whatever you want. It's a well known meeting area for doggers and swingers. Due to corona crisis I knew there are no doggers at this place, or at least not enough to satisfy my needs and so I had placed another ad at my party scheduler where I had looked for cocks willing to fuck me that day. The rules were simple: No words necessary, just find me in the bushes, drop in, use me and drop out once you are tired of using me. And that's exactly what you can in this set of photos with nearly 100 pics. The guys are fucking me, mounting me in the bushes, again and again. Overall there were not more than six guys using me, but these six really were on fire. For over two hours they banged me into coma and each guy shot at least two loads on me. On my tits, in my mouth, in my puss. Lots of creampie pics in this set ;-)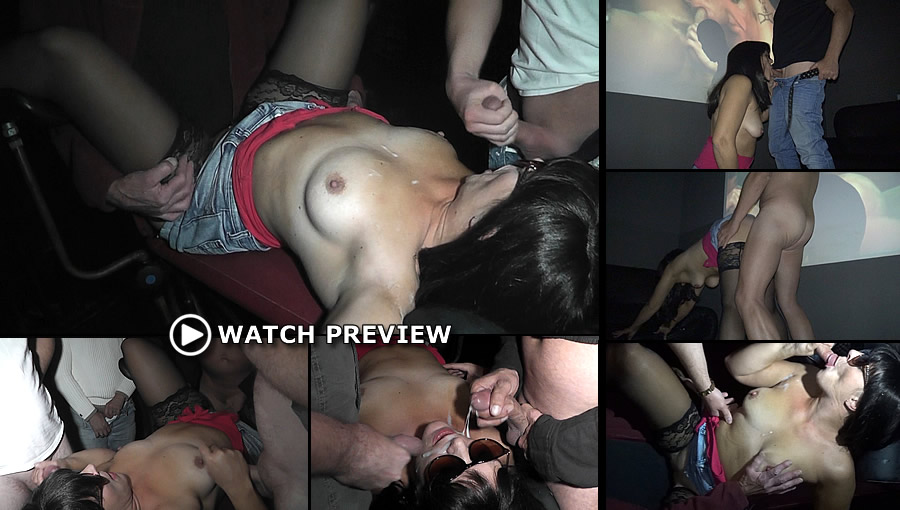 Another hot gangbang escapade filmed at one of the local Adult Theaters. The movie starts with me showing off at one of the smaller cinema rooms and teasing guys. You can see me attracting attention in front of the cinema screen. This theater is a huge one, with several cinema rooms, lots of video boothes and some dark rooms. You can have fun wherever you want. An awesome place for a whore like me, usually there are no other women at places like these. Only guys hanging around there, watching porn movies, sometimes with their hard-ons in their hands. Once they notice me, they usually stop doing what they do and follow me at safe distance. Here you can watch me sucking and fucking a first guy in front of the screen, before I'm cruising to one of the dark rooms and place myself on some kind of a stand which looks a bit like a gyno chair. Now I am in a perfect position to get easily fucked by every guy who wants to fuck me. Quickly I'm surrounded by lots of guys and the first one starts fucking me, while I'm sucking off two other dicks to simultaneously. That's the starting signal for a raw and rough gangbang, where I'm getting used by the entire audience... in the true sense of the word. You can watch all these guys taking turn on me. Some fuck my puss, some fuck my mouth, I'm getting load after load. As usual, this is true reality porn, no staging. All these guys are random strangers, people I've never seen before. Awesome!
Details: Duration 25 min. Format MP4. Quality Full HD and SD (1400 and 380 MB). Download and stream.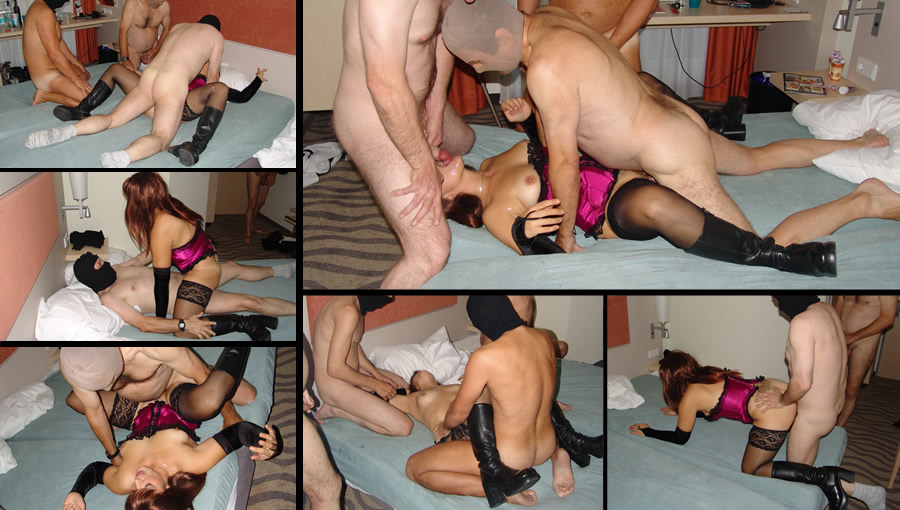 This was an awesome fuck party at a motel at the highway. You know, one of these overnight places where the rooms are cheap and nobody cares about what happens in the rooms. A good place for a slut like me to welcome guys and have fun with them. This time I had placed another ad at the party scheduler in the member area where I told my members that I want them to be the next in line. But I wanted to have fun with as many guys as possible and so I placed the same ad at another dating site for swingers, where I offered myself for a non-stop free gangbang at the motel. The number of guys who wanted to join the party was overwhelming. Over 50 guys wrote me, finally I sent out invitations to 20 guys.
At the end there were 15 guys joining the party, five members and ten more from the dating site. I knew that I couldn't service all guys at once, since the room was too small for nearly 20 people and so I had managed it to invite them step by step. A few guys at the beginning, some more guys an hour later, more guys two hours later and so on. The plan was to get constantly used by a few guys at once, with some leaving the party and new guys arriving. And that's exactly what happened. For nearly four hours I got fucked by 15 all in all. Usually I got banged by two or three men at once, with a peak of seven guys being in the room at the same time. I had multiple orgasms... what a great party!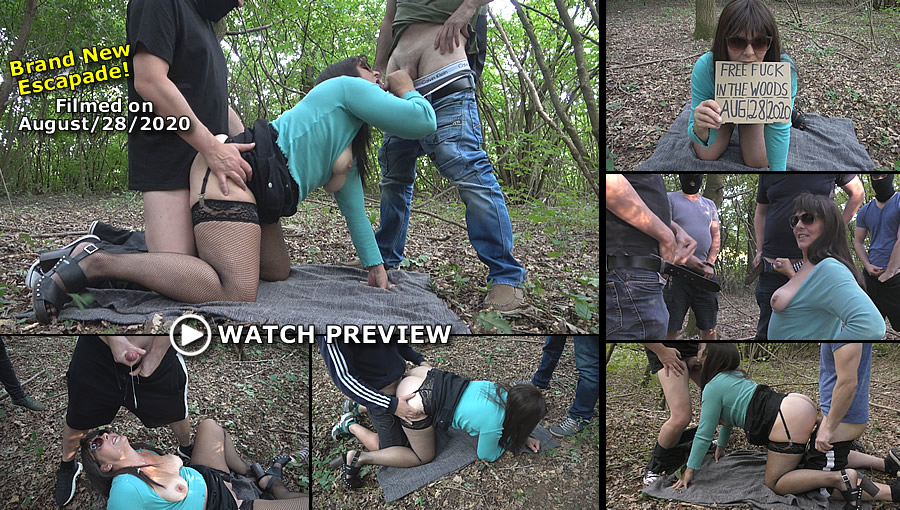 This is a brand new escapade, filmed on August/28/2020 in the bushes of a truck stop at the highway. During the entire movie you can see and hear the cars rushing on by beyond the bushes behind me. Very exciting! If all these clueless drivers knew what happens in the bushes a few metres away ;-) But to begin at the beginning. It was the first time I visited this dogging area at the highway. I had only read about thisplace so far. A large truck stop at the highway with a huge wooded area surrounding it, converted by doggers into a meeting area for horny people. That's what I heard about this place and it sounded exciting. It is fairly far from my hometown, but last weekend I finally managed it and checked this place out.
As I arrived I saw lots of cars and trucks parking and many guys standing at their cars or walking around and watching at me as I left my car in my mini skirt and fishnets. A few guys came closer and I quicklychatted with some of them. As I then went into the bushes a few minutes later they followed me. I found a good place in the woods, only a few metres away from the highway and placed myself on a blanket, waiting for the things to come. Two more courageous guys came to me and I served them orally without hesitation. One of them started to fuck me and now I saw more strangers coming along the path and watching the show. From now on my husband gave out masks to everybody who wanted to fuck me. And for the next two hours I enjoyed a surprisingly HUGE bang, with 10 different guys fucking me all in all, with some of them using me a second and even third time. It's not a lie when I say that the guys stood in line to fuck me. Awesome!Now here comes the first movie filmed that day, displaying the first half of the bang. The second part is coming soon.
Details: Duration 20 min. Format MP4. Quality Full HD and SD (1200 and 320 MB). Download and stream.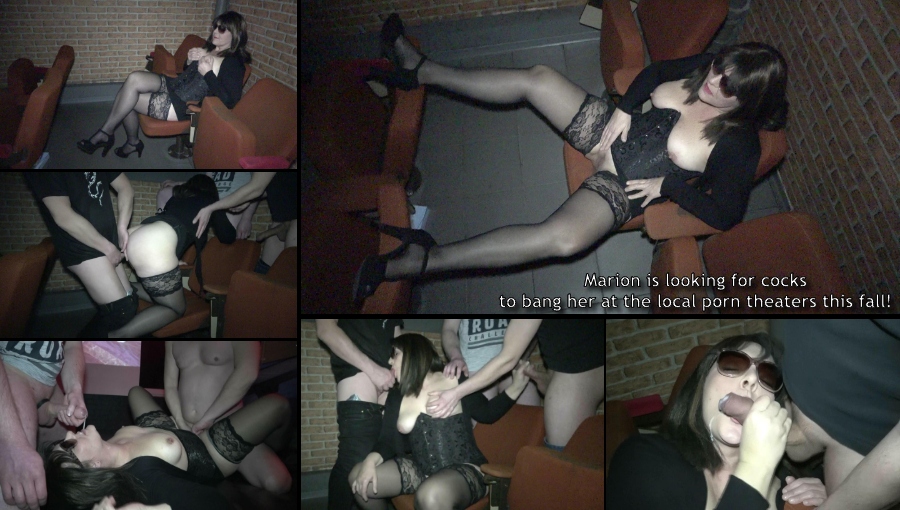 I'm looking for many cocks to have fun with at the local theaters, especially in the upcoming colder months, October 2020 to February 2021. So, as a member feel free to email me and be a part of the show. The more cocks the merrier. I have no financial interests. I want your cock and cum, not your money.
Here's how it works: Go to the party scheduler you'll find in the member area, send me an email to the address you'll find there and tell me a bit about yourself: your name, origin, age, weight, height and size of your cock. Then I'll put you on a list and once I decide to visit a theater I will send an email to all guys on that list, a few days before I'll be there. If you have the time, just answer me and in return I'll send you another mail with all details (adress of the theater etc.).
The rules are simple: You have to be at least 21 years of age, clean and disease free. You don't mind being recorded by my husband's cam (you can put on a mask). You don't mind sharing me with other guys... other members and random strangers/visitors of the theater. And if you wonder how it looks like if we have fun together, just take a look at this week's brand new photo set, where you can watch me having fun at one of those theaters, shot in early 2020. By the way, in the member area you'll find dozens of movies from my theater escapades, where you can watch me getting used by hundreds of men.
| | |
| --- | --- |
| | |
********************************************************************
Billing Support: CCBill
18 U.S.C. §2257 Records - Customer Support - Webmasters click here to make $$$ - Banners - Links
© Copyright 2001-2020 cumdrinkingwife.com. All Rights Reserved.