My Name is Marion, I'm a slutwife with a never ending hunger for cocks. Welcome to my life!

I'm no girl of the industry, I'm a REAL wife and I have sex with REAL men, not actors. So this is a REAL site about my life. And my life is about having sex with as many guys as possible. I'm cruising the nation to suck off and fuck every guy I meet. I love to eat cum. I love gangbangs, I love bukkake, the more cocks and cum the merrier.

There are no staged settings, NO FAKED PLACES, only real guys fucking me at real public locations, such as adult theaters, pubs, bars, clubs, carparks, woods etc. My husband always escorts me, he loves to film all the dirty things I'm doing with the many 100s of cocks. [read more]


You probably can't imagine how much fun it is to bet the center of attraction for a wilde horde of guys. Especially when I am the one and only woman amongst a crowd of cocks (which is the case in over 90% of all of my escapades) I'm just feeling like a true queen of porn. So many cocks and all of them do me the favour to use me. It's like getting an infinite number of compliments. This time I was the only woman again during this hot gangbang night at the club. There was another couple sitting at the bar, but I guess that girl wasn't up for a bang. This night there were about 25 guys hanging around at the club. I wanted to get used by all of them, but this time I wanted to be blindfolded and let them all use me anonymously. I can't see them, I only feel them, their cocks and fingers and tongues and loads. It's just awesome. Now a true hot sex party began. Loud music, dimmed light, party atmosphere. And me as the prototype of a party slut...ready to get used by everybody. I sat or lied at the couch all the time and whenever a guy wanted to fuck me, he just had to do a few steps from his seat to the couch, got his cock out and ramming it into one of my holes. All in all I got used by over 20 guys that night.
Details: Duration 20 min. Format MP4. Quality HD and SD (600 and 250 MB). Download and stream.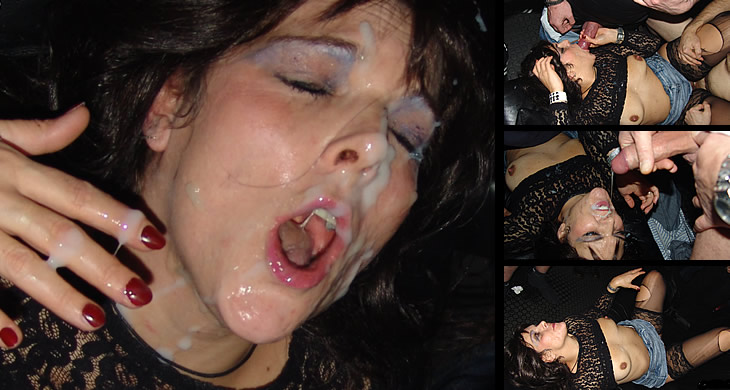 This photo set was shot during a special gangbang night at a sex club, a 'no-rules and no-limits' night where girls like me visit the club to get fucked by everybody. I have to admit, I was a bit drugged as I yelled out at the party room, that I REALLY wanted to get used and abused this night. The guys should give me a true brutal bang, I was ready for anything. And so they did. It was more a rape, than a bang, and I loved it. By the time it was over I had serviced over 20 strangers. Each and every one of them had shot his load onto my face or in my wife open mouth, a few guys had violated my pussy as well. My face and the makeup looked destroyed after all those loads on my face, my clothes, especially the stockings were torn. I was so sore after that brutal gangbang that I was about ready to pass out. It's not what I wanna do day by day, but from time to time I just love to get used and abused like that, it makes me feel like a true sex slave and that enormously satisfies me. The corresponding movie is coming soon.
This is the final episode of the awesome nude beach gangbang, filmed during my penultimate beach vacation. This was for sure one of the hottest days I ever had on a public beach. My husband filmed me as I went swimming in the nude and that was enough to attract some attention. A couple of curious guys were coming to my place on the beach, another few were lying on towels a few steps away, staring at me, hesitating, probably unsure what I wanted to do next. I just told them I want to have some fun, but only if they agree that we will tape the entire action. My husband gave out masks to those who agreed and turned on the cam, which now was recording the entire 3 hours long session. I sucked off two guys first, a third one joined the party quickly and then they were all mounting me, in most cases I got spit roasted by two guys at once. An older guy, over 60 years I guess, completed the party and now four guys took turn on me. In this movie you can see the final scenes we have taped that afternoon. It is a stunning beach sex movie, since while I'm getting banged you can always see the ocean in the background. That's what I call true public sex. There is nothing staged or planned here, it's a true public sex party.
Details: Duration 23 min. Format MP4. Quality HD and SD (670 and 260 MB). Download and stream.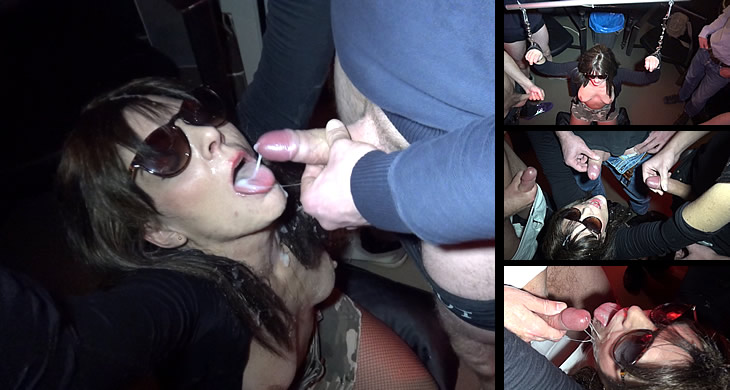 Usually I don't post when I go to a sex club, an adult theater or a similar place. I'm just hot then and drive to that place to have some fun with whomever I can find there. This time I was visiting a swingers club I had not visit for a long time. As I walked along the different rooms of the club I saw there was a new one, a black painted bdsm room, with some bondage furniture in it. And I saw these cuffs hanging down the ceiling and I liked the idea to get used as a cum dump while being bound there. My husband liked the idea too and so I was bound and on my knees, only a few seconds later and of course I had not to wait long, until I sucked off the first guy. Note, that all guys I had sucked off that evening were strangers once again. As usual my husband assures everyone who wanted to use me that he will film it, but won't caught his face on tape. All in all I got 10 cumshots from 10 guys I had never seen before on my face and tongue during the next 20 minutes. It was awesome, I really felt like a true cum dump and you know I love being a cum dump. There were simply no more guys in the room after the 10th had shot his load on my face, otherwise I surely had enjoyed it for a longer time and so my husband released me from the cuffs. He has caught most of the session on videotape, and of course you will also find the corresponding movie in the member area. Now here is the photo set.

As promised a few days ago, here is the corresponding movie of the brand new and incredible hot dogging escapade, my husband has filmed on August/17/2017. Overall I sucked and fucked and got loads from 10 strangers this time and most of them used me twice. I returned to the highway rest area again, which is my favourite dogging spot at the moment. Always many cocks walking around, at the rest area, at the surrounding wooden area, and all of them looking for quick casual fun. It's a well known place for doggers and for sure a perfect place for me. The movie starts with me putting on my stockings and preparing for dogging, then I'm walking to the place where I hope to find some cocks. Finally you can watch me on my knees, being surrounded by a group of men, sucking cock by cock, while the rest is wanking their dicks. I got the first loads on my face and then the first guys are fucking me while I'm standing bent-forward at a tree branch. There are still some loads on my face while they bang me and you watch the cum dripping on the ground. Looks so hot! Needless to say, that this dogging escapade is true reality and not staged porn once again... like all the other escapades you'll find in the member area.
Details: Duration 20 min. Format MP4. Quality HD and SD (600 and 250 MB). Download and stream.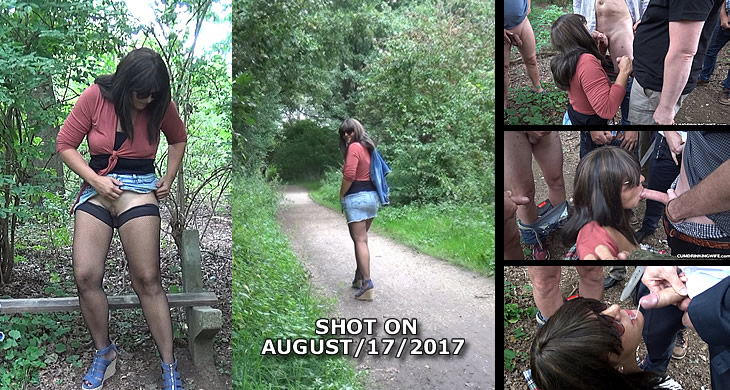 In case you don't know it... this year I'm on an exciting dogging mission: In the year 2017 I want to get fucked by at least 100 DIFFERENT guys at public locations, so-called 'dogging spots'. Places like rest areas, car parks, wooded areas and so on. In the member area I have a special page for this mission, counting all cocks I got in public so far. The rules are simple: The guys have to be strangers/casual encounters, they either have to fuck me or get sucked off and I only count different guys and not guys who used me twice or more during one or more escapades. Now... here's another brand new dogging escapade, shot on August/17/2017, with the next 10 strangers using my cunt or my mouth or both and shooting their loads on me. I returned to the highway rest area again, which is my favourite dogging spot at the moment. Always many cocks walking around, looking for fun. You can even see my preparing for the gangbang in this photo set. I'm sitting at a small clearing, I'm putting on my stockings, then I start cruising around and finally you can watch me on my knees, being surrounded by plenty of men and sucking cock. With these 10 cocks, the dogging counter now displays 84 cocks I already had in 2017... so there are only 16 cocks left to accomplish the mission! Watch out for the corresponding movie of this brand new dogging escapade, coming later this week.

The awesome gangbang at the bar continues with the next 20 guys fucking me. It's the second and final movie my husband had taped that night. You know, it's the place where the bar owner knows me and my desires and he always locks the doors to his bar once I am in, making it a discreet and private place now. Now only guys can enter the bar who know what is happening inside... that there is a slut inside, ready to satisfy each and every cock. Most of the guys who are visiting this place during its 'gangbang hours' are strangers I have never seen before. I just love to get used by strangers! This time I wore one of my very slutty outfits again as I entered the doors. A mini skirt, clearly visible stockings and a topless corsage. I got fucked by at least 20 guys during the first hour of the party (which is diplayed in the first movie) and now the next 20 guys banged me into coma during the second half of the bang. It all happened right there at the bar stools, I got fucked again and again and again, while other guys in the background continued to drink and talk and waiting for their turn. I really like to get mindlessly used like this!
Details: Duration 20 min. Format MP4. Quality HD and SD (580 and 230 MB). Download and stream.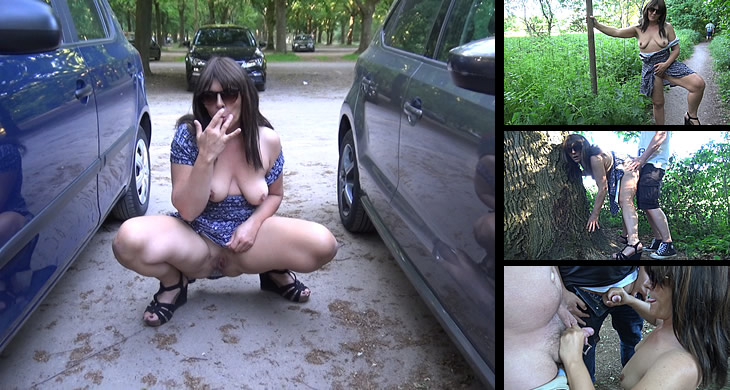 This is a photo set of another true reality dogging escapade, which was taped in May. The cocksucking and fucking action took place at a wooded location right next to the highway rest area and you will find a movie in the member area showing this action, but before I started sucking and fucking strangers, I tried to attract attention at the rest area itself. The weather was great and my husband and I arrived at 15:00 at the huge place and lots of people wandering around, not only doggers, but families, young couples and so on. Too busy to have fun at the rest area, but nevertheless I attracted attention by showing my tits and puss in between the cars. Hubby caught it all on tape. Then I walked from the car to the nearby wooded location, which is only a few steps away and my husband continued taking some photos. Quickly we had three spectators who were watching us at some distance. Just a few minutes later I found myself sucking and fucking these cocks and later two more strangers joined the party. All in all I got 4 cumshots in my mouth and on my tits and 2 loads in my cunt.

This is the second and final movie my husband has filmed at the Adult Theater in late April 2017. Eventually I wanted to go dogging outside that day, but the weather was too bad to visit the local outdoor spots. But I was hot and wanted to get me some cock and cum and so I drove to the Xposed Theater, which is at the highway and which I had visited several times before. This theater has a couple of gloryhole boothes and a few bigger rooms with cinema screens, where you can watch hot movies. I placed myself at one of these cinema rooms. And everything that followed now, was totally spontaneous and not staged action. I didn't post that at the party scheduler or anywhere else, I just wanted to take things as they come. I expected to find maybe two or three guys who are willing to give me cock and cum, but way off the mark! That evening I got a really HUGE bang with lots of strangers fucking me or getting sucked off. Partly there were up to 8 guys with me in the room, waiting for their turn. Guys who had cum drenched me left the room and were quickly replaced by another one. My husband placed a cam right beside the couch where I serviced all those strangers.
Details: Duration 25 min. Format MP4. Quality HD and SD (700 and 270 MB). Download and stream.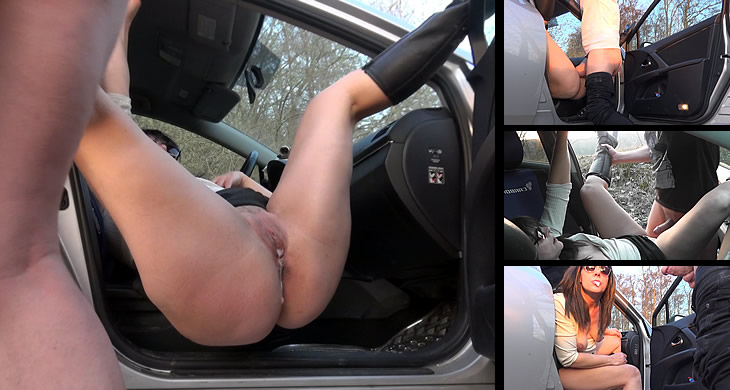 This is a photo set of a dogging escapade which was taped earlier this year. Going out dogging and looking for casual encounters, who want to bang me outdoors and cream me in and over. I just love that. This time I checked out a new dogging spot I read about somewhere in the depths of the internet. I only knew it's a smooth lake with a small path, bushes and park benches surrounding the entire lake. And - at least this is what I had read - with guys sometimes cruising at this place, looking for couples they maybe can watch to. That sounded good and so I decided to check it out. To cut a long story short, the place is great for dogging, but it really wasn't a busy spot that day. Nevertheless I had my fun there, got a good fuck, but then I left the place because I wanted some more cock. I drove to a nearby rest area where I continued whoring around. I got fucked on the passenger seat and got a huge load in my mouth and another one in my puss. Great creampie pics at the end of the set and the corresponding movie, which you will also get in the member area.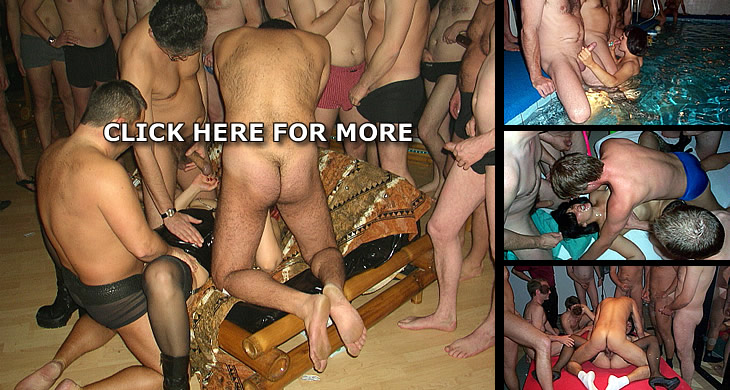 We have launched a huge member area upgrade: The member area is now fully optimized for all mobile devices, as well as for PC and Laptop. When you now enter the member area you can choose between the member area for PC/Laptop or the member area for Mobile Devices. Both member areas contain all videos, photos and stories of course. CLICK HERE if you want to see some screenshots of the new member area optimized for mobile devices. Furthermore we have improved the EARLY YEARS video page. There are now tons of new videos from my very early years on this page. It's now in chronological order. My first porn video ever, my first threesome ever, my first gangbang and so on. I was 18 years as I did my first homemade porn videos and now all those early videos are online!
CLICK HERE if you want to see a detailed listing of all improvements and the corresponding screenshots.
...YOU CAN ALSO CHECK OUT THESE PAGES FOR MORE HOT STUFF...
********************************************************************
Ressources:
Billing Support: CCBill
18 U.S.C. §2257 Records - Customer Support - Webmasters click here to make $$$ - Banners - Links
© Copyright 2001-2017 cumdrinkingwife.com. All Rights Reserved.