My name is Marion, I'm a slutwife with a never ending hunger for cocks. Welcome to my life! I'm no girl of the industry, I'm a real woman, a real wife that loves to have fun with guys. Lots of guys. The more the merrier. Call me a true gangbang cum slut... I'm happy about that.

I started swinging 20 years ago and quickly my husband started to take pics and videos from all my kinky escapades. I had my first gangbang in 1997, my first gangbang with 20+ guys in 2000, my biggest gangbang was a party with over 100 guys. By the time I'm writing these words over 5000 guys have fucked and creamed me... and I'm still counting since I'm still doing dogging and gangbang escapades frequently.

On my website you always get TRUE REALITY PORN. Nothing is staged here. There are no scripts, no actors. My escapades take place at real public locations, such as Adult Theaters, rest areas, public beaches, clubs and pubs and so on. Most of the guys using/fucking/creaming me are real strangers... guys I've never seen before. Now lean back and enjoy my naughty swinging life. [read more]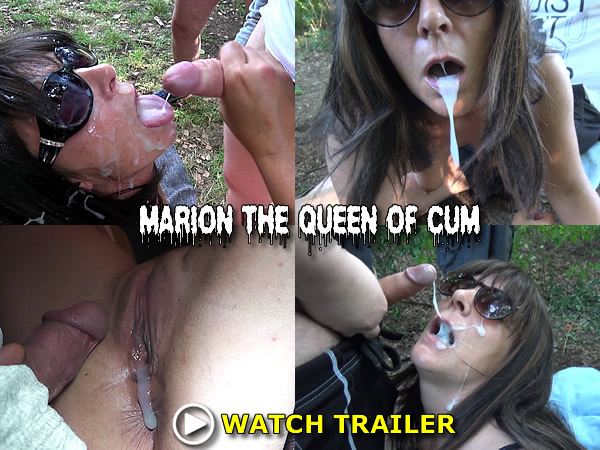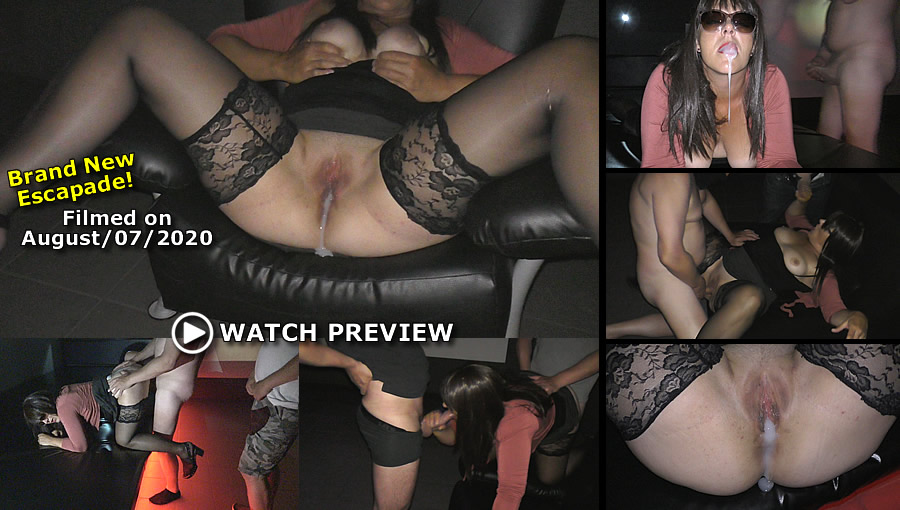 A few days ago I have started a new sex challenge where I want at least 100 different guys to cum in my mouth or in my puss until the end of the year. Just go to the sex challenge page to get all details. Now here is the first escapade that counts towards the new sex challenge, filmed only one week ago, on August 07, 2020 at my favourite adult theater. And what a surprisingly massive creampie gangbang that was! During the past few months the local theaters were closed due to the corona pandemy, but now they are reopened since early July. During my first visit after the reopening I had learned that there are signs on the walls, telling the visitors to follow the social distancing rules, to wear a cloth face mask etc. I also had learned that there are not so many guys at the theater like before the corona outbreak and so I didn't expect to have fun with more than 3 or 4 guys at the very most. But I was totally wrong. There were more guys cruising the dark floors than the month before. All of them wore masks and stared at me, as I began cruising the theater and attract attention. Of course I didn't wear a mask and I surely didn't intend to follow the distancing rules, as I placed myself at one of the cinema rooms. To put in a nutshell, during the next two hours I got fucked by over ten guys and sucked off a few more. I don't lie when I say I served the entire audience. I got 20 loads in total, 14 of them in my puss and mouth... the first 14 loads to count towards my new sex challenge ;)
Details: Duration 23 min. Format MP4. Quality HD and SD (1500 and 360 MB). Download and stream.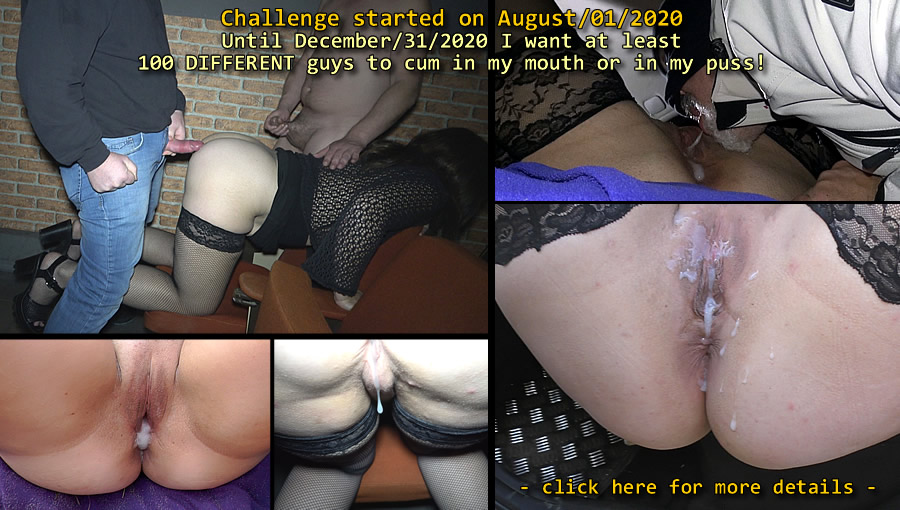 In 2016 I set up my first sex challenge where I told the world that I want to get fucked by at least 100 different guys at the local dogging spots during summer 2016. This challenge made me hotter than ever before. I had set up myself a goal and I had great ambitions to achieve that goal as soon as possible. I really couldn't get enough and always said: More cocks please! So, since 2016 I set myself a goal every year, a sex challenge, usually a specific number of cocks I want to have fun with, up to a specific date.
This year's challenge started on August 01, 2020 and will end up on December 31, 2020. During this period I try to let at least 100 DIFFERENT guys cum in my mouth or in my puss! Only cumshots in my mouth or puss count, loads on my tits or wherever don't count. And only different guys and loads count. If a guy fucks me twice and shoots two loads in my puss, it only counts as one. Challenge accepted? Challenge accepted! ;-)
Just click on the pic above to go to the sex challenge page, where you'll get more details and where you can always watch the progress of the current challenge.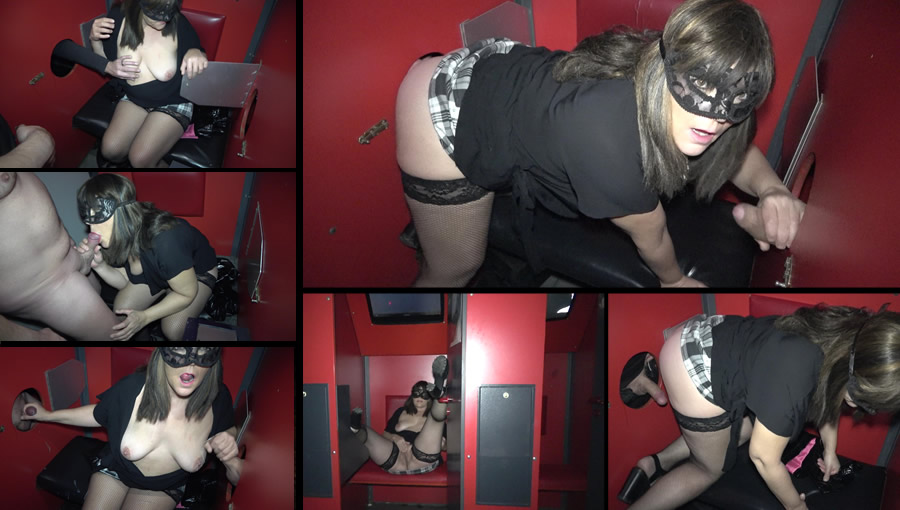 This is a photo set from one of my most recent adult theater escapade, where I sucked and fucked a total of 14 strangers in and around the gloryhole video boothes, containing nearly 100 pics. This theater has several gloryhole boothes and as I arrived I went straight to them, where my husband started filming me. I went from booth to booth, placed myself on the seats and played with myself. Usually there are no other women at these theaters and so it's super easy for a slut like me to attract attention. I saw an increasing number of men standing behind my husband and watching me showing off and so I quickly grabbed the first cock in sight. I also sucked and wanked a few cocks outside the booth and got some loads on my tits, but most of the time I served cocks inside the booth at the gloryhole. The booth where I was in had two holes, one at the left and one at the right side of the wall and so there are lots of pics in this set where you can watch me wanking, sucking and fucking two cocks at once. I even got spitroasted, with my ass at one hole and getting fucked while sucking off another guy at the other. All in all I served 14 different cocks at the gloryhole that day. Don't forget to watch the corresponding movie which you'll also find in the member area.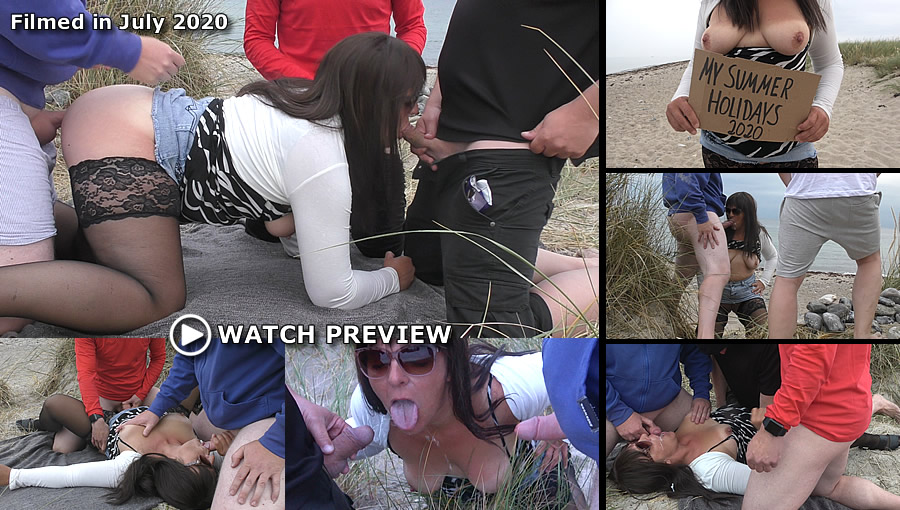 As I told you before, I had a lot of fun during my summer holidays in July 2020 and now here comes the first movie filmed during these holidays. It was filmed on a beach which is far away from the tourist beaches and well known as a good meeting point for people who are looking for casual sex. But it was midsummer and many people are taking their vacation and so I decided to visit the beach in the evening hours. That turned out to be a good idea since the beach wasn't a very busy place as I arrived at 7 p.m. I saw no tourists, no families lying on their towels, I only saw a few single guys lying in the dunes or walking around and even some anglers standing at the waters edge with their fishing poles. Seemed to be a good playground for me. I placed myself at the edge of the dunes, a good place to see and to be seen. In the first scenes of the movie you can perfectly see how easy it was to attract attention.
At first I'm teasingthe guys by holding the holidays sign and showing my tits. I can see that some of the guys in the dunes and two of the anglers are now staring at me. In the next scene you can see me sitting at the dunes with bare tits and widespread arms and inviting one of the guys to my place. You can see this guy accepting the invitation by running to my place and sucking at my tits immediately. From their on it's only a matter of time until I'm finding myself on the ground, surrounded by several strangers and getting fucked by all of them. In this movie you can see me getting used by six different guys. One of them was an angler, who just stopped fishing, came over, unzipped his waders, let me suck him off until he exploded in my mouth and then continued fishing, without saying any words. Also, two of the guys used me as their urinal, which you can see in the last scene of the movie. Awesome beach escapade!
Details: Duration 27 min. Format MP4. Quality HD and SD (1800 and 420 MB). Download and stream.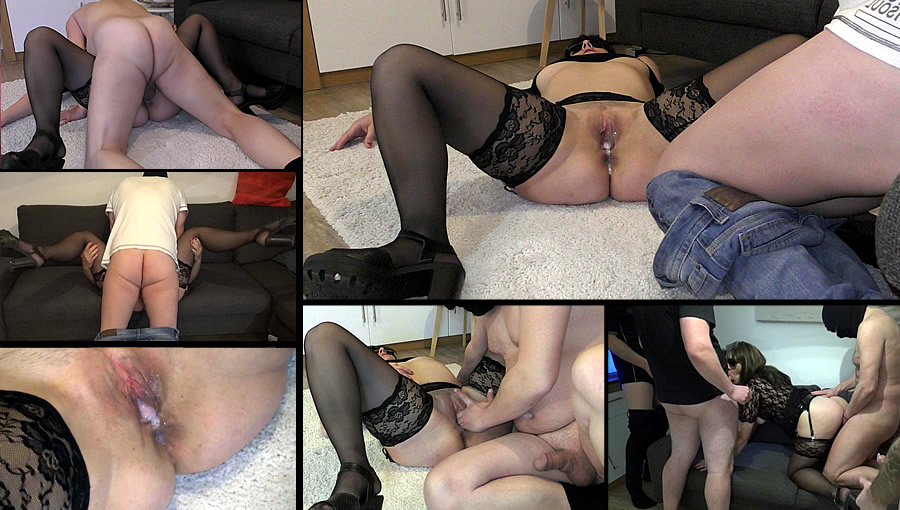 Stay tuned for the first movie filmed during my July 2020 summer holiday, which is coming on Friday, but today we are giving you a set of photos shot during an awesome breeding gangbang earlier this year, where I got banged and totally used as a cum dump by 13 guys at the apartment. You can watch me getting fucked by a total of 13 guys. You can see them shooting load after load in my puss and some loads in my mouth. A true breeding marathon with me as the total cum dumpster. Many great creampie pics here, if you like watching cum dripping out of a well used puss, you will like this set. You can also watch me getting off as one of the bastards cleans my cum drenched puss with his tongue. I shared the party information at my party scheduler in the member area, where I told my fans that I was looking for cocks to use me at the apartment. Over a period of seven hours 13 guys joined the party to bang me, with up to 4 guys at once. Most of them are members of my website and the party turned into an incredible non-stop gangbang.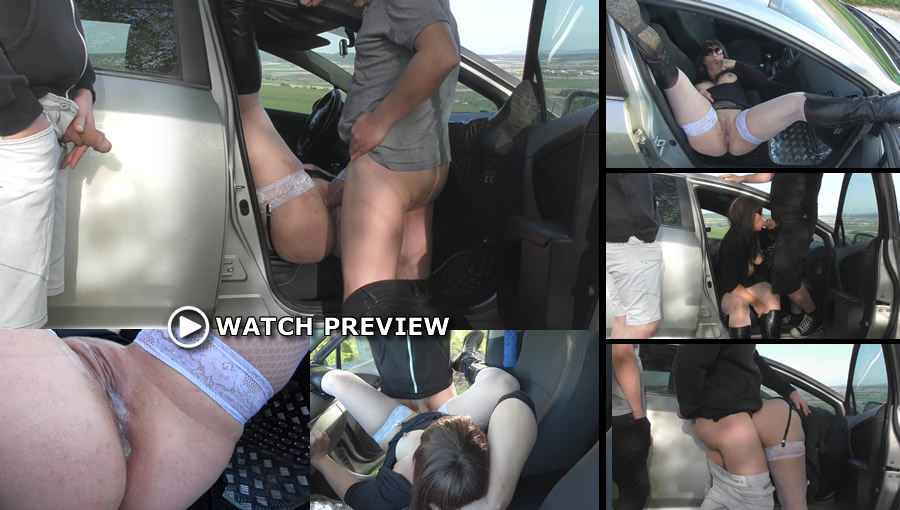 This is the second and final episode of the breeding gangbang at the rest area filmed in May 2020, displaying the second half of the escapade. This time I decided to drive to a smaller dogging area at the roadside, because I wanted to have some fun in my car and I know that this place is perfect to get used this way. It is a dead-end road in the middle of nowhere which gets only frequented by people who are looking for casual sex, especially in the early evening hours. As I arrived I saw a few cars parking along roadways and some guys walking around at some distance. I placed one cam inside the car while hubby placed another one outside and once I opened the passenger door I started showing off at my car to attract some attention. I guess I was an eyecatcher with my white fishnet stockings and tarty boots, since most of the guys came closer immediately. One word led to another... and a few minutes later one of them fucked me in the car. That was the starting signal for a hot spontaneous car gangbang, where I got fucked and bred again and again for the next two hours. There were not many guys around this time, seems that many doggers prefer to stay home at times of corona, but these few guys used me really good. All of them fucked and creampied me two times at least, so it's no lie when I say that I was very busy cum slut once again.
Details: Duration 22 min. Format MP4. Quality HD and SD (1300 and 350 MB). Download and stream.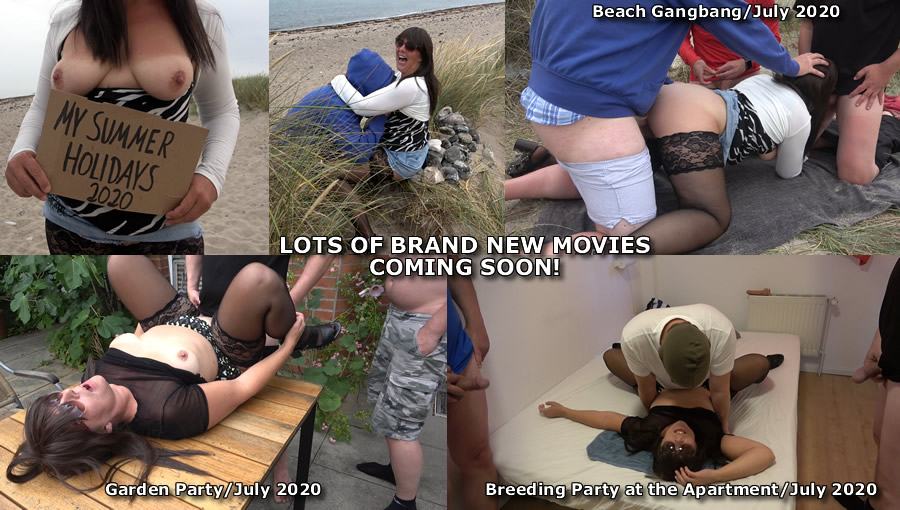 I'm back from my summer holidays at the sea and just to let you know: I had a lot of fun during my holidays. Just look at the pic above to see some of the kinky escapades I enjoyed during the past two weeks. Of course my husband has filmed everything I have done, so prepare yourself to get plenty of brand new movies from my holidays in the next few weeks. Next week we will start with a beach gangbang, where you will watch me getting used by some doggers and anglers in the dunes. Stay tuned!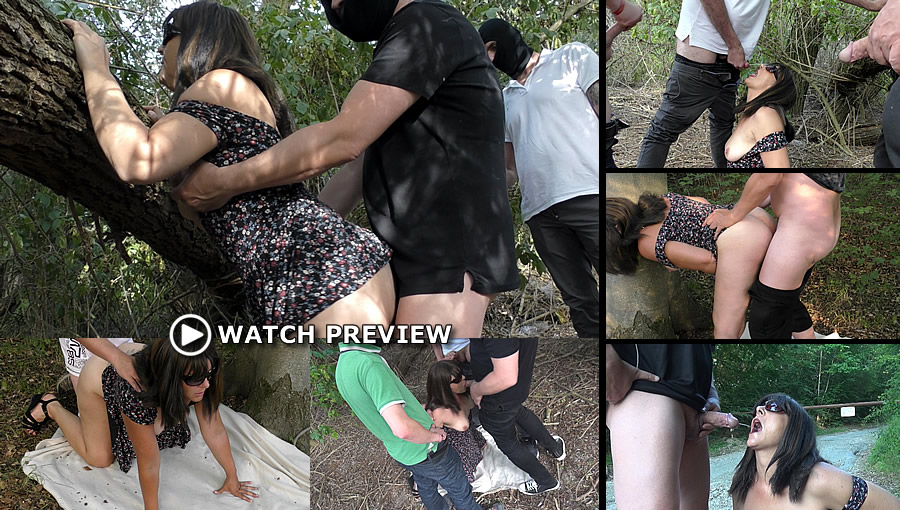 Before I start on my two-week summer vacation at the sea, where I hope to have a lot of kinky fun with plenty of men, let's see what happened at my last vacation. This hot dogging movie was filmed at a mountain road dogging spot during my last vacation. It's the final episode my husband has filmed that day. I had read about this dogging spot at the mountain road a few weeks before the holiday and I decided to check it out. As I arrived I saw a few cars parking along roadways. Some pathes leading into the woods. And - more important - a few guys guys standing at their cars and staring at me as I left my car, followed by my husband and his camera. There was no need to attract some attention since both guys came closer immediately and one of them asked me whether I am looking for some fun or not. Well, that was without doubt the quickest approach ever at a dogging spot, but of course I agreed, went down on my knees right there at the road and he began to fuck my mouth. I went into the woods quickly, but now the gang was grown up to a party of six strangers. All of them fucked me right there in the woods, only a few steps away from the road. I sucked them off, swallowed several huge loads, got fucked many times with some of them breeding me and some of these bastards even let their bladders loose and used me as their urinal. Yummy!
Details: Duration 21 min. Format MP4. Quality HD and SD (1200 and 300 MB). Download and stream.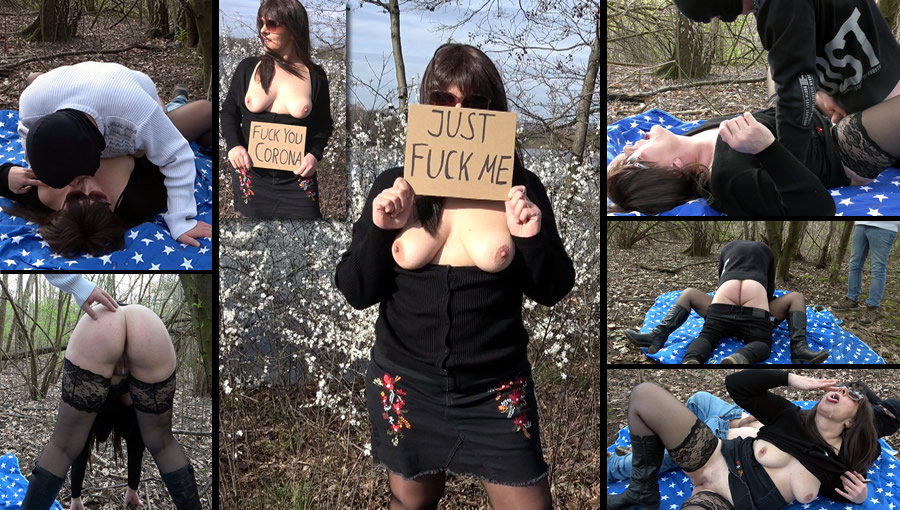 This escapade happened earlier this year, shortly after the corona outbreak. We have launched the movied three months ago and now here is a set of photos shot the same day, containing over 100 pics. The set starts with me holding a 'Fuck You Corona' sign, with a 'Just Fuck Me' message on the flipside. Not the gentlest kind of message, I know, but here's what I wanted to tell you with the sign: We will all get through this together! No matter how long it takes... we will make it! As you know by now I just continued having fun and meeting guys to have fun with, but during the first few weeks of the outbreak I only did escapades with guys I knew a longer time, regulars if you will. This set displays such an escapade. After these first scenes with the sign, you can watch me having fun in the nearby bushes. Three guys are escorting me and they all are taking turn on me. They fuck me, I'm sucking them off. One of them shoots his load in my puss, one in my mouth and we are generally having a good time. Yes, I'll continue having fun in times like these... and I don't feel ashamed about it! Stay safe and healthy!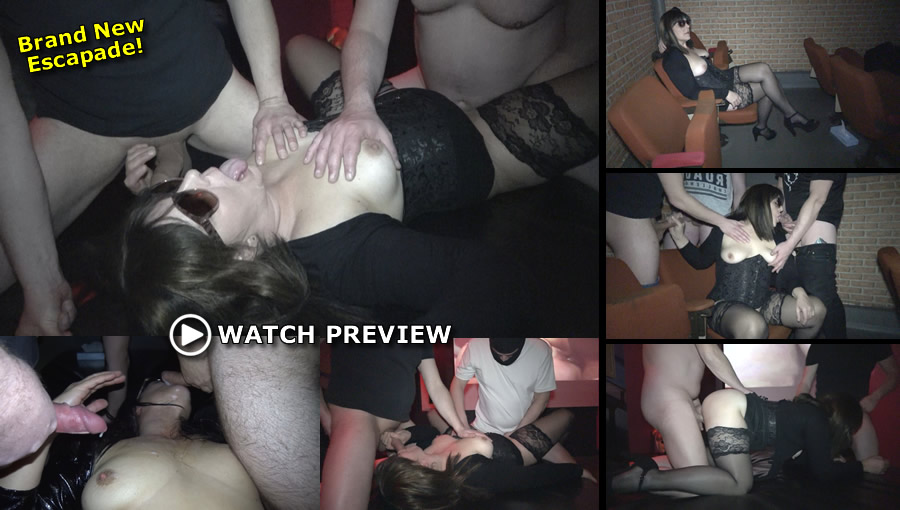 The corona lockdown hit me hard, first and foremost because all the local adult theaters had to close their doors for nearly three months. And you know, beside my outdoor escapades, adult theaters are my most favourite playground when I'm hot and looking for cock. But now, two weeks ago, the first theaters finally got the permission to re-open. A few days ago I checked out my favourite theater, the two-storey temple of lust, with several big screen rooms, lots of video boothes and plenty of smaller rooms and cinemas. Well... it was a strange experience. There are signs hanging on the walls everywhere in the theater, telling their visitors to wear a safety mask and not to have any kind of sexual intercourse. God damn... this is a porn theater and not the church of the holy shit! Of course I didn't put on a mask as I cruised the theater. And of course I had no mask on as I sucked off and got banged by the first few cocks in one of the bigger cinema rooms. And I surely didn't wear a mask, as some more guys nailed me at another room, the one with the big black couch in front of the screen. Call me a bad girl. But anyway, the main point is that the local theaters are open again, which gives me more possibilities to have a good time and which gives you more hot and brand new movies. Win-win situation. Stay healthy!
Details: Duration 22 min. Format MP4. Quality HD and SD (1200 and 330 MB). Download and stream.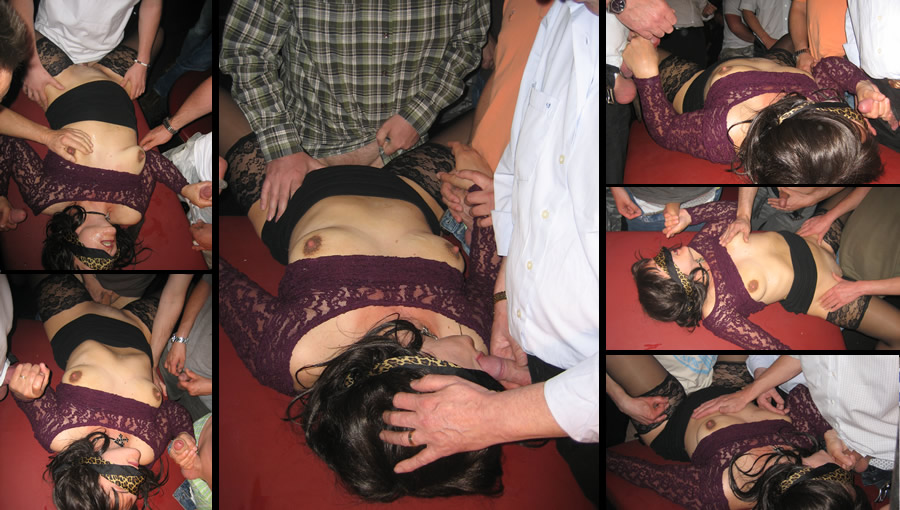 This was a huge gangbang at a local swingers club, where I got fucked by the entire audience once again and for a number of reasons this was a very unusual escapade. On the one hand this was one of the rare gangbangs where my husband didn't escort me. He had a bad cold and stayed at home, but I just wanted to have some fun that day and so he let me drive to my favourite club to get nailed. For the same reason this is one of the rare escapades where I can't show you a movie. There are only the 66 photos in this set proving that this gangbang really happened. The photos were taken by the owner of the club which I know for many years now. As this guy saw that my husband wasn't by my side that night, he thankfully asked me to shoot some pics once I start to go down and dirty. So, these pics are the only evidences that this bang really happened. There is no movie and there will never be a movie. I stayed at the club for over five hours and the last four of them I found myself on a table, blindfolded, with my legs at ten and two and hordes of guys surrounding me and one cock after another fucking me. To be honest, I totally lost countsince I was blindfolded, but I'm sure I got nailed by over 20 guys that night, maybe a few more. Hubby missed a great party ;-)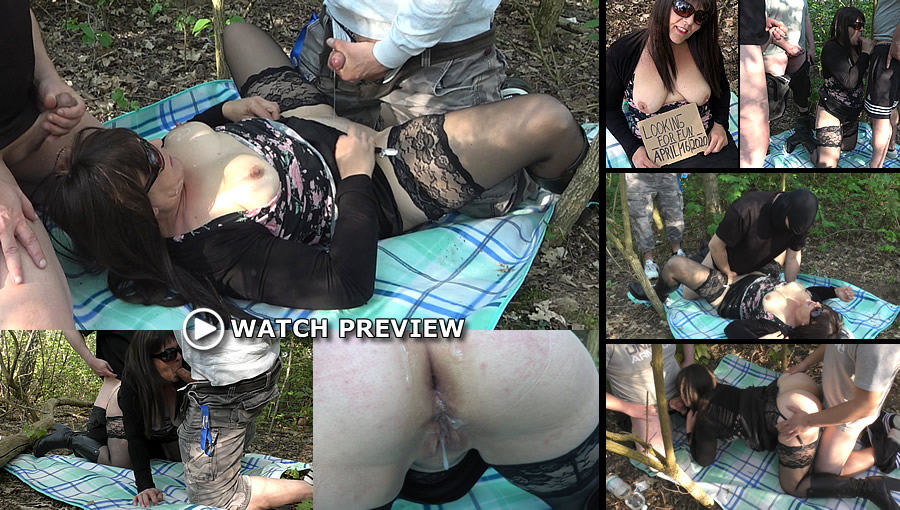 This is the second episode of the hot dogging escapade filmed by my husband in April 2020, where you can see me getting fucked by some guys again and again in the bushes of a highway dogging spot. After these guys had fucked and bred me a first time, all of them recovered quickly, now ready to mount me again. This movie displays the second round. This dogging spot is a thrilling place. You can park your car at the highway rest area and then you only have to walk a few metres into the bushes to find a lot of lonesome and hidden areas where you can do whatever you want. It's a well known meeting area for doggers and swingers. Due to corona crisis there are no doggers at places like these at the moment, or at least not enough to satisfy my needs and so I had placed another ad at my party scheduler where I had looked for cocks willing to fuck me that day. The rules were simple: No words necessary, just find me in the bushes, drop in, use me and drop out once you are tired of using me. And that's exactly what you can see in the first and second episode. The guys are fucking me, mounting me in the bushes, again and again. Overall there were not more than six guys using me, but these six really were on fire. For over two hours they banged me into coma and each guy shot at least two loads on me. On my tits, in my mouth, in my puss. Nice creampie scenes in this movie ;-)
Details: Duration 21 min. Format MP4. Quality HD and SD (1200 and 330 MB). Download and stream.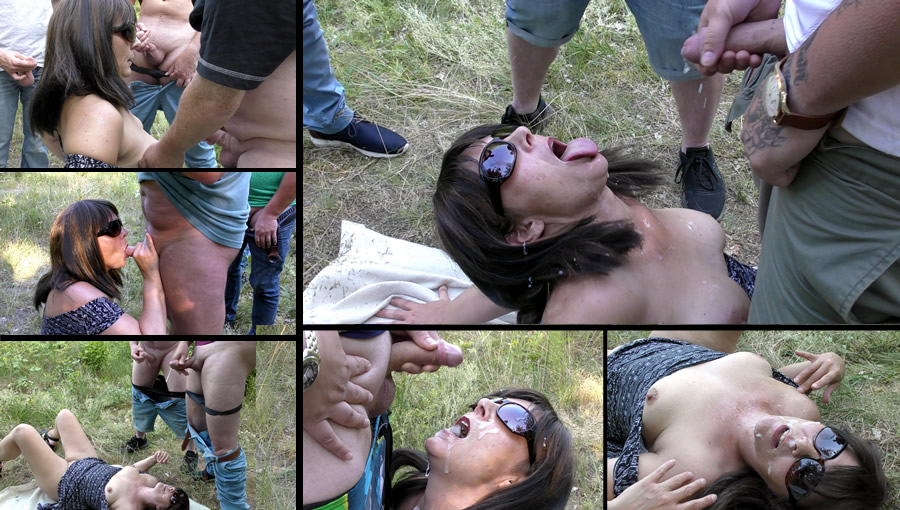 This photo set was shot in the bushes of a highway rest area. There's also a corresponding movie in the member area. What I really love is to go gown on my knees and suck off cock after cock to completion, especially at the local dogging spots and preferably for hours and hours, with a never ending line of cocks. This day I intended to do it exactly like this. I drove to the highway rest area again which I know for many years now and where I spent many kinky days and nights. This place is a well known dogging spot, especially for truckers who are taking a rest there and looking for some casual sex in the bushes of the rest area. You have no idea how easy it is to attract attention and get me cock and cum at places like this. I only have to walk up and down the rest area, all along the trucks and cars and their drivers and shake my ass and lift my skirt. Then I'm walking into the bushes and usually a few of the guys are following me. This time I walked to a small clearing and there I went down on my knees. Only a few minutes later I was surrounded by some guys, only 3 or 4 in the beginning. I started to serve all the guys who didn't mind being recorded. More spectators joined the show, lining up, waiting for their turn. Once a guys had unloaded he left the place and was replaced by the next one. All in all I sucked off 14 truckers that afternoon. Yummy!
| | |
| --- | --- |
| | |
| | |
| --- | --- |
| | |
********************************************************************
Billing Support: CCBill
18 U.S.C. §2257 Records - Customer Support - Webmasters click here to make $$$ - Banners - Links
© Copyright 2001-2020 cumdrinkingwife.com. All Rights Reserved.