My name is Marion, I'm a slutwife with a never ending hunger for cocks. Welcome to my life! I'm no girl of the industry, I'm a real woman, a real wife that loves to have fun with guys. Lots of guys. The more the merrier. Call me a true gangbang cum slut... I'm happy about that.

I started swinging 20 years ago and quickly my husband started to take pics and videos from all my kinky escapades. I had my first gangbang in 1997, my first gangbang with 20+ guys in 2000, my biggest gangbang was a party with over 100 guys. By the time I'm writing these words over 5000 guys have fucked and creamed me... and I'm still counting since I'm still doing dogging and gangbang escapades frequently.

On my website you always get TRUE REALITY PORN. Nothing is staged here. There are no scripts, no actors. My escapades take place at real public locations, such as Adult Theaters, rest areas, public beaches, clubs and pubs and so on. Most of the guys using/fucking/creaming me are real strangers... guys I've never seen before. Now lean back and enjoy my naughty swinging life. [read more]


This week I want to show you the movie of a great gangbang party in a hotel room, where 14 guys really banged me into coma. Although it has been a while that this session was originally recorded, it's a new movie, because today we will release it as a full movie for the first time. At the time this was recorded I was hosting gangbang parties at hotel rooms like this, especially for my members and fans. These guys could join the member parties to bang me for hours and hours. Over the years the groups of men got bigger and bigger and so I stopped doing these hotel parties and relocated them to bigger locations, such as clubs or theaters. But in this movie you can watch such a hotel member party, where 14 arrived to have fun with me. I placed a mattress in the middle of the room, surrounded by couches and chairs. Now, while one or two cocks banged me simultaneously, the other guys could sit down and watch the action and preparing their cocks until it's their turn to fuck me. I just love parties like this, with me as the center of attraction and a lot of guys lined up, waiting for their turn.
Details: Duration 20 min. Format MP4. High Quality (300 MB). Download and stream.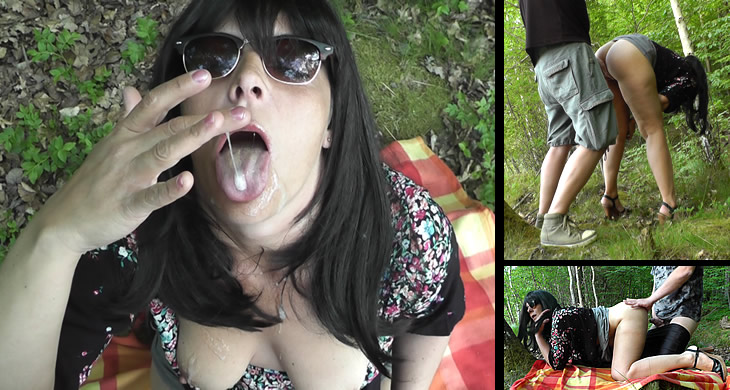 This set of photos - and the corresponding movie which you'll also find in the member area - was shot at a wooded area nearby a shaft of a pit. As usual this is a well known dogging area, a good place for me to get me some casual encounters. In this set you can watch me getting groped and multiply fucked, sucking off cocks to completion and doing what I just love: Playing with those loads in my mouth. There are also some point of view scenes in this set, where you can watch me sucking cock, while the guy holds the cam. So just imagine, this one could be yours. POV scenes like these are very rare on my site, since the guys who are doing me are casual encounters in most cases. Usually I can't walk to a dogging spot, let a stranger fuck me and tell him: And don't forget to hold the cam while you fuck me, since I need a good pov scene. You know what I mean? That's difficult to say the least. But in this set you'll get some very good POV pics.

This hot dogging escapade was filmed by my husband during my most recent vacation at the sea, a few months ago. The movie starts with me walking from our car to the place on the beach. As you will see, this is a true public beach and there are other people walking around and lying on their towels. This place is known as a dogging spot for swingers, but of course there are always non-swingers hanging around, so you have to be careful what you are doing and where you are doing it. I am looking for a good place in the dunes and then I place my towel and windbreaker at the dunes, only 20 metres away from the water. Quickly I'm starting fooling around in the dunes, you know, showing off and playing with myself. I can see a few guys looking at me, but they keep distance, hesitating, until I'm walking to one of them and invite him to join us. He follows me and I start sucking him. That's the beginning of a long hot day on the beach. I was there for over 6 hours and got fucked or sucked off a total of 10 various guys. I got several loads in my mouth and in my cunt. Nice creampie scenes in this movie. This is the first movie we have filmed that day, displaying a summary of the first 3 hours on the beach.
Details: Duration 20 min. Format MP4. Quality HD and SD (650 and 200 MB). Download and stream.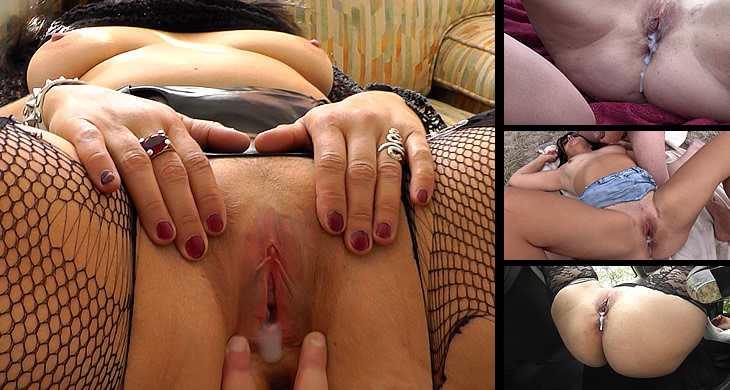 If you like to watch me getting creampied, you shouldn't miss this photo set. Of course there are many creampies in my movies and photo sets, two in this one, some more in the next one and so on. But I know that some of you like to have movies and sets that are full packed with creampies, one after another. And here you got it. There are 25 different creampies in this set of photos. All of these pics were taken indoors and outdoors during the past 12 months. From now on I'll give you such a creampie set with the most recent internal cumshots frequently, so as from now you don't have to collect the creampies at all the other sets, you just need to watch these creampie sets to get what you want to see. You'll see I was a very busy cum slut lately. As a true cum dumpster I'm always ready for a hot load in my puss.

You see - I don't lose time. After my short christmas holidays I start the year with a huge and very satisfying rest area gangbang, where I got fucked and creamed by 12 strangers. And this one is more than brand new, because it's only 48 hours ago that this escapade took place at a highway rest stop. Usually I like to play in broad daylight, but now it's winter and as I arrvived at this dogging spot at 7 in the evening, it was dark as midnight. Of course it was a bit cold too, but as I left my car and paraded at the rest stop, I saw many other cars parking there and several guys parading as well. Quickly I leaned back and spreaded my legs and my husband started to film. The movie begins with this scene. Of course he had to switch on the camera light and so all the guys in the surrounding cars could see my stockings and my bare cunt now... a cheap slut waiting for casual encounters and their cocks obviously. Only a few seconds later the trunk was surrounded by a group of strangers, standing in the dark and some of them already wanking their cocks. I grabbed one of them wordlessly and sucked him off. Then he fucked me and quickly a second cock replaced him. That was the starting signal for a huge gangbang, where I was banged and creamed by 12 different strangers. Note: This is true reality porn again. Nothing is staged here. The guys fucking me are true casual encounters. Enjoy the first dogging movie of the new year.
Details: Duration 22 min. Format MP4. Quality HD and SD (650 and 150 MB). Download and stream.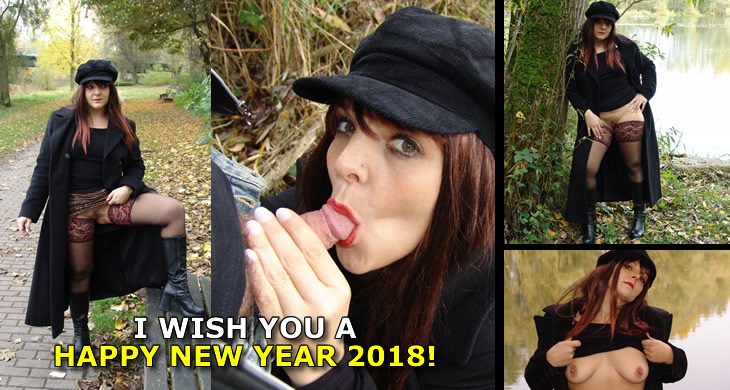 I wish all friends and fans, all lovers and doggers, all guys who have used me in the past and who will use me in the future, a HAPPY NEW YEAR 2018! Let's start the new year with a set of over 120 photos, all shot on a cloudy, rainy day in autumn, showing me flashing and cocksucking in a public park. We had not take a movie that day, my husband only took these photos. I want to take the opportunity to say THANK YOU to all fans and members of my website... I really appreciate your support and I really love the idea that you have much fun watching me having so much fun. But now let's go on to 2018. I have some big and kinky plans for the new year. Among others I want to top the numbers of doggers who have fucked me at public places in 2017 during the new year. The number in 2017 was 123 cocks and I hope I will top that number in 2018. In the member area, there is a new page called 'Dogging 2018' where I will count all doggers who are using me. Another escapade I definitely want to do is a huge 12 or 24 hours gangbang, where I will open my legs for everybody all day long. I have done a similar party 10 years ago and so I think it's time to do it again. Happy new year!

After the first guys fucked me in the public toilet, I continued taking on all cummers. This hot dogging episode was shot during my most recent vacation at the sea. I was dressed very slutty as I arrived at this place in the late evening, a dogging spot we had read about in the web. I was cruising this place, especially the large public toilet, with several cubicles. I was trying to attract attention and saw a guy noticing me. I entered the door to one of the cublicles, showing my tits and cunt. I placed a cam on the ground, let the guy come in and closed the door. I undid his zip, pulling out his cut hard cock and sucked him a while, before I placed his cock against my soaking cunt. He filled me up and when he pulled out the sounk ran down, out fo my cunt. He left and a second guy in his 30's came into the cubicle. I turned around, he fucked my cunt and butt and gives me a second creampie. Then a third guy replaced the second one, fucking me missionary while I was sitting on the toilet bowl. All three guys now took turn and used me for the next one hour or so. And the cam recorded most of the stuff. Now here is the second and final episode filmed that night, where you can see all three guys using me again and filling me up with the next loads.
Details: Duration 20 min. Format MP4. Quality HD and SD (550 and 120 MB). Download and stream.

As a good tradition on my website I'm giving you a new and hopefully impressive cumshot collection at the end of each year, showing some of the hottest cumshots I got in the current year. There are over 60 cumshots in this movie and all scenes were filmed between January and November 2017. These are by far not all cumshots I got this year, just take them as a BEST OF. You'll see I was such a busy cum slut this year, I sucked off and got fucked and creamed by over 180 different guys in 2017. By the way, there are also some scenes in this movie that are previously unreleased. These are mainly scenes from shorter dogging escapades, where I sucked off one or two cocks, but where we had not filmed enough stuff for an entire weekly update movie. So now, watch me being the center of attraction for so many guys in this movie, watch me getting load after load, on my face, in my mouth and in my cunt. I just love being a naughty cum dump for each and every cock and this is just another movie that proves it. And don't forget to prepare for the next year: I have plans for some huge new gangbang and dogging escapades in 2018 and so I hope you'll continue to follow me on my way of swinging and gangbanging.
Details: Duration 20 min. Format MP4. Quality HD and SD (600 and 150 MB). Download and stream.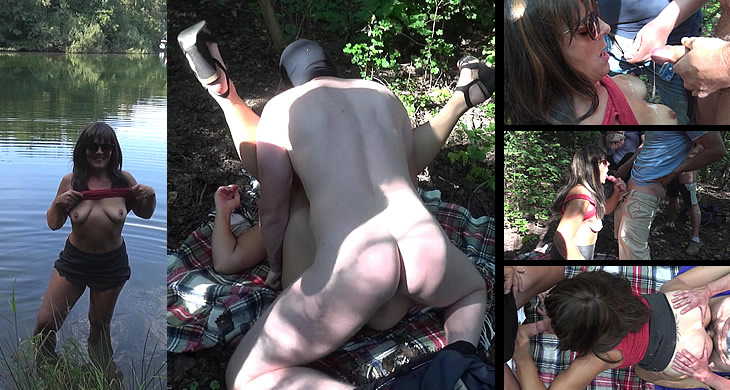 Photo set of my most recent gangbang at the public lake. This lake is known as a good dogging spot, where sluts like me can always find some fresh meat to have fun with. This year I gave my attention to the local rest areas and car parks, but in the new year I'm planning to return to the few local lakes, because I love these places. Relaxing at the lakes beaches, showing off and - if successful - getting laid down by strangers in the surrounding bushes is just a great way to waste some time. In this case I started the escapade by fooling around in and at the water. Quickly I attracted some attention, three guys were surrounding my beach towel and after I had explained the usual things (I am here to have some fun but my husband would like to caught it all on tape), I start sucking off the first few cocks in the bushes. More guys arrived quickly and got in line, to get their free blowjob too, I just love to serve all men who want to be served at places like these. Finally I got laid down by many of them, I got spitroasted, got some loads on my tits, in my face, in my mouth. This was just another awesome outdoor escapade. Of course you can also watch the corresponding movie in the member area.

Here is the second and final episode of the hot dogging escapade filmed in late summer 2017, displaying the second half of this amazing bang. Overall I sucked and fucked and got loads from 10 strangers this time and most of them used me twice. I returned to the highway rest area again, which is my favourite dogging spot at the moment. Always many cocks walking around at this dogging spot and its surrounding wooden area. And all of them looking for quick casual fun, so it's a perfect place for me. This area is a well known place for doggers. This movie starts with me preparing to suck off and get fucked by the next few strangers. In the first movie I got nearly 10 cumshots on my face and in my mouth and got fucked by some of them. But now some new guys have arrived and so I'm ready for more. I'm going down me on my knees, being surrounded by a group of men again, sucking cock by cock, while the rest is wanking their dicks. Again I'm getting some loads on my face, while other cocks are fucking me while I'm standing bent-forward at a tree branch. By the way, during the entire movie you can hear the traffic from the nearby highway. This is what makes me really hot... getting banged by a group of strangers in the bushes while there are so many clueless drivers rushing on by is just awesome. Enjoy this brand new dogging movie!
Details: Duration 20 min. Format MP4. Quality HD and SD (600 and 220 MB). Download and stream.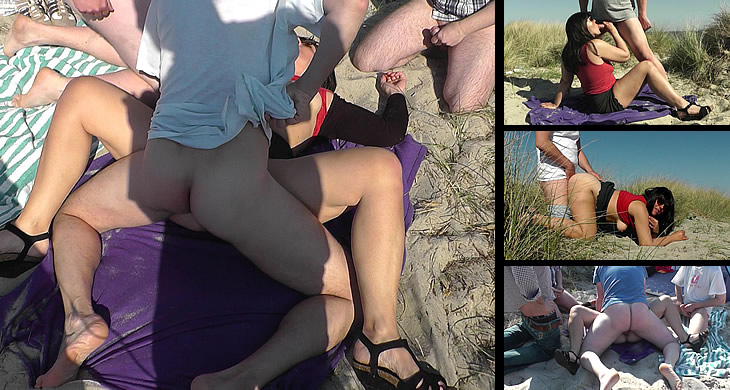 Oh yeah, I really love to serve strangers at dogging spots and one of my outdoor favourites are public beaches. In the member area you'll get thousand of photos and tons of movies where you can watch me getting banged by dozens of strangers at different beaches... there's so much stuff, that beach sex even has its own category in the member area. Now here's another great set of brand new pics, showing me entertaining a horde of strangers on a public beach. That day I serviced each and every guy who wanted to be served. All in all I got laid down by 9 different guys that day. Once I started serving the first two cocks, some more casual encounters, who saw me being naughty in the dunes, got in line and taking their chance to get a free blowjob and a fuck. It's great to see the ocean in the background most of the time while I'm getting laid. As usual, this is not staged, all of the guys fucking me are strangers. The guys didn't mind being recorded since my husband had masks for all them.

This was an awesome dogging escapade at one of the local Adult Theaters, where I got a totally unexpected HUGE gangbang, with tons of cocks and plenty of guys mounting and cum drenching me. All in all 18 different guys fucked me within a period of 3 hours. I was surrounded by at least 3 or 4 guys all the time and once one of the guys had shot his load on me, he left the cinema room and was quickly replaced by the next cock. As I entered the theater I never expected to get such a huge bang, since as I first cruised the theater, it was not a very busy place. The movie starts with me cruising through the dark floors and cinema rooms and you'll see that there are not many guys hanging around in the beginning. But the longer I stayed there and cruised the theater the more guys were following me, like bees around the honeypot. Finally I entered a bigger cinema room, sat down and then one of the followers cam closer and I began to suck off the first cock. He cam within half a minute and shot his load in my mouth. That was the starting signal for the bang, now all other guys noticed that I am there to have a lot of fun. 3 hours and 18 cocks later I left the theater, now as a fully satisfied cum slut.
Details: Duration 23 min. Format MP4. Quality HD and SD (730 and 160 MB). Download and stream.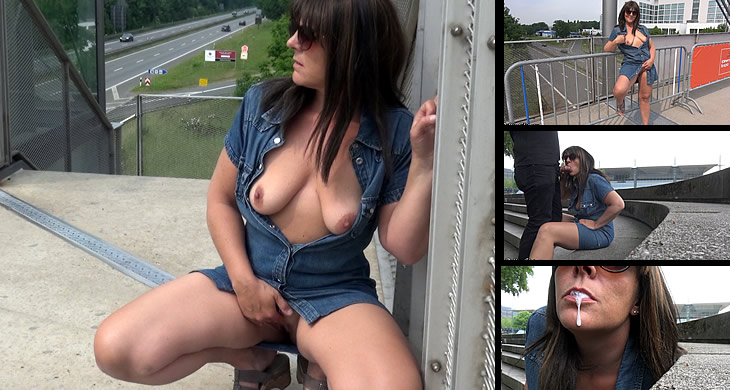 These pics were shot this summer. Eventually I intended to go shopping, but as we drove to the shopping mall I noticed this highway bridge. Of course I know this place for many years now but this time I hit upon the idea of doing something kinky on that bridge. I knew my husband had a cam in his pocket, he never leaves the house without it, and so I asked him if he would like to take a movie or some pics of me flashing on the bridge. You know, I just like to show off at public places. The more public and riskier, the better. It just makes me incredibly hot to know that I could get caught in the act at any time. Of course my husband liked the idea to do a spontaneous flashing shoot, parked the car nearby the bridge. Before I left the car I removed my panties and once on the bridge I was totally naked under my denim dress. He started to film me... and of course we both got so hot, that this spontaneous shoot ended with me sucking him off and getting a quick load in my mouth. Then we continued with our initial plan and drove to the shopping mall. 15 minutes later I was at the mall, still with the taste of his cum in my mouth. Yummy!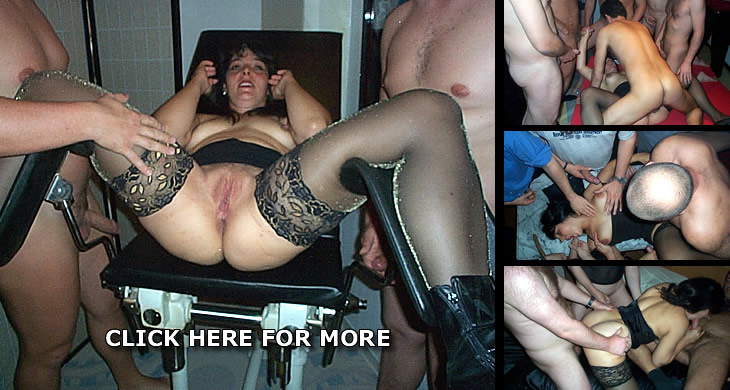 We have launched a huge member area upgrade: The member area is now fully optimized for all mobile devices, as well as for PC and Laptop. When you now enter the member area you can choose between the member area for PC/Laptop or the member area for Mobile Devices. Both member areas contain all videos, photos and stories of course. CLICK HERE if you want to see some screenshots of the new member area optimized for mobile devices. Furthermore we have improved the EARLY YEARS video page. There are now tons of new videos from my very early years on this page. It's now in chronological order. My first porn video ever, my first threesome ever, my first gangbang and so on. I was 18 years as I did my first homemade porn videos and now all those early videos are online!
CLICK HERE if you want to see a detailed listing of all improvements and the corresponding screenshots.
...YOU CAN ALSO CHECK OUT THESE PAGES FOR MORE HOT STUFF...
********************************************************************
Ressources:
Billing Support: CCBill
18 U.S.C. §2257 Records - Customer Support - Webmasters click here to make $$$ - Banners - Links
© Copyright 2001-2018 cumdrinkingwife.com. All Rights Reserved.