My name is Marion, I'm a slutwife with a never ending hunger for cocks. Welcome to my life! I'm no girl of the industry, I'm a real woman, a real wife that loves to have fun with guys. Lots of guys. The more the merrier. Call me a true gangbang cum slut... I'm happy about that.

I started swinging 20 years ago and quickly my husband started to take pics and videos from all my kinky escapades. I had my first gangbang in 1997, my first gangbang with 20+ guys in 2000, my biggest gangbang was a party with over 100 guys. By the time I'm writing these words over 5000 guys have fucked and creamed me... and I'm still counting since I'm still doing dogging and gangbang escapades frequently.

On my website you always get TRUE REALITY PORN. Nothing is staged here. There are no scripts, no actors. My escapades take place at real public locations, such as Adult Theaters, rest areas, public beaches, clubs and pubs and so on. Most of the guys using/fucking/creaming me are real strangers... guys I've never seen before. Now lean back and enjoy my naughty swinging life. [read more]
SIGN OF THE TIMES
- WHAT IT'S LIKE TO BE A WOMAN WHO GOT FUCKED BY 5000+ GUYS -
I'm getting fucked by groups of guys for nearly 20 years now! It's not a lie when I say that I truly believe that no other amateur swinging woman has got fucked by so many guys. In March 2017 I topped the incredible number of 5000 guys using me since the late 1990's.
And you know... I'm still counting, because the party ain't over. Today I'm hotter than ever before. I'm doing more gangbangs and dogging escapades these days than I did in 2000 or 2006 for example. Don't know why... but the older I get, the more cocks and escapades I need. Morecocks, more cum, more fun. And as long as I still find myself new cocks to suck and fuck, at the clubs, at the theaters and the dogging spots, I will continue doing with what I just love.
So - when you enter cumdrinkingwife.com prepare youself to enter a life dedicated to have maximum fun as often as possible.
written by Marion in December 2017
ON THIS PAGE I WILL ANSWER SOME OF THE FREQUENTLY ASKED QUESTIONS
SLUTWIFE MARION 1998: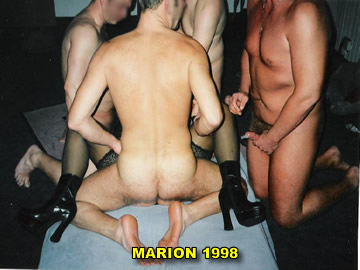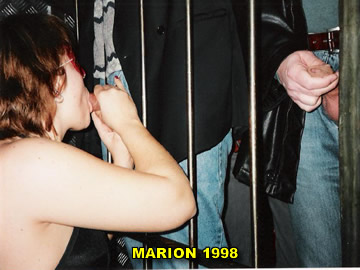 QUESTION: When did you start swinging?
Well, I started swinging in 1992. It was just before my 18th birthday as I had my first threesome. My former boyfriend Keith invites a guy I already know. I guess Keith doesn't plan that this evening ends up in a threesome. But after looking two films on TV and drinking some beer, Keith says it could be a good idea to play strip poker. Well, I'm already a bit drunk (and I like the buddy of Keith) and so I agree. One thing leads to another and at the end both, Keith and his buddy are fucking me that night. By the way - Keith has made a few photos that night. My first threesome and it's caught on cam. Not video, photo only. In the member area you can watch the photos of this very first threesome with me being soooo damn young.
SLUTWIFE MARION 1999: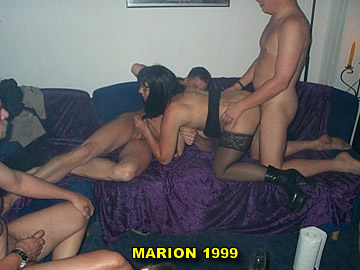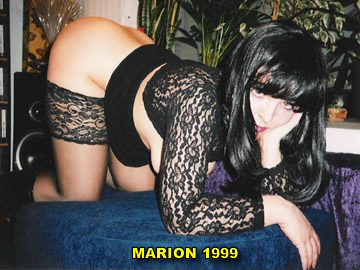 QUESTION: Why do you do what you do?
I really don't know and don't think much about it. I just love to do what I do and so I'm just doing it. It's really NOT that I woke up one day when I was 18 or 19 and said: OK, let's start a career as a gangbang slutwife. Of course not. It's more like a dozen coincidences that I became what I am today. I was a young woman as I did my first steps into the swinging style of life and noticed that I love to go down and dirty, especially when two or more guys are concentrating on me. For a couple of hours I feel like a queen then and enjoy every minute these guys are focused on me and my body. Of course I know that most of the guys I have sex with, only see me as an welcome opportunity to come off quickly and without complications, but that's okay, since all these are a welcome opportunity for me to satisfy my needs. A win-win situation.
SLUTWIFE MARION 2000: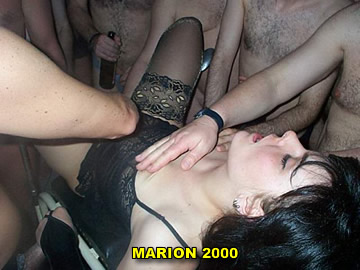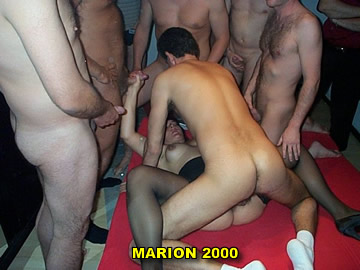 QUESTION: Do you really started swinging with doing gangbangs?
No, of course not. After my first threesome I had a few more threesome with two guys, but with my second boyfriend and upcoming husband Steve I also try out to meet other couples. Two men, two women. We are doing a lot of these swinger hook ups, but at the end of the day I know that this is not what I really want to do. Fortunately Steve thinks the same. He actually doesn't want to fuck other girls, he just loves to me getting used by other guys. He's some kind of a classic cuckold, if you will. And so we started doing threesomes again, then I had my first foursome with three guys using me at once, including Steve and then, five years after my first threesome I had my first gangbang in 1997, with 8 guys fucking me. It was great and very, very satisfying party. At the end of this night I knew that this is the only way I want to get used. Not by one guy, not by two guys, and really not by a couple, but a group of cocks that all concentrate on me and bang me into coma.
SLUTWIFE MARION 2001: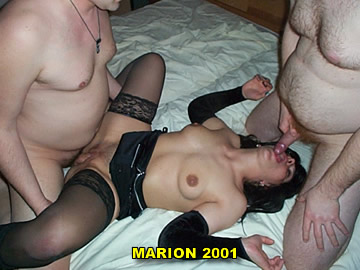 QUESTION: 5000 guys? Really? Why do you count all these cocks?
Yes, really, 5000+ cocks. If you think that sounds incredible or even unrealistic, then believe me: I think the same. I don't feel like a woman who got used by 5000 different men and really can't believe that there were so many guys having sex with me over the years. But... the photos and movies my husband took from nearly all my escapades during the past 20 years officially confirm that the number is correct. But why do I count them? Why even an official cock counter on my website? Well, as the parties and gangbangs grew up to bigger bangs with 20+ men using me, in the late 90's and early 2000's, I was just kidding, as I said to Steve: 'Actually we should count all these cocks, let's see how many I had until now.' Well, the next day Steve really had counted all cocks I had until that day (the number was '350' or something like that). From that day on we just continued to count all cocks that came on top. And now, in 2017, I have reached and topped the number of 5000 cocks. It's unbelievable, really.
SLUTWIFE MARION 2002: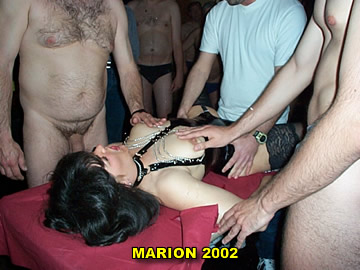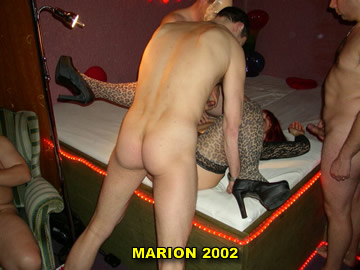 QUESTION: But why did you start displaying your escapades on public websites?
Well, the answer is similar to the answers above. As I launched my first website, which was a small and terrific first build website in 1999, there were only a few set of photos and maybe 8 or 10 small videoclips on this page. This first website was absolutely free of course. No membership. I just liked the idea of presenting me and my escapades for a large audience, but the main reason to launch this website was, that I wanted to have a page where guys could announce to my sex parties and escapades. Remember, at that time, there was no facebook, no twitter, no other social media and it was not easy to find a group of 10 or even more cocks for a gangbang.
So I wanted to launch a party scheduler, to find guys and satisy my needs for large groups of cocks banging me. Well, the feedback was overwhelming... during the first six months after the launch, over 100.000 people had visited the page. The result was, that the server company closed the site from one day to another. Too much traffic. So we learned that we can't show everything to everybody for free if we want to hold down costs. We also learned that hosting and maintaining a website is not only fun, first of all it's time-robbing hard work. You know, cutting and editing the movies and photo sets, updating the site, writing the stories to the movies and sets, answering emails and support questions, and last but really not least, promoting the site in the web. Too much work and too much cost to show all the content for free.
In 2000 we launched the second website, only with the party scheduler on it and a few pics and in early 2001 the cumdrinkingwife.com website was born. Still with a party scheduler in the free area and many free pics and a few videos, so that the guys still could announce to the parties, but this time also with a member area, for everybody who wanted to see more. And this is still the concept of my website. I do kinky escapades and everybody who wants to see the full versions of my escapades has to become a member.
SLUTWIFE MARION 2003: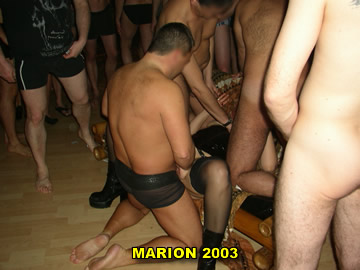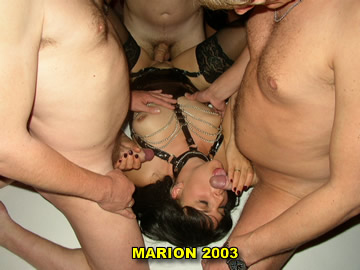 QUESTION: What was the highest number of cocks you had in one night?
The million dollar question. Here's the true answer: About 100 guys in one day during a huge club gangbang party with more than 100 guys and about 6 or 8 girls. This was in January 2003. There is a video in the member area, showing excerpts from this party (my husband had not filmed the entire party, because it was actually not allowed to film).
SLUTWIFE MARION 2004: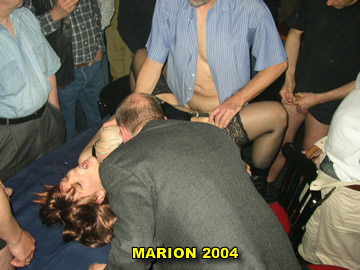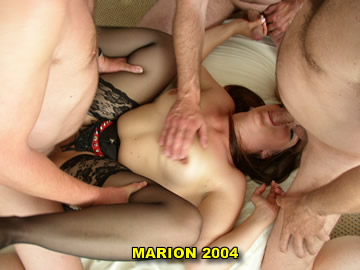 QUESTION: What was the highest number of cumshots you got in one night?
I got over 70 cumshots on my face and in my mouth during a sex party at a public bar in late 2010. In the member area you'll get 4 movies with the title 'Cumshot Record Party' and a total duration of 70 minutes that display each and every cumshot I got that night.
SLUTWIFE MARION 2005: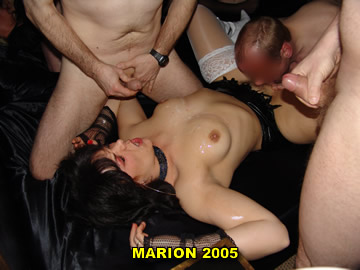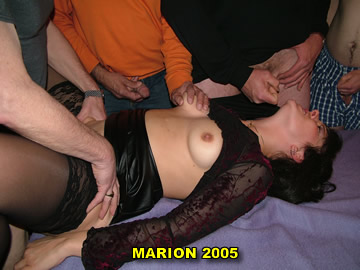 QUESTION: Which was the longest bang you ever had?
A 24 hours party in the middle of 2003, filmed at a hotel-room. Every few hours a new bunch of 3-5 guys joined the party, while the others left the room. The party started early in the morning and ended 24 hours latr. All in all 22 different guys joined this party.
SLUTWIFE MARION 2006: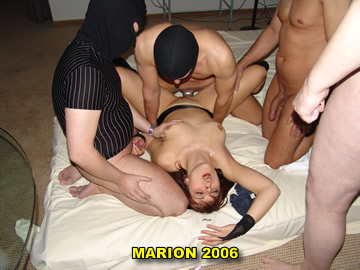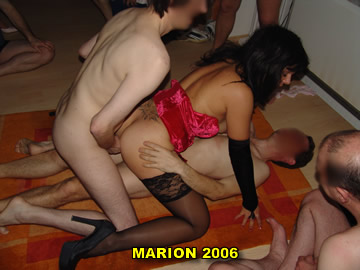 QUESTION: Please cum to America/Asia for a bang!
Well, no. Please be realistic. I don't book a plane and pay a lot of money just for a gangbang party in Sidney, Los Angeles, Tokyo or wherever. But.. feel free to buy yourself a ticket, get in the plane and visit one of my parties here in Europe. You are always welcum ;)
SLUTWIFE MARION 2007: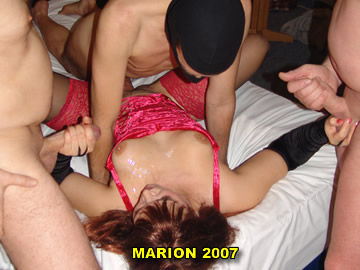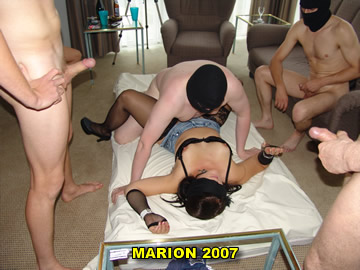 QUESTION: What's your favourite sexual position?
I like doggy style and standard position with me lying on my back. But actually I like very possible sexual position. Being fucked while standing, sitting, lying. And yes, going down to my knees to suck the guys off is another favourite position...
SLUTWIFE MARION 2008: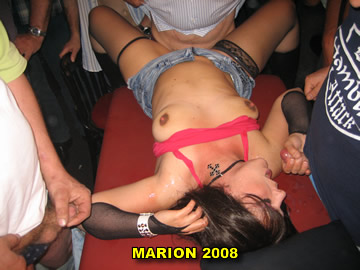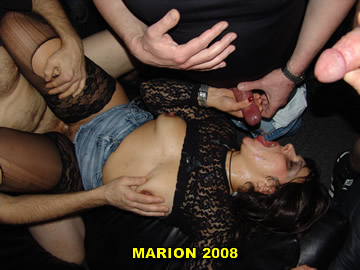 QUESTION: What's your favourite sexual position?
I would never suck off a cock that tastes dirty/smelly or that is sore. Beside this I actually have no limits. The only limit is time, or the number of cocks which is of course limited in most cases. If there are 'only' 15 cocks, I can only suck off 15 cocks. If there would be 150 cocks, well, I would just stop at the number 150, if time allows to do so. Simple as that.
SLUTWIFE MARION 2009: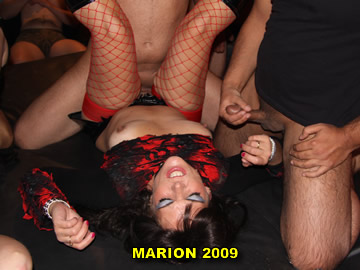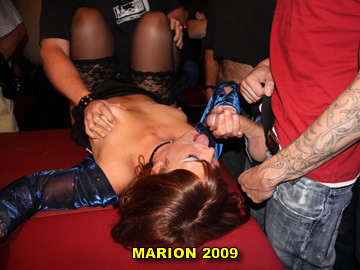 QUESTION: What do you prefer? Being fucked or sucking a cock off?
Good question. I love both but if I really had to decide I would say that cocksucking is what I love most. I really, really love to suck a cock off until he explodes. The cumshot in my face or on my tongue is always a reward for me - it's a gift and I love to get gifts ;)
SLUTWIFE MARION 2010: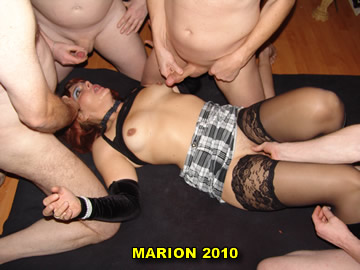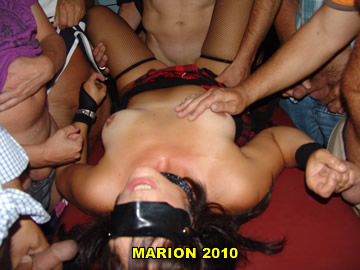 QUESTION: Do you really answer the emails personally? Do you really maintain/update the website personally?
Yes to both questions. The site is maintained by me and my hubby only, plus a technical guy who helps us with the technical aspects of a site like mine (server hosting, billing systems etc.). But the site itself and every single page, the entire design etc. is only created and updated by my husband and me. So, every word you can read here is written by me or by my husband and you really get ME if you contact me.
SLUTWIFE MARION 2011: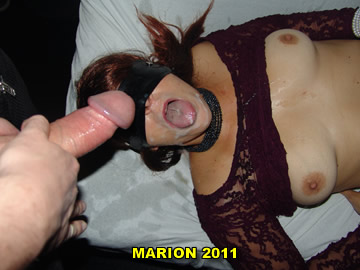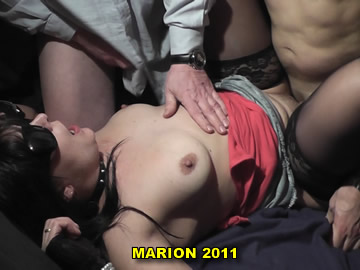 SLUTWIFE MARION 2012: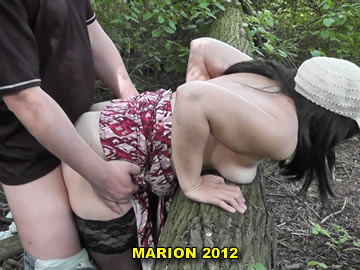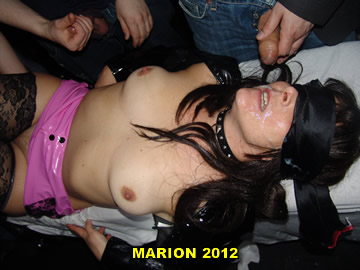 SLUTWIFE MARION 2013: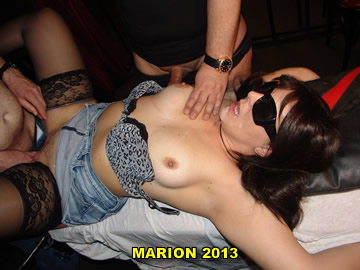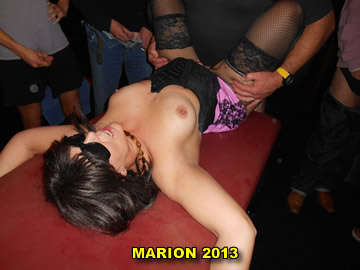 SLUTWIFE MARION 2014: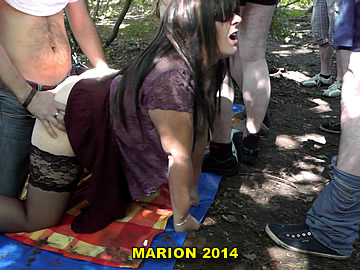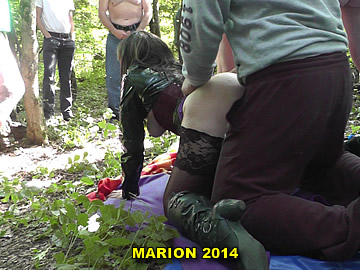 SLUTWIFE MARION 2015: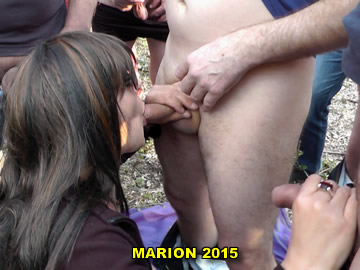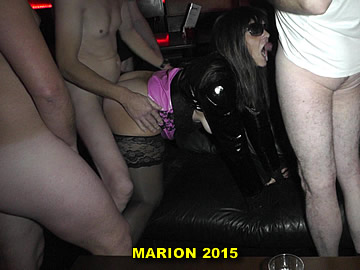 SLUTWIFE MARION 2016: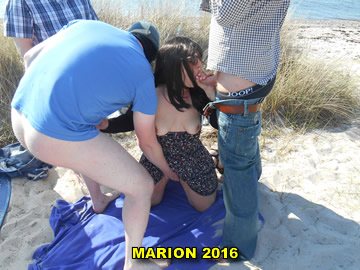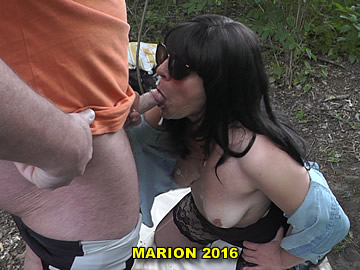 SLUTWIFE MARION 2017: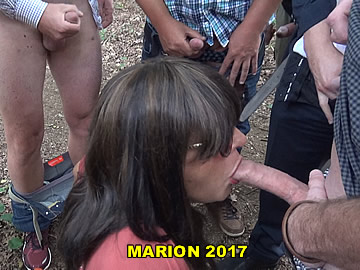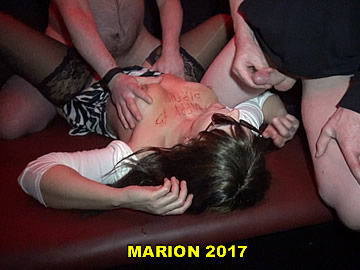 TO BE CONTINUED...
IN THE MEMBER AREA YOU WILL GET
NEARLY ALL MOVIES AND PHOTOS WE HAVE EVER RECORDED,
STARTING IN THE 1990's UNTIL THE MOST RECENT ONES!

Billing Support: CCBill
18 U.S.C. §2257 Records - Customer Support - Webmasters click here to make $$$ - Banners - Links
© Copyright 2001-2018 cumdrinkingwife.com. All Rights Reserved.