My name is Marion, I'm a slutwife with a never ending hunger for cocks. Welcome to my life! I'm no girl of the industry, I'm a real woman, a real wife that loves to have fun with guys. Lots of guys. The more the merrier. Call me a true gangbang cum slut... I'm happy about that.

I started swinging 20 years ago and quickly my husband started to take pics and videos from all my kinky escapades. I had my first gangbang in 1997, my first gangbang with 20+ guys in 2000, my biggest gangbang was a party with over 100 guys. By the time I'm writing these words over 5000 guys have fucked and creamed me... and I'm still counting since I'm still doing dogging and gangbang escapades frequently.

On my website you always get TRUE REALITY PORN. Nothing is staged here. There are no scripts, no actors. My escapades take place at real public locations, such as Adult Theaters, rest areas, public beaches, clubs and pubs and so on. Most of the guys using/fucking/creaming me are real strangers... guys I've never seen before. Now lean back and enjoy my naughty swinging life. [read more]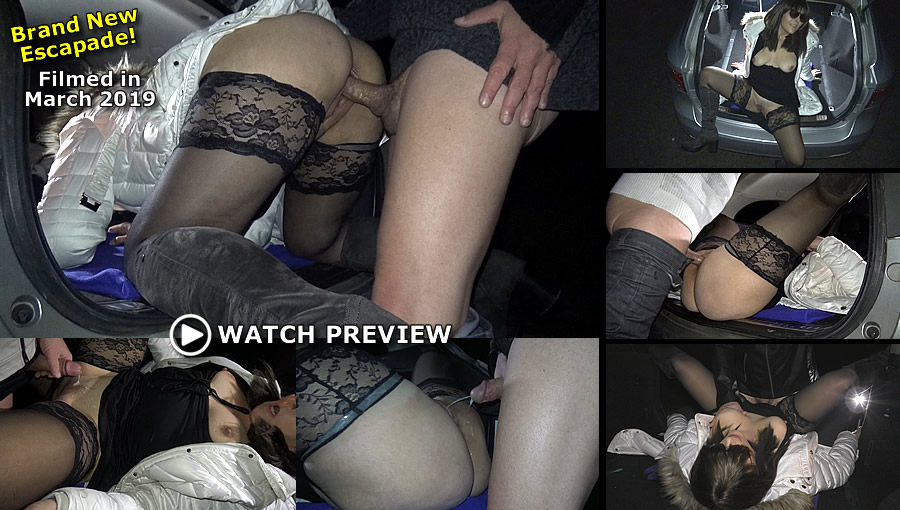 Welcome to the first outdoor dogging gangbang of the year 2019! This is a brand new movie, displaying a hot escapade at a rest area, filmed on March 8, 2019. It's still winter time, so I can't do things like this in broad daylight, because the trees and bushes are bare and therefore I can't let some guys gangbang me in the bushes or at my car. So, in winter I have to wait until it's dark outside when I want to go dogging. In this movie you can see me at one of my favourite dogging spots, a small but highly frequented rest area, where I always find some doggers who want to use me. It was cold outside, so I wore a white coat and decided to stay at my car and not to walk in the bushes. I opened the tailgate, sat down in the trunk of the car and waited for the things to come. Of course my car was quickly surrounded by some guys. Like bees around the honeypot. For a couple of minutes most of them stood in the darkness, looking at me, still hesitating, until one of them had the courage to come closer. I went down to my knees and started sucking him off, then he fucked me in the trunk and shot his load in my puss. That was the starting signal for all the other guys and the beginning of a true creampie gangbang, where I got fucked by one guy after another, in the trunk, doggy and missionary. All in all I got 15 loads in my puss. Just awesome! This is the first movie of that night, displaying the first half of the bang. Many great creampie scenes in this movie, where the spunk is dripping out of me and even with one of the guys eating the creampie of his predecessor. Yummy!
Details: Duration 26 min. Format MP4. Quality HD and SD (1000 and 300 MB). Download and stream.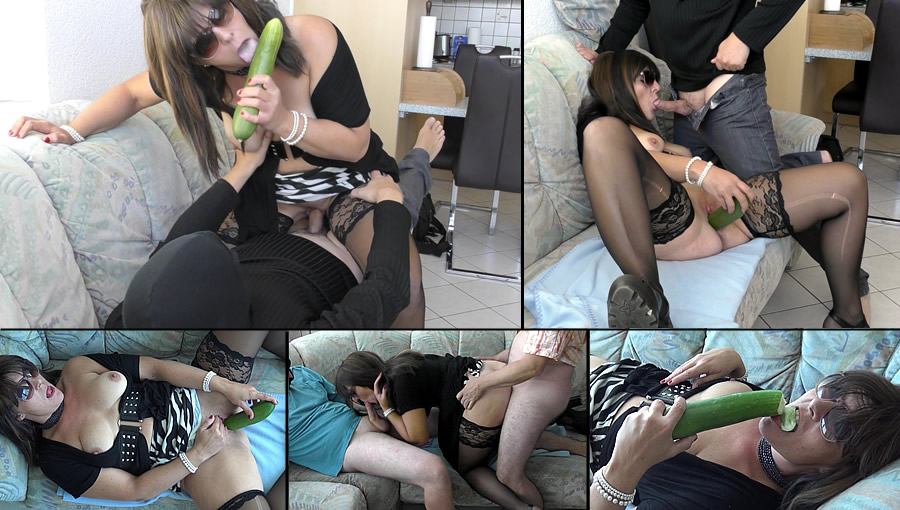 These pics were taken during one of my late 2018 member parties, you know, where I invite some fans and members to use me for a couple of hours. Beside my spontaneous dogging and theater escapades I do gangbangs like this frequently and during these parties there are always many funny moments beside the hardcore action itself. In this case I just grabbed a huge cucumber at some point and fucked my wet cunt with it, while the boys watched. The boys just had fucked me all, but I still hadn't enough for now and so the cucumber was proud to be my next lover. Of course the boys loved the show and so they quickly surrounded me again, ready to gangbang me again. During this party eight guys fucked me, with up to three guys using me together, but also with many one on one situations. For over five hours I was the cum slut for all of them again and again and got load after load in my mouth, in my puss, on my ass, since all of them used me twice at least. But, as already mentioned, this set of photos with over 100 pics is focused on the cucumber episode of the party. If you like what you see in this photo set, don't forget to visit the party scheduler in my member area, since I am always looking for guys to do things like this with me ;)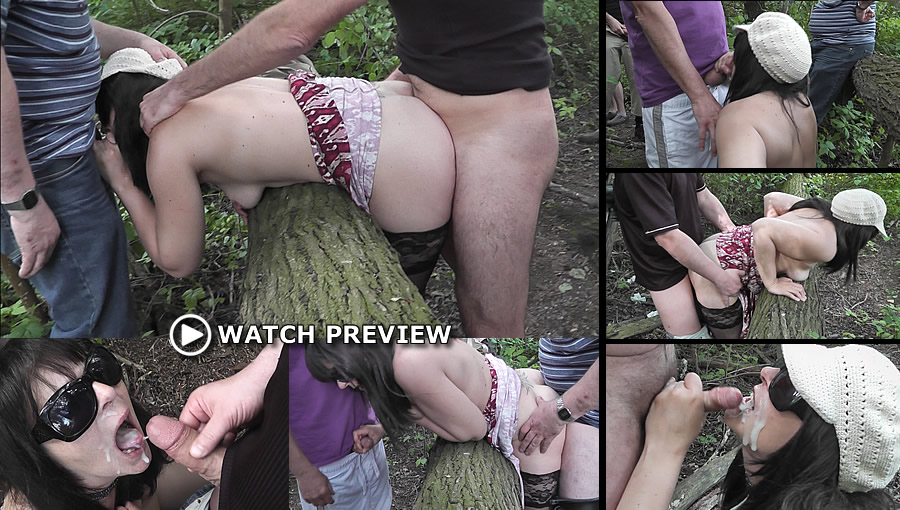 This movie displays another superhot dogging escapade where I got an unexpected but great gangbang in the bushes of a wooded rest area. This rest stop is another well known dogging spot with guys walking around and looking for fun all night and day... so it's a perfect place for a slut like me. I felt very naughty that weekend, I was in need for some cock and cum. Once arrived at the rest area my husband starting filming me sucking him off, right there at the car. A few minutes later, as I realised that several strangers were watching us I walked along a path right into the bushes. Some of those guys followed me until I reached a small clearing. I went down to knees immediately, without saying any words and that was the start of another great dogging gangbang, with eight strangers using me all in all. There was this big fallen tree and all those guys fucked me while I was bent over this tree. Especially these scenes with the tree just look amazing. Man, I'm getting so hot again only by watching these scenes.
Details: Duration 26 min. Format MP4. Quality HD and SD (1000 and 300 MB). Download and stream.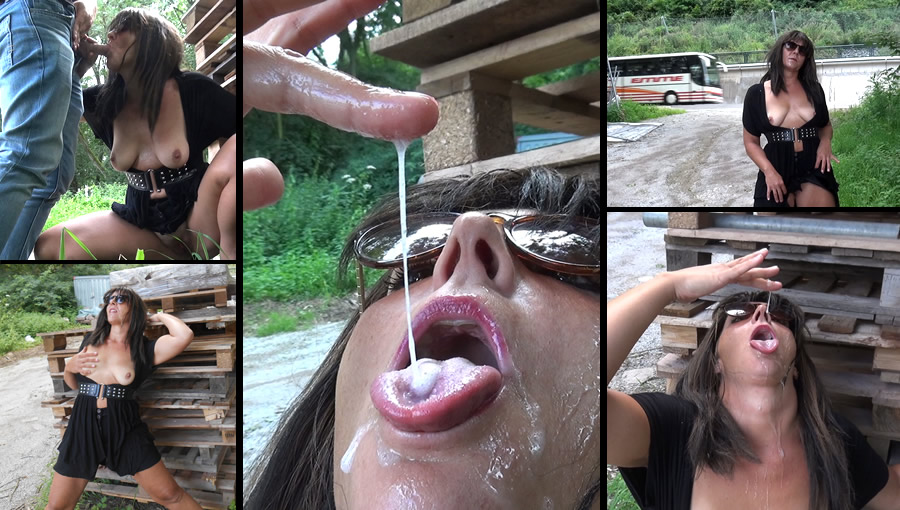 Oh yes, I love crazy things like this. This photo set with 100 new pics was taken at the roadside. It was shot spontaneously since I just wanted to do a quick stop there and taking a pee, but then I saw that this is a good place to have some fun and so I changed the plan immediately. As you will see on these pics, all this really happens at the road. You can see the cars rushing on by in the background, while I am doing some dirty things. But I'm not only flashing and showing off, you know, playing with my tits and cunt while I'm standing at the road, of course I want some more fun. Which generally mean I want to suck off cocks and swallow some loads. So I'm going down on my knees behind a wood pile and start sucking off a cock. A few minutes later the guy explodes, he shoots the full load in my mouth. Now it's time for some cum play. So you can watch me playing with that load for a longer time. Really great close-ups here. There's a reason why this site is called 'cumdrinkingwife'. I'm a true cum slut and I'm proud of it.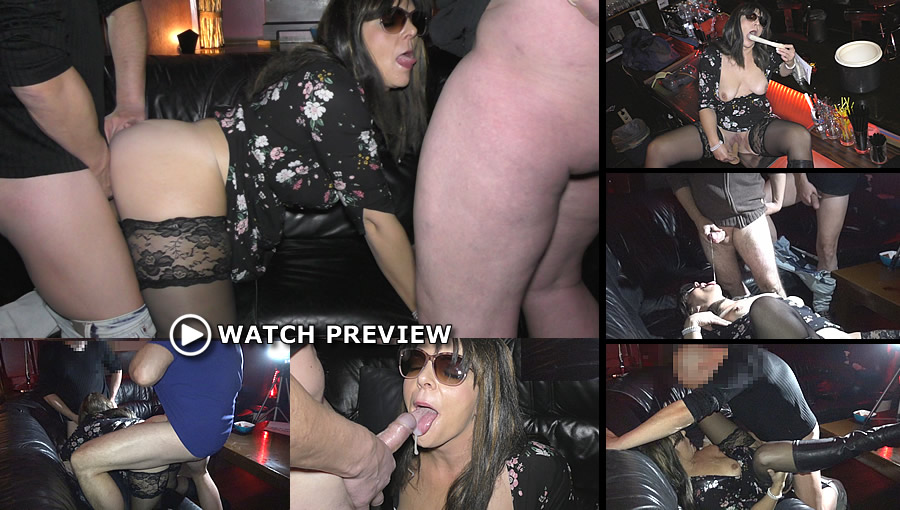 This is the second and final movie filmed at one of my most recent member gangbangs. Form time to time I'm hostings sex parties like this, where I am inviting fans and members who want to bang me and give me their loads. I really love these member parties - it's just amazing to get in touch with people who like my site and love what I'm doing and my fans obviously like the idea to be one of next guys in line. As usual I placed another ad at the party scheduler this time, where I was looking for at least 10 cocks who want to have fun with me. Finally there were 15 guys joining the party. I knew some of them from former gangbangs, but as usual there were some new faces too, guys who fucked me for the first time that day. In this second and final movie you can see the guys still using me by either fucking my mouth, cunt or both and of course by giving me what I truly love: Loads in my mouth. In 2019 I will do more parties like these, so if YOU want to join these parties and use me too, feel free to look at the party scheduler in the member area. There you can announce to one my parties and then... well, just watch this movie to see what happens then ;-)
Details: Duration 20 min. Format MP4. Quality HD and SD (800 and 230 MB). Download and stream.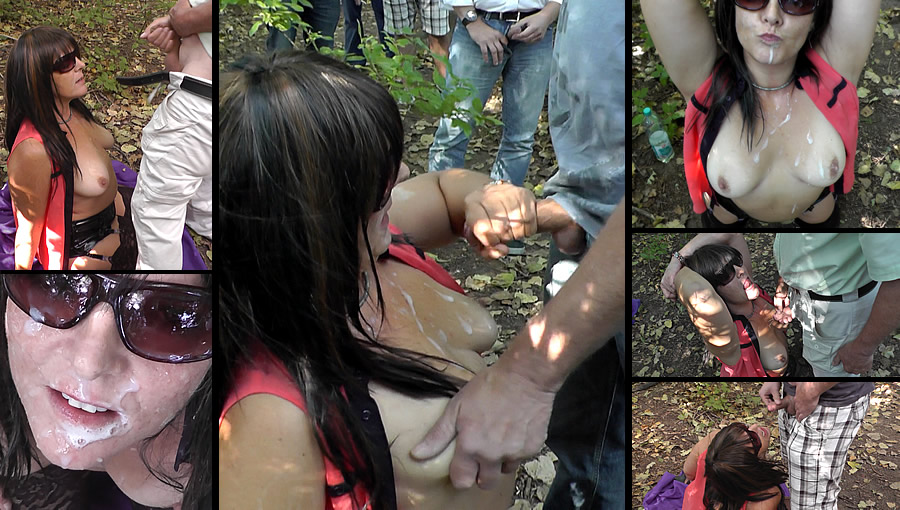 This set of pics was shot during a dogging afternoon at the highway dogging spot, where I was the cum dump for plenty of strangers. Imagine you are driving on the interstate, you are bursting for a pee and so you stop at the next rest area, lock the car and run into the next bushes to let your bladder loose. And there you can see a girl on the ground, dressed like a whore, on her knees, sucking off a cock while other cocks are standing in line and waiting for their turn. You think this is only a wet dream, a male's dirty mind, something that never happens in real life? Well, no... because this is exactly what happened here and what happens during most of my dogging escapades. I do things like this frequently since I love it. The photos in this set were taken at a busy dogging spot, a highway rest stop with a huge wooded area surrounding it. This place is well known and I only have to wait there for guys, mainly truckers who stopped there for a pee, to have fun immediately. As usual this was just awesome again. Sucking, swallowing, next. Sucking, swallowing, next. And so on. At the end I had served 20 different cocks within 3 hours. Not bad ;)
| | |
| --- | --- |
| | |
********************************************************************
Billing Support: CCBill
18 U.S.C. §2257 Records - Customer Support - Webmasters click here to make $$$ - Banners - Links
© Copyright 2001-2019 cumdrinkingwife.com. All Rights Reserved.