My name is Marion, I'm a slutwife with a never ending hunger for cocks. Welcome to my life! I'm no girl of the industry, I'm a real woman, a real wife that loves to have fun with guys. Lots of guys. The more the merrier. Call me a true gangbang cum slut... I'm happy about that.

I started swinging 20 years ago and quickly my husband started to take pics and videos from all my kinky escapades. I had my first gangbang in 1997, my first gangbang with 20+ guys in 2000, my biggest gangbang was a party with over 100 guys. By the time I'm writing these words over 5000 guys have fucked and creamed me... and I'm still counting since I'm still doing dogging and gangbang escapades frequently.

On my website you always get TRUE REALITY PORN. Nothing is staged here. There are no scripts, no actors. My escapades take place at real public locations, such as Adult Theaters, rest areas, public beaches, clubs and pubs and so on. Most of the guys using/fucking/creaming me are real strangers... guys I've never seen before. Now lean back and enjoy my naughty swinging life. [read more]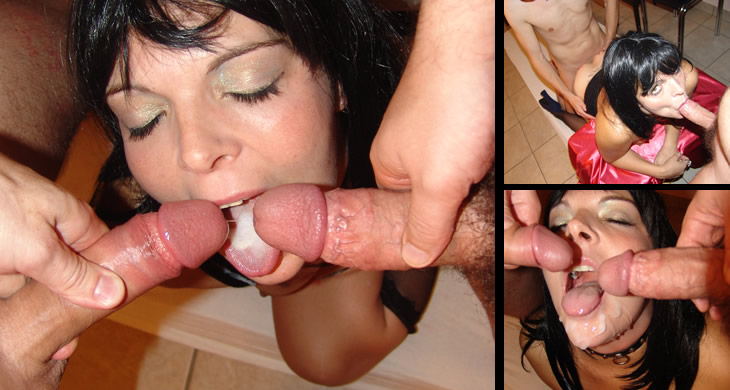 My husbands buddies Adam and Thomas paid us a visit the other day. Along with my husband, Adam has done me several times before and since I really like to get used by Hubbys buddies I never say no when they want to visit us. Sometimes we just meet for normal things like watching TV, but in most cases we meet up for sex. This time we just started having fun immediately, as Adam threw me over a chest, got his cock out and started fucking me. Thomas fucked me in my mouth and my husband completed the team and fucked me too, but most of the time he took photos and in this set you'll get most of them. At the end I got a fine double cumshot on my tongue, since Adam and Thomas managed it to unload simultaneously. I really enjoy being a sex toy for our buddies, with my will and body reduced to a piece of meat. By the way, there is no movie, we have only taken photos that evening and now here they are. Enjoy.
´
This is the second and final episode of the nightly gangbang at the rest area, where I got fucked and creamed by 12 strangers in January 2018. It was the first bang of the new year. Usually I like to play in broad daylight, but now it's winter and as I arrvived at this dogging spot at 7 in the evening, it was dark as midnight. I left my car and paraded at the rest stop and I saw many other cars parking there and several guys parading as well. Quickly I leaned back and spreaded my legs and my husband started to film. In the first movie, which we have uploaded a few weeks ago, you could see me attracting attention and getting banged by the first guys and now the dogging party continues. The trunk of my car is still surrounded by a group of strangers, standing in the darkness, some of them wanking their cocks. Most of them fuck me doggy, with my ass up in the air and my body in the trunk, some also do me missionary and all of them spunk on me, mostly on my face or in my open mouth. All in all I got banged creamed by 12 different strangers that night, some of them did me twice. Again, this is true reality porn. Nothing is staged here. These guys are real strangers.
Details: Duration 23 min. Format MP4. Quality HD and SD (700 and 180 MB). Download and stream.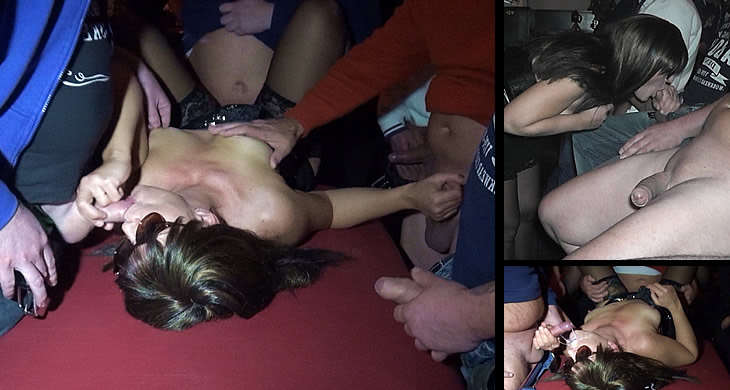 This set of pics contains over 100 photos, showing me getting a huge bang during one of my most recent gangbang parties. It was one of those parties with me as the only girl, surrounded by a large crowd of cocks and ready to get banged by the entire audience. It's like a private circle, the doors to the club are locked. Only guys can enter the bar who know what is happening inside... that there is a slut inside, ready to satisfy each and every cock. Most of the guys who are visiting this place during these 'gangbang times' are strangers to me, men I have never seen before. I just love to get used by all of them! This time I wore one of my very slutty outfits again as I entered the doors. A mini skirt, clearly visible stockings and a topless corsage. I got fucked by at least 20 guys at this party. I got fucked again and again and again, while other guys in the background continued to drink and talk and waiting for their turn. I really like to get mindlessly used like this. Don't forget to watch the corresponding movie, which is also available in the member area of course.
´

This is the second movie my husband has filmed during my visit at the local Adult Theater in January 2018. After I had some creamy fun at ne of the large cinema rooms I decided I want some more cock and cum and started cruising the theater. The movie starts with these cruising scenes. I wore high heels, a mini skirt and a brand new fishnet catsuit with a big round hole, so that my pussy was always fuckable. As I cruised the theater I noticed some more guys keeping their eyes on me. You know, usually it's a spontaneous decision to visit places like these, I ddon't post it anywhere, since I love to have fun with total strangers at places like these. But that means I have to attract attention and invite strangers to use me. At that time the theater still was not overcrowded, but the few guys followed me as I entered the big room once again. A few short words, that they can do with me whatever they want and the camera won't film faces, and then the second bang of the evening began. I serviced them with my mouth and puss, the guys just nailed me relentlessly and I got some heavy loads on my face and in my cunt. Mission accomplished. Too bad there were not more guys on hand that evening, since I just love to get banged and bred spontaneously at places like these...
Details: Duration 24 min. Format MP4. Quality HD and SD (700 and 190 MB). Download and stream.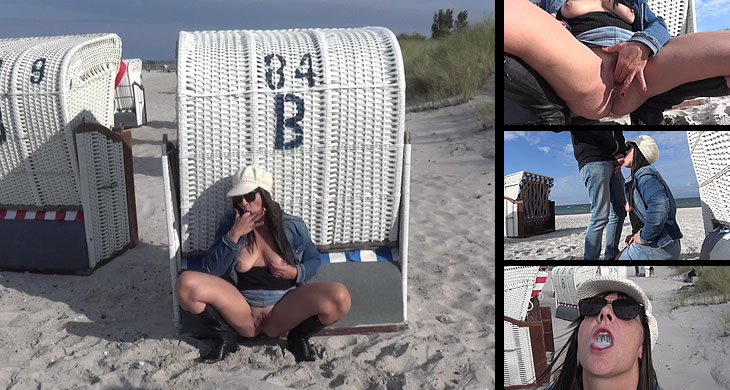 When I go out dogging or flashing there is absolutely nothing planned and nothing is staged. Everything I am doing happens more or less spontaneously. There is also no script and no director. The only thing I'm thinking about is where I want to have some fun today, but that's all. Once arrived at the place everything can happen. In this case I wanted to have some fun on the beach but I actually just wanted to flash and show off, since it was too cold to stay there for a longer time. Second reason why I knew that this beach is only made for a quick flashing escapade is that there are too many people walking around. You know, families and other promenaders, no chance to get a (gang)bang there. But as I kneeled down at a beach chair and fucked myself with my fingers I wanted more! I grabbed the only cock within reach and of course my husband had no complaints to get a quick blowjob. I sucked him off to completion and then I walked along the beach with his huge load in my mouth. On the last photos of this set you can see me opening my cumfilled mouth and doing a cum walk, while there are people sitting and walking around in the background. Kinky ;)
´

Good lord, this was awesome! And it's a brand new gangbang escapade and when I say brand new, I mean brand new! By the time I'm writing these words it's less than 24 hours ago that these guys banged me! It happened on March/08/2018 at the local bar, outside its business hours. You know, that kind of place I'm visiting occasionally when I want to get me some cock and cum. I know the owner (his name is Jack) of that bar for many years now and he always helps me out when I want to host a gangbang for my members by providng me the bar. But what I really never had done at that place is to get a gangbang at the counter, right there where Jack usually stands and gives out the drinks. The movie starts with me sitting at the bar, flirting with Jack and then he spontaneously fucks and creampies me at the counter. Now the other guys obviously thought that this is the start of the bang and two of them replaced Jack, got a blowjob and then spit-roasted me. That was the true starting signal for a totally spontaneous bang at the counter, with over 10 guys standing in line, fucking me one after another and shooting their loads on my face, in my mouth and in my puss. I'm just getting hot again only by viewing this movie. It's like a fantasy coming true... me as the bar maid, getting fucked by the entire audience. Awesome!
Details: Duration 24 min. Format MP4. Quality HD and SD (700 and 190 MB). Download and stream.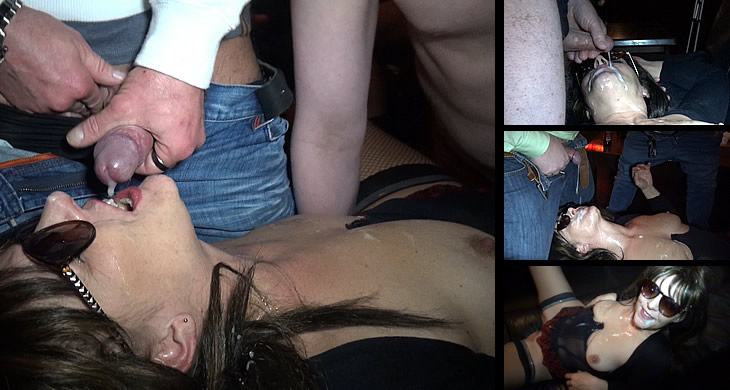 Believe it or not, but the most of my swinging escapades are really not staged, not planned and not hosted. It's spontaneous fun in most cases and there is only my husband doing his best to caught my escapades on tape. No director, no scripts, no other camera guy(s). For me this is just perfect. I can do whatever I want to do and there's my brave hubby holding the cam. But this concept also has a downside. Hubby has only two hands and has to decide to shoot a good video or to take good high quality photos. Of course videos have always priority and that's the reason why we can always give you a good movie, but in some cases no or not many HQ photos. But I know that you also want to see pictures of my escapades and so we are giving you stills from the movie, when we don't have any HQ photos. They are certainly not perfect, but far better than nothing. That's the case here. Movie was taken in a sex club, with over 20 guys standing in line to fuck me or shoot their loads in my open mouth or on my face. It was just awesome, once again I was surrounded by plenty of cocks and got load after load on my face and tongue. Just look at the last pics of the set and watch my face. It is so heavily drenched in cum... this is how a woman looks like after more than 20 guys have creamed her face. I love it.
| | |
| --- | --- |
| | |
********************************************************************
Billing Support: CCBill
18 U.S.C. §2257 Records - Customer Support - Webmasters click here to make $$$ - Banners - Links
© Copyright 2001-2019 cumdrinkingwife.com. All Rights Reserved.