My name is Marion, I'm a slutwife with a never ending hunger for cocks. Welcome to my life! I'm no girl of the industry, I'm a real woman, a real wife that loves to have fun with guys. Lots of guys. The more the merrier. Call me a true gangbang cum slut... I'm happy about that.

I started swinging 20 years ago and quickly my husband started to take pics and videos from all my kinky escapades. I had my first gangbang in 1997, my first gangbang with 20+ guys in 2000, my biggest gangbang was a party with over 100 guys. By the time I'm writing these words over 5000 guys have fucked and creamed me... and I'm still counting since I'm still doing dogging and gangbang escapades frequently.

On my website you always get TRUE REALITY PORN. Nothing is staged here. There are no scripts, no actors. My escapades take place at real public locations, such as Adult Theaters, rest areas, public beaches, clubs and pubs and so on. Most of the guys using/fucking/creaming me are real strangers... guys I've never seen before. Now lean back and enjoy my naughty swinging life. [read more]

´

A couple of weeks ago I have given you the first movie of this hot long day on the public beach, filmed during my most recent vacation at the sea and now here comes the second episode, where I continue to serve casual encounters on the beach. This second movie just starts there where the first one ended. As I told you before, this is a true public beach and there are other people walking around or lying on their towels, so you have to be careful what you are doing and where you are doing it. But I had found a good place in the dunes and there I had placed my towel and windbreaker and there I had fun with over 10 casual encounters that day. I was there for over 6 hours and got fucked and sucked off cocks plenty of times. I got several loads in my mouth and in my cunt. Nice creampie scenes in this movie again. This second movie ends after sunset, after a 6 hours fuck fest, so, slowly it's getting dark and therefore the last scenes are a bit grainy. What a great day on the beach!
Details: Duration 20 min. Format MP4. Quality HD and SD (680 and 200 MB). Download and stream.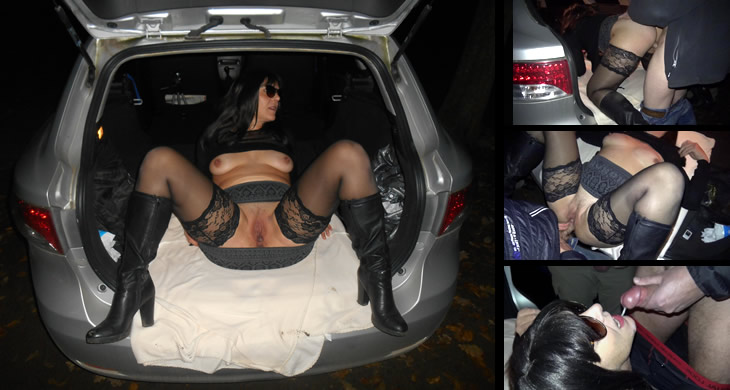 Imagine you are having a rest at a huge car park and then you are noticing this car, where a woman is lying in the trunk, with her legs wide open, wearing black stockings and no pants. What would you do? Running back to your car and driving away? Or would you unzip your pants, get out your cock and fuck that naughty slut mindlessly? As you can see on the big pic above this was exactly what happened during this huge and very satisfying rest area gangbang in early January 2018, where I got fucked and creamed by 12 strangers. I had nothing more to do but to present me like this to attract attention and to get fucked by all those casual encounters. Like bees around the honeypot the guys surrounded my car, standing in line, waiting for their turn. A first guy fucked and was quickly replaced by a second one. I sucked some more off and let them cream my face and tongue, before the next strangers continued to fuck me. This was just a great escapade, I'm getting incredibly hot again only by watching these pics. This was the first bang of the new year 2018 and recently I have already given you the movie... now here are the photos. Enjoy.
´

Awesome party at the club with 70 men using me. Yes. that's right. 70 men! And I was the only girl at the club that night! It was one of this clubs special gangbang nights, so I knew there are many cocks usually, waiting for a slut like me, but to be honest, I expected 20 cocks or maybe a few more. But as I sat there at the bar and saw a nearly endless crowd of guys entering the club until it was full to bursting, I became a bit anxious. But then I took it with pride and promised myself not to leave the club until I the last cock had used me. And I so I found myself quickly on a table and during the next hours I was always surrounded by 6 to 8 cocks and once one of them had used me he was quickly replaced by the next one. 70 men who lined up to bang me. Simply awesome! What probably sound like hell on earth for other women... for me it was just heaven on earth! All those guys, all those cocks and they were all here to bang me into coma. Yes, I'm totally aware of the fact that I am just a piece of meat for all those guys, but that's exactly what I want to be right here and now and so I can truly say: I loved it! Now watch this first movie that was filmed that night, a second and final episode is coming soon.
Details: Duration 30 min. Format MP4. High Quality (500 MB). Download and stream.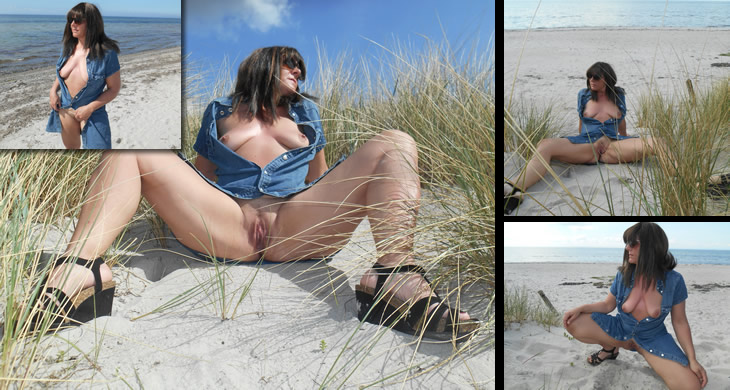 This set of photos was taken during my most recent holidays at the sea in Summer 2017. Here you can watch me flashing and showing in the dunes and on the beach. It's always a good idea to let my husband taking some pics of me on places like these, because I always attract attention that way. The beaches I usually visit aren't well known dogging areas, but in most cases I only have to show my tits and puss to attract some attention. In this case I had a really good time right after these pics were taken. In the movie, which you can also watch in the member area of course, you can watch me sucking off cocks right next to the water, while I was in full view and later getting banged and creamed in the dunes by a few guys. Of course I had to interrupt the dirty work many times because of other persons taking a promenade. But that's a part of the deal - I love the risk of getting caught in the act. By the way, a few days ago I have booked my next beach vacation, which will be in the middle of May 2018. So stay tuned for brand new beach dogging stuff that is coming soon. I can't await it ;)
´

This is the second and final movie of the awesome and totally unexpected huge gangbang at the local Adult Theater, displaying the second half of the orgy. In the first movie you could watch me getting banged and creamed by plenty of strangers, but as you will see now in this second episode, I really wasn't done. After a break, where I cruised at the theater to attract more attention and get me more cock and cum (the movie starts with these cruising scenes), I returned to the room where I got the first bang and quickly another bunch of cocks surrounded me, some new guys, but also some guys of the first bang, who wanted to use me again. They were all welcome. And now the second bang of the night began, with all of them fucking and creaming me. I was a total cum slut that night, all in all 18 different guys banged me, all of them guys I had never seen before. There were more men at the theater, but they didn't want to use me, because of my husbands camera. As usual he had plenty of masks in his bag, but some men just don't want to get caught on tape and I have to accept that. Anyway, as I left the theater, 3 hours and 18 cocks later, I was a totally satisfied cum slut.
Details: Duration 22 min. Format MP4. Quality HD and SD (680 and 150 MB). Download and stream.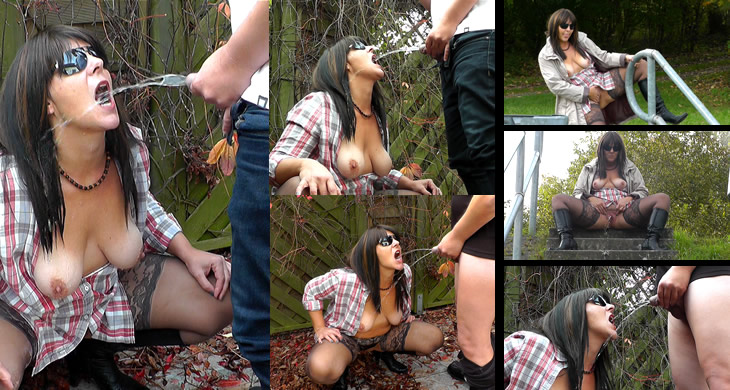 From time to time I really like to get used like this. It's what I wanna do day by day, but sometimes, when I feel really kinky, I'm not only wanting the guys to fuck me and cream me, but also want them to use me as their dirty little pee slut. In this case I was out dogging at a river only a few miles away from our house, with a long promenade at the riverside. There is this railroad bridge with the tracks leading into a forest, which is a good dogging spot, a place to meet other people for casual sex. It's not the busiest dogging spot I know, but I used to have a lot of fun there. This time I met two guys and just as my husband started filming me dogging at the river, these guys arrived. They were watching me playing with myself, but it didn't take long until I had their cocks in my mouth. But this time I was in the right mood for some bizarre fun, so I went down on my knees, opened my mouth and let the guys use me as their urinal. Later they also shot their spunk in my mouth. Now here is a set with 100 photos full of kinky pee pics, but don't forget to watch the corresponding movie which you'll also get in the member area.

I hope you'll agree that this movie once again proves that I am a true cum slut.I am visiting the local swingers club to do what I can do best. I'm back on my knees with my mouth wide open, surrounded by plenty of cocks and being the cum dumpster for all of them. I'm sucking off cock after cock and one by one they are shooting their loads on my face, on my tongue and deep into my throat. Not everybody manages it to shoot his load into my mouth. I' m getting some thick streams of cum on my face, cum is dripping on my torso and tits and so, while I'm getting load after load, the paste of cum on my face and body gets thicker and thicker. Hell, I just love to get used like this! During this evening I sucked off 30 different cocks and got almost the same number of loads. You will see all facials in this movie, since my husband has caught the entire escapade on tape. Remember, all of these guys are not actors, they are just ordinary men like you. Guys I have usually never seen before.
Details: Duration 20 min. Format MP4. Quality HD and SD (660 and 160 MB). Download and stream.
| | |
| --- | --- |
| | |
********************************************************************
Billing Support: CCBill
18 U.S.C. §2257 Records - Customer Support - Webmasters click here to make $$$ - Banners - Links
© Copyright 2001-2018 cumdrinkingwife.com. All Rights Reserved.