My name is Marion, I'm a slutwife with a never ending hunger for cocks. Welcome to my life! I'm no girl of the industry, I'm a real woman, a real wife that loves to have fun with guys. Lots of guys. The more the merrier. Call me a true gangbang cum slut... I'm happy about that.

I started swinging 20 years ago and quickly my husband started to take pics and videos from all my kinky escapades. I had my first gangbang in 1997, my first gangbang with 20+ guys in 2000, my biggest gangbang was a party with over 100 guys. By the time I'm writing these words over 5000 guys have fucked and creamed me... and I'm still counting since I'm still doing dogging and gangbang escapades frequently.

On my website you always get TRUE REALITY PORN. Nothing is staged here. There are no scripts, no actors. My escapades take place at real public locations, such as Adult Theaters, rest areas, public beaches, clubs and pubs and so on. Most of the guys using/fucking/creaming me are real strangers... guys I've never seen before. Now lean back and enjoy my naughty swinging life. [read more]


As a good tradition on my website I'm giving you a new and hopefully impressive cumshot collection at the end of each year, showing some of the hottest cumshots I got in the current year. There are over 60 cumshots in this movie and all scenes were filmed between January and November 2017. These are by far not all cumshots I got this year, just take them as a BEST OF. You'll see I was such a busy cum slut this year, I sucked off and got fucked and creamed by over 180 different guys in 2017. By the way, there are also some scenes in this movie that are previously unreleased. These are mainly scenes from shorter dogging escapades, where I sucked off one or two cocks, but where we had not filmed enough stuff for an entire weekly update movie. So now, watch me being the center of attraction for so many guys in this movie, watch me getting load after load, on my face, in my mouth and in my cunt. I just love being a naughty cum dump for each and every cock and this is just another movie that proves it. And don't forget to prepare for the next year: I have plans for some huge new gangbang and dogging escapades in 2018 and so I hope you'll continue to follow me on my way of swinging and gangbanging.
Details: Duration 20 min. Format MP4. Quality HD and SD (600 and 150 MB). Download and stream.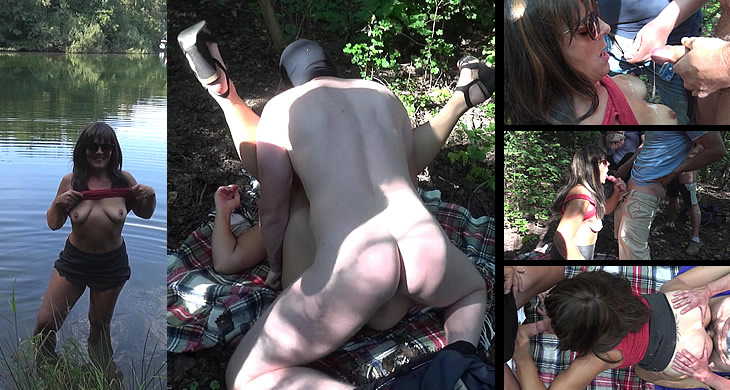 Photo set of my most recent gangbang at the public lake. This lake is known as a good dogging spot, where sluts like me can always find some fresh meat to have fun with. This year I gave my attention to the local rest areas and car parks, but in the new year I'm planning to return to the few local lakes, because I love these places. Relaxing at the lakes beaches, showing off and - if successful - getting laid down by strangers in the surrounding bushes is just a great way to waste some time. In this case I started the escapade by fooling around in and at the water. Quickly I attracted some attention, three guys were surrounding my beach towel and after I had explained the usual things (I am here to have some fun but my husband would like to caught it all on tape), I start sucking off the first few cocks in the bushes. More guys arrived quickly and got in line, to get their free blowjob too, I just love to serve all men who want to be served at places like these. Finally I got laid down by many of them, I got spitroasted, got some loads on my tits, in my face, in my mouth. This was just another awesome outdoor escapade. Of course you can also watch the corresponding movie in the member area.

Here is the second and final episode of the hot dogging escapade filmed in late summer 2017, displaying the second half of this amazing bang. Overall I sucked and fucked and got loads from 10 strangers this time and most of them used me twice. I returned to the highway rest area again, which is my favourite dogging spot at the moment. Always many cocks walking around at this dogging spot and its surrounding wooden area. And all of them looking for quick casual fun, so it's a perfect place for me. This area is a well known place for doggers. This movie starts with me preparing to suck off and get fucked by the next few strangers. In the first movie I got nearly 10 cumshots on my face and in my mouth and got fucked by some of them. But now some new guys have arrived and so I'm ready for more. I'm going down me on my knees, being surrounded by a group of men again, sucking cock by cock, while the rest is wanking their dicks. Again I'm getting some loads on my face, while other cocks are fucking me while I'm standing bent-forward at a tree branch. By the way, during the entire movie you can hear the traffic from the nearby highway. This is what makes me really hot... getting banged by a group of strangers in the bushes while there are so many clueless drivers rushing on by is just awesome. Enjoy this brand new dogging movie!
Details: Duration 20 min. Format MP4. Quality HD and SD (600 and 220 MB). Download and stream.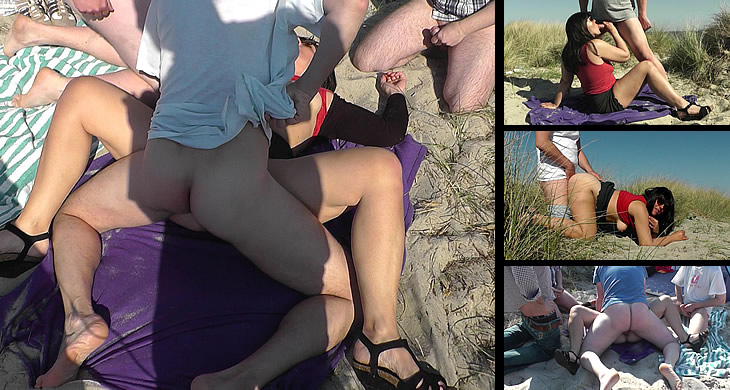 Oh yeah, I really love to serve strangers at dogging spots and one of my outdoor favourites are public beaches. In the member area you'll get thousand of photos and tons of movies where you can watch me getting banged by dozens of strangers at different beaches... there's so much stuff, that beach sex even has its own category in the member area. Now here's another great set of brand new pics, showing me entertaining a horde of strangers on a public beach. That day I serviced each and every guy who wanted to be served. All in all I got laid down by 9 different guys that day. Once I started serving the first two cocks, some more casual encounters, who saw me being naughty in the dunes, got in line and taking their chance to get a free blowjob and a fuck. It's great to see the ocean in the background most of the time while I'm getting laid. As usual, this is not staged, all of the guys fucking me are strangers. The guys didn't mind being recorded since my husband had masks for all them.

This was an awesome dogging escapade at one of the local Adult Theaters, where I got a totally unexpected HUGE gangbang, with tons of cocks and plenty of guys mounting and cum drenching me. All in all 18 different guys fucked me within a period of 3 hours. I was surrounded by at least 3 or 4 guys all the time and once one of the guys had shot his load on me, he left the cinema room and was quickly replaced by the next cock. As I entered the theater I never expected to get such a huge bang, since as I first cruised the theater, it was not a very busy place. The movie starts with me cruising through the dark floors and cinema rooms and you'll see that there are not many guys hanging around in the beginning. But the longer I stayed there and cruised the theater the more guys were following me, like bees around the honeypot. Finally I entered a bigger cinema room, sat down and then one of the followers cam closer and I began to suck off the first cock. He cam within half a minute and shot his load in my mouth. That was the starting signal for the bang, now all other guys noticed that I am there to have a lot of fun. 3 hours and 18 cocks later I left the theater, now as a fully satisfied cum slut.
Details: Duration 23 min. Format MP4. Quality HD and SD (730 and 160 MB). Download and stream.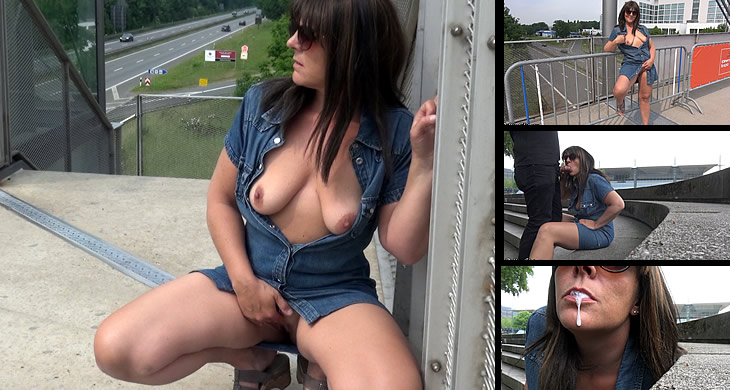 These pics were shot this summer. Eventually I intended to go shopping, but as we drove to the shopping mall I noticed this highway bridge. Of course I know this place for many years now but this time I hit upon the idea of doing something kinky on that bridge. I knew my husband had a cam in his pocket, he never leaves the house without it, and so I asked him if he would like to take a movie or some pics of me flashing on the bridge. You know, I just like to show off at public places. The more public and riskier, the better. It just makes me incredibly hot to know that I could get caught in the act at any time. Of course my husband liked the idea to do a spontaneous flashing shoot, parked the car nearby the bridge. Before I left the car I removed my panties and once on the bridge I was totally naked under my denim dress. He started to film me... and of course we both got so hot, that this spontaneous shoot ended with me sucking him off and getting a quick load in my mouth. Then we continued with our initial plan and drove to the shopping mall. 15 minutes later I was at the mall, still with the taste of his cum in my mouth. Yummy!
| | |
| --- | --- |
| | |
| | |
| --- | --- |
| | |
********************************************************************
Billing Support: CCBill
18 U.S.C. §2257 Records - Customer Support - Webmasters click here to make $$$ - Banners - Links
© Copyright 2001-2018 cumdrinkingwife.com. All Rights Reserved.