My name is Marion, I'm a slutwife with a never ending hunger for cocks. Welcome to my life! I'm no girl of the industry, I'm a real woman, a real wife that loves to have fun with guys. Lots of guys. The more the merrier. Call me a true gangbang cum slut... I'm happy about that.

I started swinging 20 years ago and quickly my husband started to take pics and videos from all my kinky escapades. I had my first gangbang in 1997, my first gangbang with 20+ guys in 2000, my biggest gangbang was a party with over 100 guys. By the time I'm writing these words over 5000 guys have fucked and creamed me... and I'm still counting since I'm still doing dogging and gangbang escapades frequently.

On my website you always get TRUE REALITY PORN. Nothing is staged here. There are no scripts, no actors. My escapades take place at real public locations, such as Adult Theaters, rest areas, public beaches, clubs and pubs and so on. Most of the guys using/fucking/creaming me are real strangers... guys I've never seen before. Now lean back and enjoy my naughty swinging life. [read more]

This movie displays my most recent dogging escapade at the highway car park, filmed in October 2017. As I arrived at this dogging spot it was late in the evening, so it was pitch-black as I started cruising around. The movie starts with me cruising at the car park at the highway and in the background you can see the headlights of the cars rushing on by. I saw a few guys noticing me in the dark and once I had attracted their attention I walked back to my car, sat down on the drivers seat and left the door open. Now I sat there with bare tits, which is always a good signal that I'm ready for a good time. The first few guys approached and after the usual agreements ('yes, you can use me, but hubby will caught it on tape, without your faces'), the first guy started fucking my mouth and then my cunt. Seven more strangers followed that night so yes, I really had a good time. This is the full version, the movie displays everything my husband has caught on tape that night. Funny side note: With this dogging escapade I have accomplished my self-defined dogging mission for the year 2017. I wanted to have sex with at least 100 different strangers at the local dogging spots this year. The guys who use me in this movie were the numbers 94-101. Mission accomplished ;)
Details: Duration 26 min. Format MP4. Quality HD and SD (750 and 190 MB). Download and stream.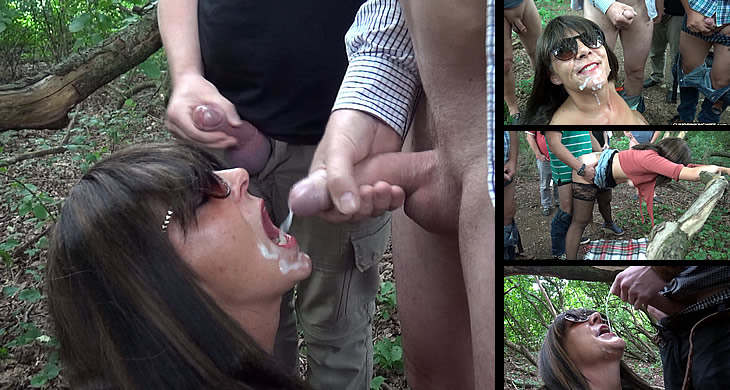 Photo set of a dogging escapade taped this Summer, where I sucked and fucked and got loads from 10 strangers. In the member area you can also watch the corresponding movie. I returned to the highway rest area again, which is my favourite dogging spot at the moment. Always many cocks walking around, at the rest area, at the surrounding wooden area, and all of them looking for quick casual fun. It's a well known place for doggers and for sure a perfect place for me. The movie starts with me putting on my stockings and preparing for dogging, then I'm walking to the place where I hope to find some cocks. Finally you can watch me on my knees, being surrounded by a group of men, sucking cock by cock, while the rest is wanking their dicks. Quickly I have the first loads on my face and then the first guys are fucking me while I'm standing bent-forward at a tree branch. There are still some loads on my face while they bang me. Needless to say, that this dogging escapade is true reality and not staged porn once again... like all the other escapades you'll find in the member area.
In this movie you can watch me visiting my favourite club once again. You know it's that club which had special gangbang nights for ladies like me. Women who just love to get banged by two, three, four guys at once. These parties are always on weekdays and usually there are not many girls hanging around, although a lot of guys. My perfect indoor place to be. As usual my husband escorts me. The club is full of people, a few couples, many many guys, all of them drinking, laughing, talking. After a short while I'm walking to one of the couches and start lifting my top and skirt. Now the guys can see my open shaved cunt. Eeventually it's not necessary to attract attention at this club, since I'm so well known there. When I enter the doors to the party rooms almost everybody knows why I am there and what I want. This night there are two or three guys who fucked me before and these are also the first to follow my invitation. While I start sucking and fucking them, my husband encourages more guys at the bar o use me, by telling them that I am just a piece of meat and now ready to get banged by everybody. Some follow the invitation, some not, but at the end of the night 17 different guys have banged me and many of them jerked their cum on my face. So I would say this was another great spontaneous gangbang at the club!
Details: Duration 21 min. Format MP4. Quality HD and SD (660 and 170 MB). Download and stream.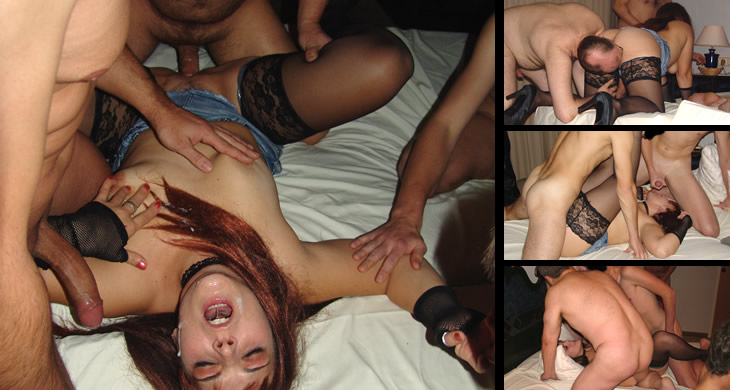 Full HD photo set of a huge gangbang at a hotel. I met these guys at a cheap hotel at the highway. You know, one of these overnight places where the rooms are cheap and nobody cares about what happens in there. The perfect place for a slut like me to go down and dirty. To my surprise the bedroom was really huge (usually these cheap hotels or motel only have very small rooms) and that was good since I knew that many men would join the party. One week before I had placed ads on sites like craigslist, where I offered myself for a hard and free gangbang at this hotel and the number of announcements where overwhelming. Finally 15 guys had found their way to the hotel as the party started in the early evening. And these bastards fucked me into coma until midnight. Usually I got banged by two or three men at once, with one cock in my puss and one in my mouth constantly, some of them even fucked me in the ass. It was just a great gangbang party, I had multiple orgasms and I totally freaked out. At the end of the day over 15 men had run a train on me.

Brand new movie again, displaying the highlights of a long and hot creampie fun day on the balcony, filmed in October 2017. You know, I just love to expose myself and a very good way to do that is to get used and abused on balconies. Especially when there is a group of guys who are willing to bang and breed me, one after another, on a balcony which is in the second floor and so exposed that there is a permanent risk that we can get caught in the act. This movie was taken during my most recent short vacation at the sea at the balcony of our holiday apartment. You can watch me getting fucked by some guys, who are taking turn and using me for a couple of hours. There's a good view on the water and you can always see how open this place was. The four bastards all fucked me and creamed me twice at least and all in all I got 9 cumshots that afternoon. Three facials and six creampies. Great breeding scenes in this movie, you can watch all the creampies dripping out of my puss. One of the guys even cleaned up my cumfilled puss. Just love to be a cum dumpster ;)
Details: Duration 27 min. Format MP4. Quality HD and SD (700 and 220 MB). Download and stream.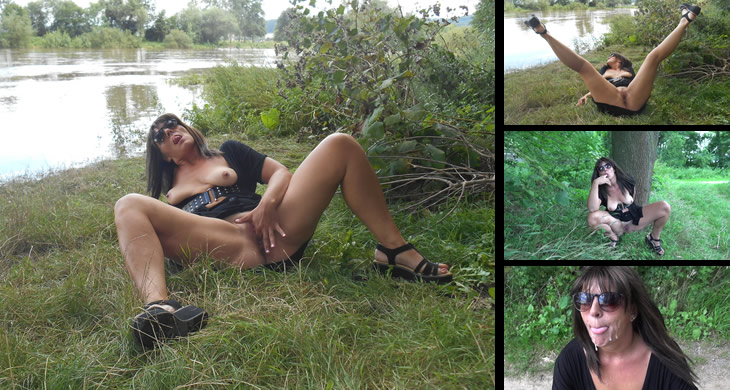 The photos in this set with nearly 100 pics were taken spontaneously in September 2017. No movie will follow... there are only these photos that are displaying what happened that day. You know, not every time I show my tits outdoors it ends in a bang with 10 or more guys. Sometimes it's just for my husbands camera and sometimes I'm not at the right place to attract attention. Not every outdoor place is a dogging spot. And that's what you cann see in this set. We just took a walk at a river near our hometown on a Sunday in September. There was absolutely no plan to do a photo or video shoot, we really just wanted to take a walk. Hubby had a small photo cam with him, but only to take some pics from the river, which was swollen (it had rained for over 3 days before). But then, as he started taking pics I jumped to the riverbank and showed him my tits and my pussy. I never wear bras nor pants, so it was easy to show off spontaneously. I guess he liked what he saw since from now on he concentrated on taking photos from his hot'n naughty slutwife. I did my best to turn him on and at the end he rewarded me with a quick but huge load he shot on my face. A river, a slut, a load on a face... I like my boring Sundays ;)

During the winter months (November-March), when it's too cold for outdoor dogging I usually visit the local theaters when I'm hungry for cock. In the past I often hosted gangbang parties at clubs or hotels during the winter months, but meanwhile I actually prefer to visit Adult Theaters. Theaters have a leg-up on other places: There are always guys hanging around who are looking for a slut like me, so I don't need to post when I'm heading to a theater and can visit them very spontaneously. In the past I never felt very comfortable since theaters were old and dirty, smelly, awfully hot places. They were good for a quick bang but nothing else. But today it's totally different. There are several new theaters within my reach and most of them are huge and clean places with lots of rooms, cinemas and gloryhole boothes. My absolute favourite is the XPosed Theater, which opened its doors in 2012 and since then I spent many long afternoons and evenings at this place and had lots of fun with plenty of guys. Strangers all of them. Now this movie displays some of my escapades at the Xposed Theater. All scenes were filmed by husband during the last two years, many of them are previously unreleased. All scenes are not staged. Watch me getting fucked plenty of strangers. If you like theater sex, you will love this movie (and you'll love all the other theater movies in my member area too).
Details: Duration 21 min. Format MP4. Quality HD and SD (660 and 180 MB). Download and stream.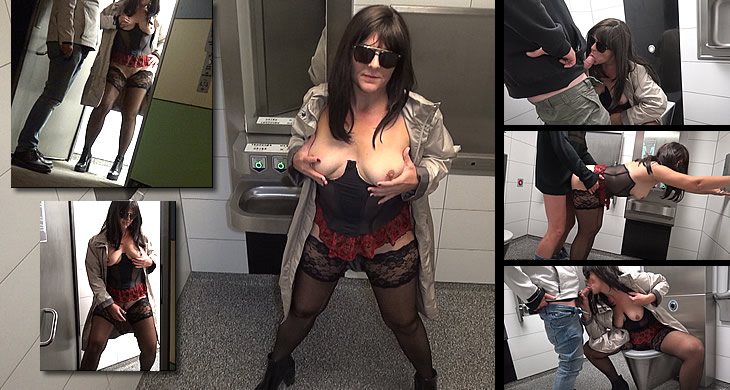 This is a corresponding photo set to the hot public toilet movie we have uploaded a few weeks ago. As usual these photos were not made with a photo cam, they are stills from the original tape. Remember that my dogging escapades are always not staged. So, in most cases it's just not possible to take HQ pics, because doing so would scare those guys away. Fun Fact: Most guys I meet at the dogging spots don't have a problem with a video cam, but as soon as my husband is starting to take HQ photos, they hesitate and often avoid to get in touch with me. Don't know why, but that's a fact. Thankfully the quality of the photo stills is usually good enough to give you pics from my dogging escapades too. In this case you can watch me getting fucked and red by some strangers at a public toilet. This was filmed in late September 2017. I was cruising this open place, especially the large public toilet, with several cubicles. The first guy filled me up and when he pulled out the sounk ran down, out fo my cunt. He left and a second guy in his 30's came into the cubicle. I turned around, he fucked my cunt and arse and gives me a second creampie. Then a third guy replaced the second one. A great new dogging episode!
| | |
| --- | --- |
| | |
********************************************************************
Billing Support: CCBill
18 U.S.C. §2257 Records - Customer Support - Webmasters click here to make $$$ - Banners - Links
© Copyright 2001-2018 cumdrinkingwife.com. All Rights Reserved.