My Name is Marion, I'm a slutwife with a never ending hunger for cocks. Welcome to my life!

I'm no girl of the industry, I'm a REAL wife and I have sex with REAL men, not actors. So this is a REAL site about my life. And my life is about having sex with as many guys as possible. I'm cruising the nation to suck off and fuck every guy I meet. I love to eat cum. I love gangbangs, I love bukkake, the more cocks and cum the merrier.

There are no staged settings, NO FAKED PLACES, only real guys fucking me at real public locations, such as adult theaters, pubs, bars, clubs, carparks, woods etc. My husband always escorts me, he loves to film all the dirty things I'm doing with the many 100s of cocks. [read more]


As promised here is the movie that was filmed only one week ago, on the first day of my May 2017 beach holiday. I had 5 days off and decided to relax at the ocean beach once again. And of course I wanted to have as much fun as possible. There's nothing better than getting laid down on public beaches... really! This time I tried out a new beach where I was never before. And good lord, it was simply awesome, a perfect place for a slut like me. I immediately had a gangbang on the first day, more fun on the second day and a final gangbang on the fourth of the five days... all of the escapades on the beach, only a few steps away from the water. All scenes in this movie were filmed on the first day. Watch me getting gangbanged by casual encounters in the dunes and right next to the water, watch me fooling around in the sand, attracting attention, attracting new cocks. And always remember: Nothing is staged here, it's true reality porn filmed on a public beach. There are even some scenes in the movie where we're getting interrupted and where you can watch me waiting until the walkers have passed by. If you like beach sex, you will love this one. Enjoy.
Details: Duration 23 min. Format MP4. Quality HD and SD (700 and 280 MB). Download and stream.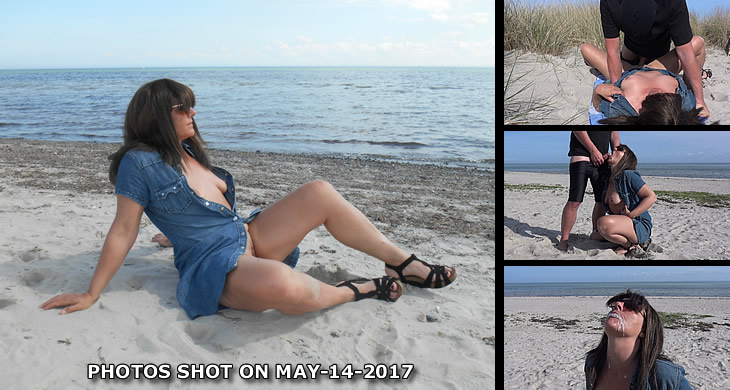 This is brand new stuff once again. During the past five days I had my first beach holidays tin the year 2017. This time I tried out a new beach where I was never before. And good lord, I had some simply awesome days on the beach. On three of the five days I got multiply laid down by casual encounters, with up to four guys using me simultaneously on two of the days. simply awesome. Eventually this beach is not a known dogging area, but I only had to show off in the dunes and on the beach to attract some attention. All in all I sucked and fucked over 10 different cocks during this holiday, got plenty of facials and even a few creampies. This time I even sucked off cocks right next to the water, while I was in full view. I walked along the beach with cum on my face. I had to interrupt some blowjobs because of other persons taking a promenade. I got a true gangbang in the dunes. To cut a long story short: It was just awesome! My husband has filmed so much footage during these 3 days that we could upload 10 new beach movies at once. But now here is a first set of pics with nearly 100 photos, mainly showing me flashing and showing off on the beach, but also getting fucked and cum drenched. Later this week we will upload a movie from the gangbang in the dunes that was filmed on the first day. Stay tuned.

This is the second (and final) movie of the awesome rest area gangbang, where my girlfriend Nicole and me are servicing over 20 strangers at our cars. This great outdoor gangbang lasted over three hours and while the first movie (which we have uploaded a while ago) displayed the scenes that were taped in broad daylight, it is now getting dark. Dusk is falling, but Nicole and me are still servicing cock after cock inside and outside our cars. This rest area is a good dogging area where sluts like us always can find some hard-ons for quick casual fun. The place is huge, space for hundreds of cars, only half a mile away from the highway. We are both dressed like good sluts, black stockings, heels, mini skirts. And while the gangbang goes on and on, more and more strangers arrive, standing in the darkness, standing in line to get a free blowjob or a fuck. The guys are like bees round a honeypot. To cut a long story short, this was one of the most amazing and biggest rest area gangbangs ever. All in all we serviced over 20 guys that day. Once again: This is true reality porn. All guys using us are total strangers, guys we have never seen before.
Details: Duration 22 min. Format MP4. Quality HD and SD (700 and 260 MB). Download and stream.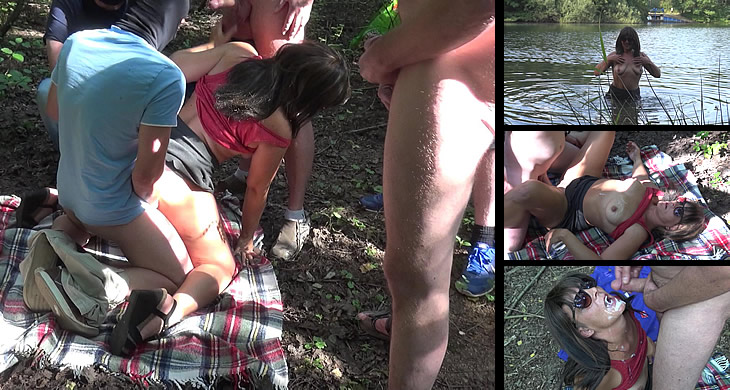 Photo set with nearly 100 new pics, showing me servicing many strangers at a lake. This lake is known as a good dogging spot, where sluts like me always find some fresh meat to have fun with. In the beginning of this set you can see me showing off at the lake, showing my tits to attract some attention. I even go swimming fully naked, you can see me fooling around in the water. Quickly I am arousing attention, three guys are surrounding my beach towel and after I have explained the usual things (I am here to have some fun but my husband would like to caught it all on tape), I start sucking off the first few cocks at the lake. More guys arrive and get in line, to get their free blowjob too, but this is an exposed place, too risky for a gangbang and so I switch into the surrounding bushes, where I want to continue serving all men who want to be served. There I got laid down by many of them, I got spitroasted, got some laods on my tits, in my face, in my mouth. This was another awesome outdoor escapade, I just love to be dogging cum slut.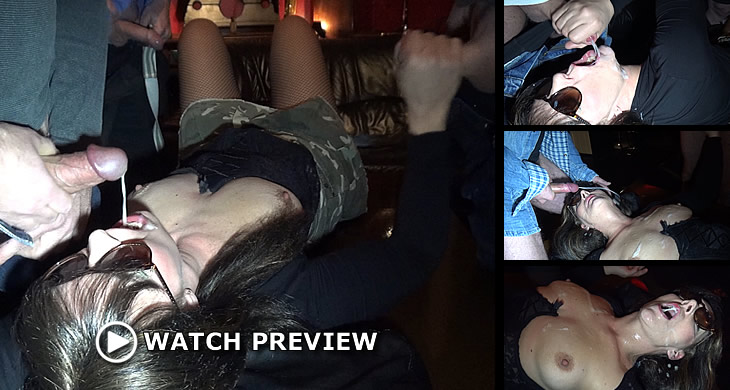 We have uploaded the photos of this party a few weeks ago, now here comes the corresponding movie. The movie was taped during my most recent gangbang at a club, which was in late March 2017. It was a party with over 20 guys and during this party I got tied up to the ceiling and got cum drenched over and over. But after that session the party wasn't over. After a short break where I had put on a new dress I went to the large party room and let the rest of the gang use me. At that time there were maybe 15 guys left, enough cock and cum for another bang. The bastards used me as their cum dump again. This time I was lying on a table all the time and they fucked my mouth and jerked their loads on my face and in my mouth. The movie has no cuts, no segues, it's raw footage displaying the uncut 20 minutes. In the beginning I'm clean and dry but at the end of this turbo bukkake you can see my gleaming face and tits totally drenched in cum. Hell, I love getting used like that. The more the merrier!
Details: Duration 20 min. Format MP4. Quality HD and SD (500 and 200 MB). Download and stream.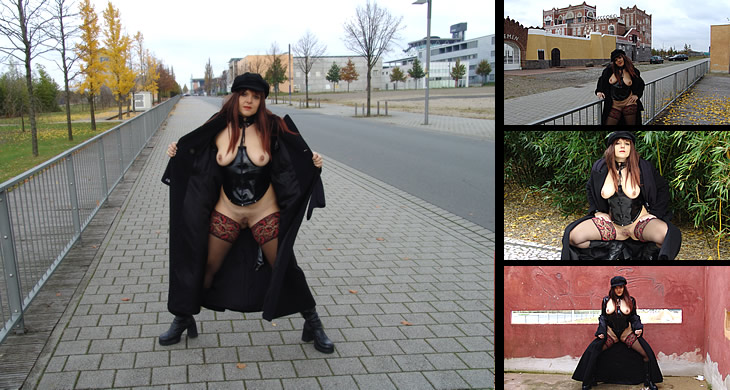 Not every escapade I am doing leads to a huge 10+ guys gangbang. Of course not. For example I also love to just show off at public places, at buildings, busy roads and so on. Usually we don't film when I'm showing off at those public places, my husband then mainly takes photos. The nearly 100 high quality photos in this set were taken at a monument park, not far away from my hometown. I wore a long black coat and under it some black-red stockings, knee-high boots and a cupless corsage. No skirt, no pants. A bare puss. Now I only had to open the coat to turn from a good girl to a slutty whore in a second. My husband took a lot of photos and now I want to share them with you. No movie filmed that day, there are only these pics to show what happened that day. Enjoy.
********************************************************************
Billing Support: CCBill
18 U.S.C. §2257 Records - Customer Support - Webmasters click here to make $$$ - Banners - Links
© Copyright 2001-2017 cumdrinkingwife.com. All Rights Reserved.